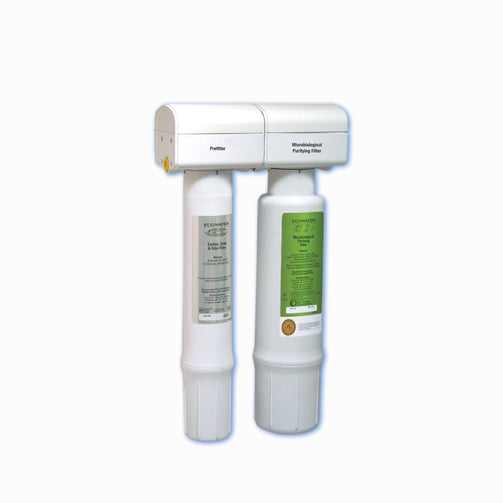 EPS 1000 Microbiological Water Filter System
EPS 1000 Microbiological Water Filter System
* EcoWater products are not available for purchase online. Please click the chat icon or call (416) 491-9945 for any questions or to purchase.
The EcoWater EPS 1000 is an under-counter microbiological drinking water filter system designed to produce clean water for drinking and cooking. This system is one of the only filtration systems certified to reduce bacteria, viruses, and cysts.

The EPS 1000 comes complete with installation parts and is available with or without a faucet. (Faucet choices include chrome-plated, premium brushed nickel, and premium chrome.)
The EPS 1000 works by directing household water through a pre-filter where chlorine taste and odour, and sediment are reduced, followed by a post-filter that filters out bacteria, cysts, viruses, and VOCs. This water filter system also removes 99.3% lead.
The EPS 1000 system is modular. It can be expanded and customized with your choice of add-ons including a sediment pre-filter and a mineral post-filter for alkaline water.
Recommended replacement schedule:
• Pre-filter (Lead, chlorine taste & odour filter) — 6 months
• Post-filter (Microbiological filter) — 6 months
Details

Ideal for both municipal and well water supplies
Easy-change filters eliminate the need for complicated system service or call-out charges — twist-out, twist-in, done!
No need to turn off the water supply when changing filters, removing the filter will stop water flow automatically
Compact design with no storage tank — saves valuable under-sink storage space
Expandable and customizable, upgrade to add mineral post-filter (for alkaline water) and/or sediment pre-filter
Independently tested and certified to meet or exceed NSF/ANSI Standards 42 and 53
Additional

Independently tested and certified to:
• Meet or exceed the EPA requirement for the reduction of bacteria, viruses and cysts such as Giardia and Cryptosporidia. Contaminants that are known to generate boil alerts.
• Reduce 53 volatile organic compounds.
• Reduce lead and chlorine taste and odor
Typical impurities reduced by the EPS 1000 drinking water filter system include: chlorine, sediment, lead, bacteria, viruses, cysts (Giardia/Cryptosporidia), pharmaceuticals, endocrine disrupting chemicals, VOCs including astrazine, benzene, carbon tetrachloride, 2,4-D, endrin, haloacetonitriles (HAN), heptachlor, lindane, methoxychlor, pentachlorophenol, styrene, toulene, tribomoacetic acid, trihalomethanes, xylenes (total).
Couldn't load pickup availability