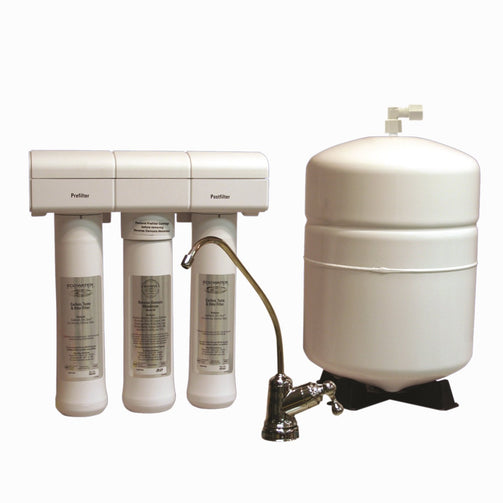 ERO 175 Reverse Osmosis System
ERO 175 Reverse Osmosis System
* EcoWater products are not available for purchase online. Please click the chat icon or call (416) 491-9945 for any questions or to purchase.
The EcoWater ERO 175 is an under-counter reverse osmosis system designed to produce pure water for drinking and cooking.
The ERO 175 comes complete with a holding tank, chrome-plated faucet, and everything you'll need for installation. You can also choose to upgrade from the chrome-plated faucet to EcoWater's premium brushed nickel or chrome faucet.
The ERO 175 system is modular. It can be expanded and customized with your choice of add-ons including a VOC post-filter to remove volatile organics compounds, or a mineral post-filter to make your water alkaline.
Recommended replacement schedule:
• Pre-filter — 6 months
• Membrane — 2-4 years
• Post-filter — 12 months
Details

Intended for small families (18.4 gallon per day membrane capacity, actual production rate varies depending on water usage and conditions)
Easy-change filters eliminate the need for complicated system service or call-out charges — twist-out, twist-in, done!
No need to turn off the water supply when changing filters, removing the filter will stop water flow automatically
Independently tested and certified to meet or exceed NSF/ANSI Standard 58

Optional electronic faucet base available
Additional

Typical impurities reduced by an EcoWater ERO 175 reverse osmosis system include: ammonium, fluoride, arsenic, lead, barium, magnesium, bicarbonate, nitrate/nitrite, bromide, radium, cadmium, selenium, chloride, sodium, chromium, sulfate, tannin, chlorine taste and odour, total dissolved solids, copper, turbidity, cysts, and zinc.
Couldn't load pickup availability