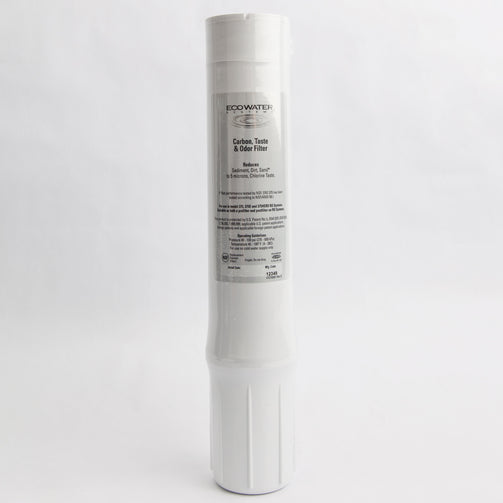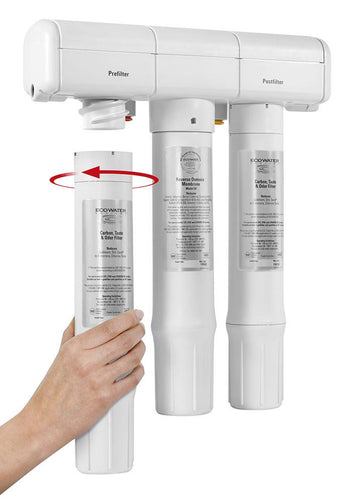 ERO 375 Pre-/Post-Filter
ERO 375 Pre-/Post-Filter
* EcoWater products are not available for purchase online. Please click the chat icon or call (416) 491-9945 for any questions or to purchase.
Please note: The ERO 375 has been replaced by the ERO 385. Replacement filters and parts are still available.
This replacement pre-/post-filter is intended for use with the EcoWater ERO 375 and HERO 375 reverse osmosis systems.
The EcoWater ERO 375 replacement pre-/post-filter is a fully encapsulated sediment and carbon filter intended to reduce dirt, dust, rust, and chlorine taste and odour.
Recommended replacement schedule:
• As a pre-filter — 6 months
• As a post-filter — 12 months
Details

Fully encapsulated for sanitary and efficient filter changes

Easy-change filters eliminate the need for complicated system service or call-out charges — twist-out, twist-in, done!
No need to turn off the water supply when changing filters, removing the filter will stop water flow automatically
Additional

To replace, simply twist the old filter out clockwise, and the new one in counter-clockwise.
This filter is compatible with the following systems:
EcoWater ERO/HERO 385 Reverse Osmosis System
EcoWater ERO/HERO 375 Reverse Osmosis System
EcoWater ERO 175 Reverse Osmosis System
EcoWater EPS 1000 Microbiological Drinking Water Filtration System (requires modular manifold expansion)
Couldn't load pickup availability