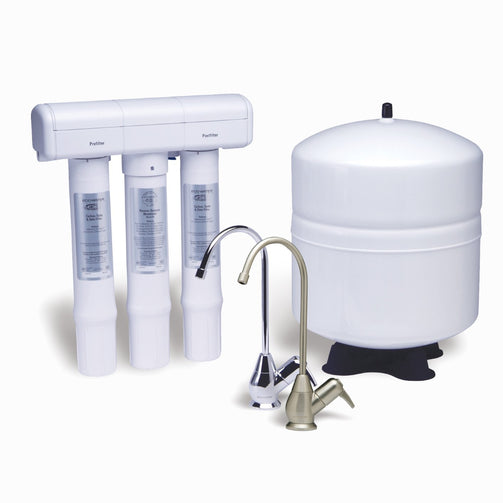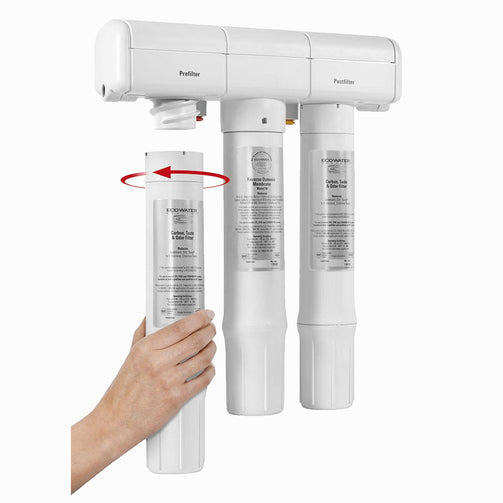 ERO 375 Reverse Osmosis System
ERO 375 Reverse Osmosis System
* EcoWater products are not available for purchase online. Please click the chat icon or call (416) 491-9945 for any questions or to purchase.
Please note: The ERO 375 has been replaced by the ERO 385. Replacement filters and parts are still available.
The EcoWater ERO 375 is an under-counter reverse osmosis system designed to produce pure water for drinking and cooking.
The ERO 375 comes complete with a holding tank, premium faucet, and everything you'll need for installation. (Premium faucet choices include brushed nickel and chrome.)
The ERO 375 system is modular. It can be expanded and customized with your choice of add-ons including a VOC post-filter, or a mineral post-filter to make your water alkaline.
Recommended replacement schedule:
• Pre-filter — 6 months
• Membrane — 3-5 years
• Post-filter — 12 months
Details

Ideal for residential use with 50 gallon per day membrane capacity (actual production rate varies depending on water usage and conditions)
Easy-change filters eliminate the need for complicated system service or call-out charges — twist-out, twist-in, done!
No need to turn off the water supply when changing filters, removing the filter will stop water flow automatically
Expandable and customizable, upgrade to add premium VOC post-filter, mineral post-filter (for alkaline water) and/or sediment pre-filter
Independently tested and certified to meet or exceed NSF/ANSI Standard 58

Optional electronic faucet base available
Additional

Typical impurities reduced by an EcoWater ERO 375 reverse osmosis system include: ammonium, fluoride, arsenic, lead, barium, magnesium, bicarbonate, nitrate/nitrite, bromide, radium, cadmium, selenium, chloride, sodium, chromium, sulfate, tannin, chlorine taste and odour, total dissolved solids, copper, turbidity, cysts, and zinc.
ERO 385 Detailed specs [PDF]
HERO 385Plus Detailed specs with Wi-Fi [PDF]
Couldn't load pickup availability