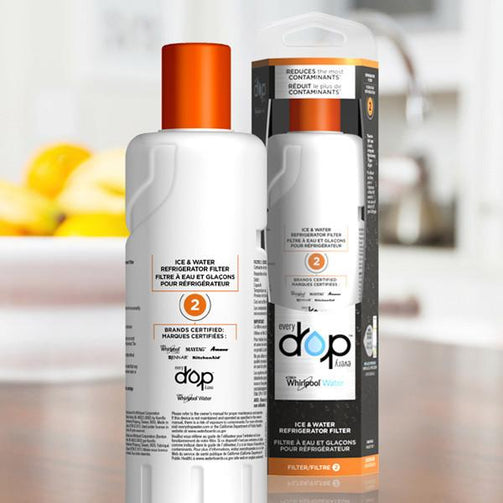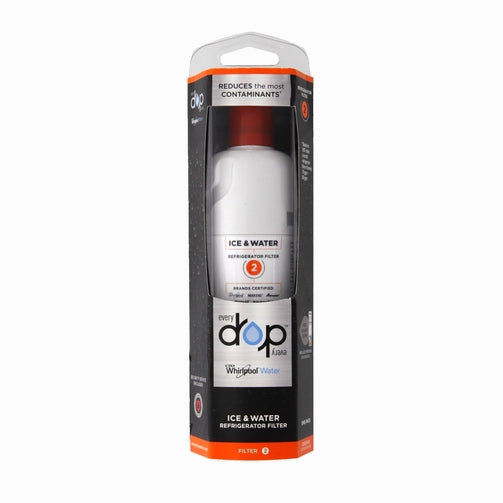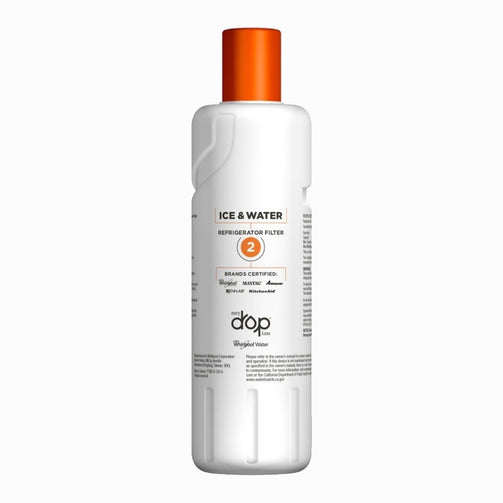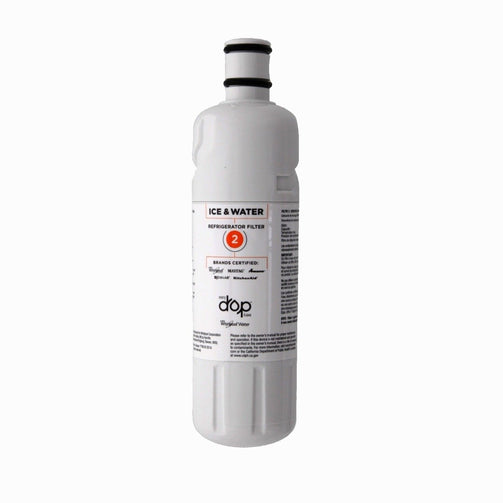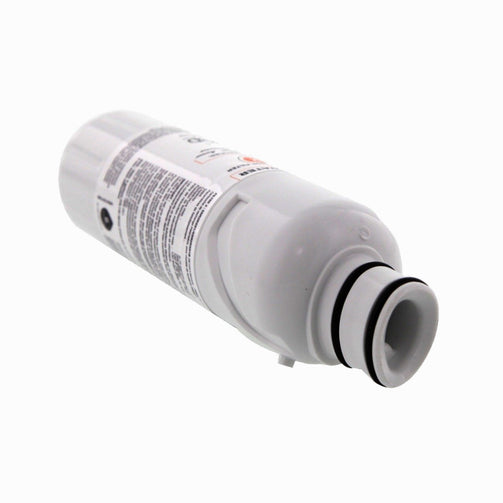 EveryDrop Refrigerator Filter 2
EveryDrop Refrigerator Filter 2
Regular price

$59.99

Sale price

$54.99
Whirlpool EveryDrop Refrigerator Water Filter, Filter 2
NSF-certified to reduce 28 contaminants, including chlorine, lead, pesticides, and pharmaceuticals. Combats chlorine for great-tasting water.
Genuine OEM EveryDrop Filter 2 [EDR2RXD1B Refrigerator Ice & Water Filter] replaces previous model W10413645A.
Compatible with the following refrigerator brands: Jenn-Air, KitchenAid, Maytag, Whirlpool.
Details
Reduces 28 contaminants including lead, chlorine, some pesticides, and some pharmaceuticals
Uses Triple Filtration Technology to reduce contaminants
Can replace up to 1500 plastic water bottles
Capacity: 200 gallons (757 liters)
Replace every 6 months for optimal contaminant reduction
Tested and certified by NSF International against NSF/ANSI Standards 42, 53, 401 and CSA B483.1
Specifications [PDF]
Additional
Replace according to the monitor in your fridge, or every 6 months or 200 gallons for optimal water taste and filter performance.
After replacing, flush the filter according to the instructions in your refrigerator manual.
—
2400649
883049251431
883049369846
AH11701544
AH3502128
AP5322615
B00ANL7Q6M
B00VBP8QPO
B00YHX9L24
EA11701544
EA3502128
EAP11701544
EAP3502128
EDR2RXD1
EDR2RXD2
EDR2RXD2B
FILTER2
FILTER 2
OT-GARW-RAAN
P6RFWB2
PS11701544
PS3502128
RI-WP2L-Y54F
W10238154
W10413645
W10413645A
W10609378
W10680605
JennAir
KitchenAid
Maytag
Whirlpool

JennAir

JFFCC72EFP
JFFCC72EFP00
JFFCC72EFP02
JFFCC72EFP03
JFFCC72EFS
JFFCC72EFS00
JFFCC72EFS02
JFFCC72EFS03
JFX2897DRM
JFX2897DRM00
JFX2897DRM02
JFX2897DRP
JFX2897DRP00
JFX2897DRP02
KitchenAid

KFIS29BBBL
KFIS29BBBL00
KFIS29BBBL01
KFIS29BBBL02
KFIS29BBBL03
KFIS29BBMS
KFIS29BBMS00
KFIS29BBMS01
KFIS29BBMS02
KFIS29BBMS03
KFIS29BBWH
KFIS29BBWH00
KFIS29BBWH02
KFIS29BBWH03
KFIS29PBMS
KFIS29PBMS00
KFIS29PBMS01
KFIS29PBMS02
KFIS29PBMS03
KFIV29PCMS
KFIV29PCMS00
KFIV29PCMS01
KFIV29PCMS02
KFIV29PCMS03
KRFC604FSS
KRFC604FSS00
KRFC604FSS01
KRFC604FSS02
KRFC704FBS
KRFC704FBS00
KRFC704FBS01
KRFC704FBS02
KRFC704FPS
KRFC704FPS00
KRFC704FPS01
KRFC704FPS02
KRFC704FPS03
KRFC704FSS
KRFC704FSS00
KRFC704FSS01
KRFC704FSS02
KRFC804GBS
KRFC804GBS00
KRFC804GPS
KRFC804GPS00
KRFC804GSS
KRFC804GSS00
KRFF507EBL
KRFF507EBL00
KRFF507EBL01
KRFF507ESS
KRFF507ESS00
KRFF507ESS01
KRFF507EWH
KRFF507EWH00
KRFF507EWH01
KRFF507HBL
KRFF507HBL00
KRFF507HBS
KRFF507HBS00
KRFF507HPS
KRFF507HPS00
KRFF507HWH
KRFF507HWH00
KRFF607ESS
KRFF607ESS00
KRFF707EBS
KRFF707EBS00
KRFF707ESS
KRFF707ESS00
KRFF707ESS01
KRMF606ESS
KRMF606ESS00
KRMF606ESS01
KRMF706EBS
KRMF706EBS00
KRMF706EBS01
KRMF706EBS02
KRMF706ESS
KRMF706ESS00
KRMF706ESS01
KRMF706ESS02
Maytag

MFB2055DRM
MFB2055DRM00
MFB2055DRM01
MFB2055FRW
MFB2055FRW00
MFB2055FRZ
MFB2055FRZ00
MFF2055DRE
MFF2055DRE00
MFF2055DRE01
MFF2055DRM
MFF2055DRM00
MFF2055DRM01
MFF2055YEM0
MFF2055YEM00
MFF2055YEM01
MFF2055YEM02
MFT2574DEE
MFT2574DEE00
MFT2574DEE01
MFT2574DEE02
MFT2574DEH
MFT2574DEH00
MFT2574DEH01
MFT2574DEH02
MFT2574DEM
MFT2574DEM00
MFT2574DEM01
MFT2574DEM02
MFT2672AEB
MFT2672AEB10
MFT2672AEB11
MFT2672AEB12
MFT2672AEM
MFT2672AEM10
MFT2672AEM11
MFT2672AEM12
MFT2672AEW
MFT2672AEW10
MFT2672AEW11
MFT2672AEW12
MFT2673BEB
MFT2673BEB10
MFT2673BEB11
MFT2673BEB12
MFT2673BEM
MFT2673BEM10
MFT2673BEM11
MFT2673BEM12
MFT2673BEW
MFT2673BEW10
MFT2673BEW11
MFT2673BEW12
MFT2772HEZ
MFT2772HEZ00
MFT2776DEE
MFT2776DEE00
MFT2776DEE02
MFT2776DEH
MFT2776DEH00
MFT2776DEH02
MFT2776DEM
MFT2776DEM00
MFT2776DEM02
MFT2776FEZ
MFT2776FEZ00
MFT2776FEZ01
MFT2778EEZ
MFT2778EEZ00
MFT2778EEZ01
MFT2976AEB
MFT2976AEB00
MFT2976AEB01
MFT2976AEB02
MFT2976AEB03
MFT2976AEM
MFT2976AEM00
MFT2976AEM01
MFT2976AEM02
MFT2976AEM03
MFT2976AEW
MFT2976AEW00
MFT2976AEW02
MFT2976AEW03
MFX2676FRE
MFX2676FRE00
MFX2676FRZ
MFX2676FRZ00
MFX2676FRZ01
MFX2676FRZ02
MFX2876DRE
MFX2876DRE00
MFX2876DRE02
MFX2876DRH
MFX2876DRH00
MFX2876DRH02
MFX2876DRM
MFX2876DRM00
MFX2876DRM02
Whirlpool

WRF560SFHB
WRF560SFHB00
WRF560SFHV
WRF560SFHV00
WRF560SFHW
WRF560SFHW00
WRF560SFHZ
WRF560SFHZ00
WRF736SDAB
WRF736SDAB10
WRF736SDAB11
WRF736SDAB12
WRF736SDAB13
WRF736SDAB14
WRF736SDAF
WRF736SDAF10
WRF736SDAF11
WRF736SDAF12
WRF736SDAF14
WRF736SDAM
WRF736SDAM00
WRF736SDAM10
WRF736SDAM11
WRF736SDAM12
WRF736SDAM13
WRF736SDAM14
WRF736SDAW
WRF736SDAW10
WRF736SDAW11
WRF736SDAW12
WRF736SDAW13
WRF736SDAW14
WRF757SDEE
WRF757SDEE00
WRF757SDEE01
WRF757SDEH
WRF757SDEH00
WRF757SDEH01
WRF757SDEM
WRF757SDEM00
WRF757SDEM01
WRF757SDHV
WRF757SDHV00
WRF757SDHZ
WRF757SDHZ00
WRF767SDEM
WRF767SDEM00
WRF767SDEM01
WRF767SDHV
WRF767SDHV00
WRF767SDHZ
WRF767SDHZ00
WRF954CIHB
WRF954CIHB00
WRF954CIHB01
WRF954CIHM
WRF954CIHM00
WRF954CIHM01
WRF954CIHV
WRF954CIHV00
WRF954CIHV01
WRF954CIHW
WRF954CIHW00
WRF954CIHW01
WRF954CIHZ
WRF954CIHZ00
WRF954CIHZ01
WRF954CIHZ02
WRF954CIHZ9A
WRF954CIHZ9B
WRF964CIHM
WRF964CIHM00
WRF964CIHV
WRF964CIHV00
WRF972SIHV
WRF972SIHV00
WRF972SIHZ
WRF972SIHZ00
WRF974CIHV
WRF974CIHV00
WRF974CIHZ
WRF974CIHZ00
WRF984CIHV
WRF984CIHV00
WRF984CIHZ
WRF984CIHZ00
WRF989SDAB
WRF989SDAB00
WRF989SDAB01
WRF989SDAB02
WRF989SDAB03
WRF989SDAE
WRF989SDAE00
WRF989SDAE01
WRF989SDAE02
WRF989SDAE03
WRF989SDAF
WRF989SDAF00
WRF989SDAF01
WRF989SDAF02
WRF989SDAF03
WRF989SDAH
WRF989SDAH00
WRF989SDAH01
WRF989SDAH02
WRF989SDAH03
WRF989SDAM
WRF989SDAM00
WRF989SDAM01
WRF989SDAM02
WRF989SDAM03
WRF989SDAW
WRF989SDAW00
WRF989SDAW02
WRF989SDAW03
WRF990SLAM
WRF990SLAM00
WRF990SLAM01
WRF990SLAM02
WRF990SLAM03
WRF991BOOM
WRF991BOOM00
WRF991BOOM01
WRF992FIFE
WRF992FIFE00
WRF992FIFE01
WRF992FIFH
WRF992FIFH00
WRF992FIFH01
WRF992FIFM
WRF992FIFM00
WRF992FIFM01
WRF993FIFM
WRF993FIFM00
WRF993FIFM01
WRF993FIFM99
WRF995FIFZ
WRF995FIFZ00
WRF997SDDM
WRF997SDDM00
WRF997SDDM02
WRFA94CIHN
WRFA94CIHN00
WRFA94CIHZ
WRFA94CIHZ00
WRV976FDEM
WRV976FDEM00
WRV976FDEM01
WRV986FDEM
WRV986FDEM00
WRV986FDEM01
WRV996FDEE
WRV996FDEE00
WRV996FDEE01
WRV996FDEE03
WRV996FDEH
WRV996FDEH00
WRV996FDEH01
WRV996FDEM
WRV996FDEM00
WRV996FDEM01
WRX986SIHV
WRX986SIHV00
WRX986SIHZ
WRX986SIHZ00
WRX988SIBB
WRX988SIBB00
WRX988SIBB01
WRX988SIBB03
WRX988SIBE
WRX988SIBE00
WRX988SIBE01
WRX988SIBE03
WRX988SIBH
WRX988SIBH00
WRX988SIBH01
WRX988SIBH03
WRX988SIBM
WRX988SIBM00
WRX988SIBM01
WRX988SIBM03
WRX988SIBW
WRX988SIBW00
WRX988SIBW01
WRX988SIBW03
Couldn't load pickup availability