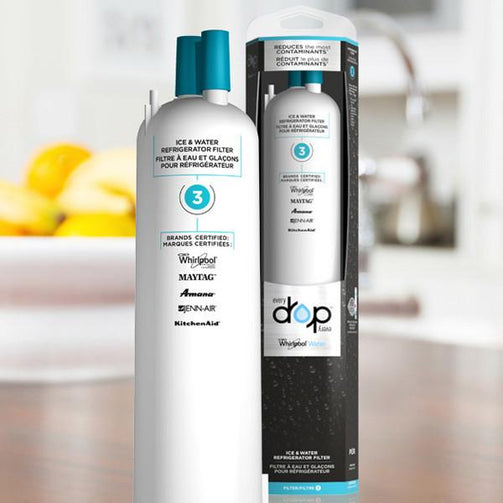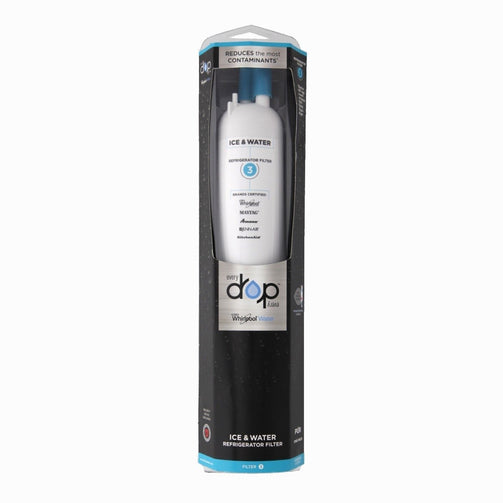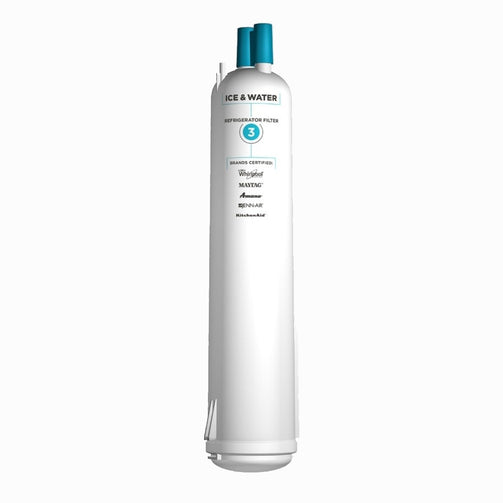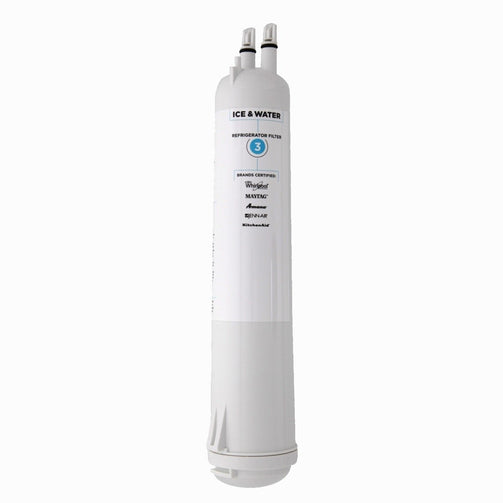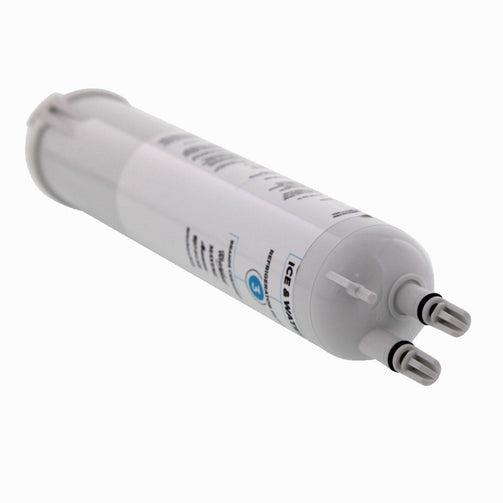 EveryDrop Refrigerator Filter 3
EveryDrop Refrigerator Filter 3
Regular price

$59.99

Sale price

$54.99
Whirlpool EveryDrop Refrigerator Water Filter, Filter 3
NSF-certified to reduce 73 contaminants, including chlorine, lead, pesticides, and pharmaceuticals. Combats chlorine for great-tasting water.
Genuine OEM EveryDrop Filter 3 [EDR3RXD1B Refrigerator Ice & Water Filter] replaces previous models 4396710 and 4396841.
Compatible with the following refrigerator brands: Amana, IKEA, Inglis, JennAir, KitchenAid, Maytag, Whirlpool.
Details
Reduces 73 contaminants including chlorine, lead, some pesticides, and some pharmaceuticals
Uses Triple Filtration Technology to reduce contaminants
Can replace up to 1500 plastic water bottles
Capacity: 200 gallons (757 liters)
Replace every 6 months for optimal contaminant reduction
Tested and certified by NSF International against NSF/ANSI Standards 42, 53, 401 and CSA B483.1
Specifications [PDF]
Additional
Replace according to the monitor in your fridge, or every 6 months or 200 gallons for optimal water taste and filter performance.
After replacing, flush the filter according to the instructions in your refrigerator manual.
—
04609020000
04609030000
050946962115
050946962122
050946981239
09020
09030
0L-FF22-RXWA
10050946962112
10050946981236
1053692
10883049067001
10883049153053
1192982
2260515
2260538
2305222
2305267
2313412
4273160
4396710
4396710B
4396710_FILTER
4396711
4396711B
4396711P
4396711T
43967842B
4396841
43968412PK
43968413PK
4396841B
4396841T
4396842
4396842B
4396842P
4396842T
45-TJAR-EB4R
4609020000
4609030000
469020
46-9020
469030
46-9030
6841
8212650
883049369822
9020
9020B
9020P
9030
90302
9030B
9030P
95357630
9920
99-BU9J-OMJ1
AH11701545
AH11722128
AH971185
AH986832
AP3710633
AP3866834
AP5983563
B000KI3O1O
B000UW2DTE
B001BOTNCU
B006YC7J84
B00UB441HS
B00YHY02GC
B018HF7QW4
EA11701545
EA11722128
EA971185
EA986832
EAP11701545
EAP11722128
EAP971185
EAP986832
EDR3RXD1
F3WP6M1
FILTER3
FILTER3C
GY-QLVM-7IVY
IJ-V904-UJIQ
OT-YGAJ-R057
P1KB1
P1KB2
P1RFKB1
P1RFKB2
P1RFWB2
P1RFWG2
P1WB2
P1WB2L
P1WG2
P1WG2L
P2RFWG2
P2WG2
P2WG2L
PBSS
PS11701545
PS11722128
PS971185
PS986832
RW5
RWFFRSXS
T1KB1
T1KB2
T1RFKB1
T1RFKB2
T1RFWB2
T1RFWG2
T1WB2
T1WB2L
T1WG2
T1WG2L
T2RFWG2
T2WG2
T2WG2L
W10121145
W10121146
W10177635
W10186667
W10193691
W10193691T
Z6-T3DW-W550
Amana
IKEA
Inglis
JennAir
KitchenAid
Maytag
Whirlpool
Amana

ASD2520WRB
ASD2520WRB00
ASD2520WRW
ASD2520WRW00
ASD2520WRW01
ASD2522VRB
ASD2522VRB00
ASD2522VRB01
ASD2522VRB02
ASD2522VRD
ASD2522VRD00
ASD2522VRD01
ASD2522VRS
ASD2522VRS00
ASD2522VRS01
ASD2522VRW
ASD2522VRW00
ASD2522VRW01
ASD2522WEB
ASD2522WEB00
ASD2522WEB01
ASD2522WES
ASD2522WES00
ASD2522WEW
ASD2522WEW00
ASD2522WEW01
ASD2522WRB
ASD2522WRB00
ASD2522WRB01
ASD2522WRB02
ASD2522WRB03
ASD2522WRB04
ASD2522WRB06
ASD2522WRB07
ASD2522WRD
ASD2522WRD00
ASD2522WRD01
ASD2522WRD02
ASD2522WRD03
ASD2522WRD06
ASD2522WRS
ASD2522WRS00
ASD2522WRS01
ASD2522WRS03
ASD2522WRS04
ASD2522WRS05
ASD2522WRS06
ASD2522WRS07
ASD2522WRW
ASD2522WRW00
ASD2522WRW01
ASD2522WRW02
ASD2522WRW03
ASD2522WRW04
ASD2522WRW06
ASD2522WRW07
ASD2523WRB
ASD2523WRB00
ASD2523WRW
ASD2523WRW00
ASD2524VEB
ASD2524VEB00
ASD2524VEB01
ASD2524VES
ASD2524VES00
ASD2524VES01
ASD2524VES02
ASD2524VES03
ASD2524VEW
ASD2524VEW00
ASD2524VEW01
ASD2526VES
ASD2526VES00
IKEA

ID3CHEXVQ
ID3CHEXVS
ID3CHEXWQ

ID3CHEXWS
Inglis
ID3CHEXVQ00
ID3CHEXVS00
ID3CHEXWQ00
ID3CHEXWS00
ID3CHEXWS01
ID3CHEXWS02
ITQ22530
ITQ225301
ITQ225302
ITQ22580
ITQ225800
JennAir

JB36CXFXLB
JB36CXFXLB00
JB36CXFXLB01
JB36CXFXRB
JB36CXFXRB00
JB36CXFXRB01
JB36NXFXLE
JB36NXFXLE00
JB36NXFXLE01
JB36NXFXLW
JB36NXFXLW00
JB36NXFXLW01
JB36NXFXLW02
JB36NXFXLW03
JB36NXFXLW04
JB36NXFXLW05
JB36NXFXRE
JB36NXFXRE00
JB36NXFXRE01
JB36NXFXRW
JB36NXFXRW00
JB36NXFXRW01
JB36NXFXRW02
JB36NXFXRW03
JB36NXFXRW04
JB36NXFXRW05
JB36PPFXLB
JB36PPFXLB00
JB36PPFXLB01
JB36PPFXRB
JB36PPFXRB00
JB36PPFXRB01
JB36SEFXLB
JB36SEFXLB00
JB36SEFXLB01
JB36SEFXRB
JB36SEFXRB00
JB36SEFXRB01
JB36SSFXLA
JB36SSFXLA00
JB36SSFXLA01
JB36SSFXLA02
JB36SSFXRA
JB36SSFXRA00
JB36SSFXRA01
JB36SSFXRA02
JCB2488MTR
JCB2488MTR00
JCB2581WES
JCB2581WES00
JCB2582WTF
JCB2582WTF00
JCB2582WTY
JCB2582WTY00
JCB2585WEP
JCB2585WEP00
JCB2585WEP01
JCB2585WEP02
JCB2585WES
JCB2585WES00
JCB2585WES01
JCB2585WES02
JCB2587WEF
JCB2587WEF00
JCB2587WEY
JCB2587WEY00
JCB2588WER
JCB2588WER00
JCD2395WES
JCD2395WES00
JCD2395WES01
JCD2395WES02
JCD2591WES
JCD2591WES00
JCD2595WEK
JCD2595WEK00
JCD2595WEK01
JCD2595WEK02
JCD2595WEP
JCD2595WEP00
JCD2595WEP01
JCD2595WEP02
JCD2595WES
JCD2595WES00
JCD2595WES01
JCD2595WES02
JF36NXFXDE
JF36NXFXDE00
JF36NXFXDE01
JF42CXFXDB
JF42CXFXDB00
JF42CXFXDB01
JF42NXFXDE
JF42NXFXDE00
JF42NXFXDE01
JF42NXFXDE02
JF42NXFXDW
JF42NXFXDW00
JF42NXFXDW01
JF42NXFXDW02
JF42NXFXDW03
JF42NXFXDW04
JF42NXFXDW05
JF42PPFXDB
JF42PPFXDB00
JF42PPFXDB01
JF42SEFXDB
JF42SEFXDB00
JF42SEFXDB01
JF42SSFXDA
JF42SSFXDA00
JF42SSFXDA01
JF42SSFXDA02
JS42CXDBDB
JS42CXDBDB00
JS42CXDBDB01
JS42CXDBDB02
JS42CXDUDB
JS42CXDUDB00
JS42CXDUDB02
JS42CXDUDB03
JS42CXFXDB
JS42CXFXDB00
JS42NXFXDE
JS42NXFXDE00
JS42NXFXDE01
JS42NXFXDW
JS42NXFXDW00
JS42NXFXDW01
JS42NXFXDW02
JS42NXFXDW03
JS42NXFXDW04
JS42NXFXDW05
JS42NXFXDW10
JS42PPDUDB
JS42PPDUDB00
JS42PPDUDB01
JS42PPDUDB02
JS42PPDUDB13
JS42PPDUDB14
JS42PPDUDB15
JS42PPDUDB16
JS42PPDUDB20
JS42PPDUDE
JS42PPDUDE00
JS42PPDUDE01
JS42PPFXDB
JS42PPFXDB00
JS42SEDUDB
JS42SEDUDB00
JS42SEDUDB01
JS42SEDUDW
JS42SEDUDW00
JS42SEDUDW01
JS42SEDUDW12
JS42SEDUDW13
JS42SEDUDW14
JS42SEDUDW15
JS42SEDUDW20
JS42SEFXDB
JS42SEFXDB00
JS42SEFXDB01
JS42SSDUDE
JS42SSDUDE00
JS42SSDUDE01
JS48CXDBDB
JS48CXDBDB00
JS48CXDBDB01
JS48CXDBDB02
JS48CXDBDB13
JS48CXDUDB
JS48CXDUDB00
JS48CXDUDB01
JS48CXDUDB02
JS48CXFXDB
JS48CXFXDB00
JS48CXFXDB01
JS48NXFXDE
JS48NXFXDE00
JS48NXFXDE01
JS48NXFXDW
JS48NXFXDW00
JS48NXFXDW01
JS48NXFXDW02
JS48NXFXDW03
JS48NXFXDW04
JS48NXFXDW05
JS48NXFXDW10
JS48PPDUDB
JS48PPDUDB00
JS48PPDUDB01
JS48PPDUDB02
JS48PPDUDB13
JS48PPDUDB14
JS48PPDUDB15
JS48PPDUDB16
JS48PPDUDB20
JS48PPDUDE
JS48PPDUDE00
JS48PPDUDE01
JS48PPFXDB
JS48PPFXDB00
JS48PPFXDB01
JS48SEDUDB
JS48SEDUDB00
JS48SEDUDB01
JS48SEDUDW
JS48SEDUDW00
JS48SEDUDW01
JS48SEDUDW12
JS48SEDUDW13
JS48SEDUDW14
JS48SEDUDW15
JS48SEDUDW20
JS48SEDUEA
JS48SEDUEA00
JS48SEDUEA01
JS48SEDUEA02
JS48SEFXDB
JS48SEFXDB00
JS48SEFXDB01
JS48SSDUDE
JS48SSDUDE00
JS48SSDUDE01
KitchenAid

KBBL206EPA
KBBL206EPA00
KBBL206EPA01
KBBL206ESS
KBBL206ESS00
KBBL206ESS01
KBBL306EPA
KBBL306EPA00
KBBL306EPA01
KBBL306ESS
KBBL306ESS00
KBBL306ESS01
KBBR206EPA
KBBR206EPA00
KBBR206EPA01
KBBR206ESS
KBBR206ESS00
KBBR206ESS01
KBBR306EPA
KBBR306EPA00
KBBR306EPA01
KBBR306ESS
KBBR306ESS00
KBBR306ESS01
KBFC42FTS
KBFC42FTS00
KBFC42FTS02
KBFC42FTS03
KBFC42FTS04
KBFC42FTS05
KBFC42FTS06
KBFC42FTS07
KBFC42FTS08
KBFN402EPA
KBFN402EPA00
KBFN402EPA01
KBFN402EPA02
KBFN402ESS
KBFN402ESS00
KBFN402ESS01
KBFN402ESS02
KBFN406EPA
KBFN406EPA00
KBFN406EPA01
KBFN406ESS
KBFN406ESS00
KBFN406ESS01
KBFN502EBS
KBFN502EBS00
KBFN502EBS01
KBFN502EBS02
KBFN502EPA
KBFN502EPA00
KBFN502EPA01
KBFN502EPA02
KBFN502ESS
KBFN502ESS00
KBFN502ESS01
KBFN502ESS02
KBFN506EBS
KBFN506EBS00
KBFN506EBS01
KBFN506EPA
KBFN506EPA00
KBFN506EPA01
KBFN506ESS
KBFN506ESS00
KBFN506ESS01
KBFO42FTX
KBFO42FTX00
KBFO42FTX02
KBFO42FTX03
KBFO42FTX04
KBFO42FTX05
KBFO42FTX06
KBFO42FTX07
KBFO42FTX08
KBLC36FTS
KBLC36FTS00
KBLC36FTS02
KBLC36FTS03
KBLC36FTS04
KBLC36FTS05
KBLC36FTS06
KBLC36FTS07
KBLC36FTS08
KBLO36FTX
KBLO36FTX00
KBLO36FTX02
KBLO36FTX03
KBLO36FTX04
KBLO36FTX05
KBLO36FTX06
KBLO36FTX07
KBLO36FTX08
KBLS36FTX
KBLS36FTX00
KBLS36FTX02
KBRC36FTS
KBRC36FTS00
KBRC36FTS02
KBRC36FTS03
KBRC36FTS04
KBRC36FTS05
KBRC36FTS06
KBRC36FTS07
KBRC36FTS08
KBRO36FTX
KBRO36FTX00
KBRO36FTX02
KBRO36FTX03
KBRO36FTX04
KBRO36FTX05
KBRO36FTX06
KBRO36FTX07
KBRO36FTX08
KBRS36FTX
KBRS36FTX00
KBRS36FTX02
KBSD502ESS
KBSD502ESS00
KBSD508ESS
KBSD508ESS00
KBSD602ESS
KBSD602ESS00
KBSD602ESS01
KBSD606ESS
KBSD606ESS00
KBSD606ESS01
KBSD608EBS
KBSD608EBS00
KBSD608EBS01
KBSD608ESS
KBSD608ESS00
KBSD608ESS01
KBSD612ESS
KBSD612ESS00
KBSD612ESS01
KBSD618ESS
KBSD618ESS00
KBSD618ESS01
KBSN508ESS
KBSN508ESS00
KBSN602EBS
KBSN602EBS00
KBSN602EBS01
KBSN602EPA
KBSN602EPA00
KBSN602EPA01
KBSN602ESS
KBSN602ESS00
KBSN602ESS01
KBSN608EBS
KBSN608EBS00
KBSN608EBS01
KBSN608EPA
KBSN608EPA00
KBSN608EPA01
KBSN608ESS
KBSN608ESS00
KBSN608ESS01
KSBP23INSS
KSBP23INSS00
KSBP23INSS01
KSBP25INSS
KSBP25INSS00
KSBP25INSS01
KSBP25INSS02
KSBP25INSS03
KSBP25IVSS
KSBP25IVSS00
KSBP25IVSS01
KSBS23INBL
KSBS23INBL00
KSBS23INBT
KSBS23INBT00
KSBS23INSS
KSBS23INSS00
KSBS23INSS01
KSBS23INWH
KSBS23INWH00
KSBS23INWH01
KSBS25INBL
KSBS25INBL00
KSBS25INBL01
KSBS25INBL02
KSBS25INBL03
KSBS25INBT
KSBS25INBT00
KSBS25INBT01
KSBS25INSS
KSBS25INSS00
KSBS25INSS01
KSBS25INSS02
KSBS25INSS03
KSBS25INWH
KSBS25INWH00
KSBS25INWH01
KSBS25INWH02
KSBS25INWH03
KSBS25IVBL
KSBS25IVBL00
KSBS25IVBL01
KSBS25IVSS
KSBS25IVSS00
KSBS25IVSS01
KSBS25IVWH
KSBS25IVWH00
KSBS25IVWH01
KSCK23FVBL
KSCK23FVBL00
KSCK23FVBL01
KSCK23FVBL02
KSCK23FVBL03
KSCK23FVMS
KSCK23FVMS00
KSCK23FVMS01
KSCK23FVMS02
KSCK23FVMS03
KSCK23FVSS
KSCK23FVSS00
KSCK23FVSS01
KSCK23FVSS02
KSCK23FVSS03
KSCK23FVWH
KSCK23FVWH00
KSCK23FVWH01
KSCK23FVWH02
KSCK23FVWH03
KSCK25FVBL
KSCK25FVBL00
KSCK25FVBL01
KSCK25FVBL02
KSCK25FVBL03
KSCK25FVMS
KSCK25FVMS00
KSCK25FVMS01
KSCK25FVMS02
KSCK25FVMS03
KSCK25FVSS
KSCK25FVSS00
KSCK25FVSS01
KSCK25FVSS02
KSCK25FVSS03
KSCK25FVWH
KSCK25FVWH00
KSCK25FVWH01
KSCK25FVWH02
KSCK25FVWH03
KSCS23FSBL
KSCS23FSBL00
KSCS23FSBL01
KSCS23FSBT
KSCS23FSBT00
KSCS23FSBT01
KSCS23FSMS
KSCS23FSMS00
KSCS23FSMS01
KSCS23FSMS02
KSCS23FSMS03
KSCS23FSSS
KSCS23FSSS01
KSCS23FSWH
KSCS23FSWH00
KSCS23FSWH01
KSCS23FSWH02
KSCS23FSWH03
KSCS23FTBL
KSCS23FTBL00
KSCS23FTBL01
KSCS23FTBL02
KSCS23FTBT
KSCS23FTBT00
KSCS23FTBT01
KSCS23FTBT02
KSCS23FTMS
KSCS23FTMS00
KSCS23FTMS01
KSCS23FTMS02
KSCS23FTSS
KSCS23FTSS00
KSCS23FTSS01
KSCS23FTSS02
KSCS23FTWH
KSCS23FTWH00
KSCS23FTWH01
KSCS23FTWH02
KSCS23FVBL
KSCS23FVBL00
KSCS23FVBL01
KSCS23FVBL02
KSCS23FVBL03
KSCS23FVMK
KSCS23FVMK00
KSCS23FVMK01
KSCS23FVMK02
KSCS23FVMK03
KSCS23FVMS
KSCS23FVMS00
KSCS23FVMS01
KSCS23FVMS02
KSCS23FVMS03
KSCS23FVSS
KSCS23FVSS00
KSCS23FVSS01
KSCS23FVSS02
KSCS23FVSS03
KSCS23FVWH
KSCS23FVWH00
KSCS23FVWH01
KSCS23FVWH02
KSCS23FVWH03
KSCS23INBL
KSCS23INBL00
KSCS23INBL01
KSCS23INBL02
KSCS23INBT
KSCS23INBT00
KSCS23INBT01
KSCS23INBT02
KSCS23INMS
KSCS23INMS01
KSCS23INMS02
KSCS23INSS
KSCS23INSS00
KSCS23INSS01
KSCS23INSS02
KSCS23INWH
KSCS23INWH00
KSCS23INWH01
KSCS23INWH02
KSCS25FSBL
KSCS25FSBL00
KSCS25FSBL01
KSCS25FSBT
KSCS25FSBT00
KSCS25FSBT01
KSCS25FSMS
KSCS25FSMS00
KSCS25FSMS01
KSCS25FSMS02
KSCS25FSMS03
KSCS25FSWH
KSCS25FSWH00
KSCS25FSWH01
KSCS25FSWH02
KSCS25FTBL
KSCS25FTBL00
KSCS25FTBL01
KSCS25FTBL02
KSCS25FTBL03
KSCS25FTBT
KSCS25FTBT00
KSCS25FTBT01
KSCS25FTBT03
KSCS25FTMK
KSCS25FTMK00
KSCS25FTMK01
KSCS25FTMK02
KSCS25FTMS
KSCS25FTMS00
KSCS25FTMS01
KSCS25FTMS02
KSCS25FTSS
KSCS25FTSS00
KSCS25FTSS01
KSCS25FTSS02
KSCS25FTWH
KSCS25FTWH00
KSCS25FTWH01
KSCS25FTWH02
KSCS25FTWH03
KSCS25FVBL
KSCS25FVBL00
KSCS25FVBL01
KSCS25FVBL02
KSCS25FVBL03
KSCS25FVBT
KSCS25FVBT00
KSCS25FVBT01
KSCS25FVMK
KSCS25FVMK00
KSCS25FVMK01
KSCS25FVMK02
KSCS25FVMK03
KSCS25FVMS
KSCS25FVMS00
KSCS25FVMS01
KSCS25FVMS02
KSCS25FVMS03
KSCS25FVSS
KSCS25FVSS00
KSCS25FVSS01
KSCS25FVSS02
KSCS25FVSS03
KSCS25FVWH
KSCS25FVWH00
KSCS25FVWH01
KSCS25FVWH02
KSCS25FVWH03
KSCS25INBL
KSCS25INBL00
KSCS25INBL01
KSCS25INBL02
KSCS25INBL03
KSCS25INBT
KSCS25INBT00
KSCS25INBT01
KSCS25INBT02
KSCS25INMS
KSCS25INMS01
KSCS25INMS02
KSCS25INSS
KSCS25INSS00
KSCS25INSS01
KSCS25INSS02
KSCS25INSS03
KSCS25INWH
KSCS25INWH00
KSCS25INWH01
KSCS25INWH02
KSCS25MSMS
KSCS25MSMS00
KSCS25MSMS01
KSCS25MTMK
KSCS25MTMK00
KSCS25MTMK01
KSCS25MTMS
KSCS25MTMS00
KSCS25MTMS01
KSCS25MVMK
KSCS25MVMK00
KSCS25MVMK01
KSCS25MVMK02
KSCS25MVMS
KSCS25MVMS00
KSCS25MVMS01
KSCS25MVMS02
KSRC25FVBL
KSRC25FVBL01
KSRC25FVMS
KSRC25FVMS00
KSRC25FVMT
KSRC25FVMT00
KSRC25FVSS00
KSRC25FVWH
KSRC25FVWH01
KSRF25FRBL
KSRF25FRBL00
KSRF25FRBL01
KSRF25FRWH
KSRF25FRWH00
KSRF25FRWH01
KSRG22FTBL
KSRG22FTBL00
KSRG22FTBL01
KSRG22FTBL02
KSRG22FTBT
KSRG22FTBT00
KSRG22FTBT01
KSRG22FTBT02
KSRG22FTSS
KSRG22FTSS00
KSRG22FTSS01
KSRG22FTSS02
KSRG22FTST
KSRG22FTST00
KSRG22FTST01
KSRG22FTWH
KSRG22FTWH00
KSRG22FTWH01
KSRG22FTWH02
KSRG25FTBL
KSRG25FTBL00
KSRG25FTBL01
KSRG25FTBL02
KSRG25FTBT
KSRG25FTBT00
KSRG25FTBT01
KSRG25FTBT02
KSRG25FTSS
KSRG25FTSS00
KSRG25FTSS01
KSRG25FTSS02
KSRG25FTST
KSRG25FTST00
KSRG25FTST01
KSRG25FTST02
KSRG25FTWH
KSRG25FTWH00
KSRG25FTWH01
KSRG25FTWH02
KSRG25FVBL
KSRG25FVBL01
KSRG25FVBL02
KSRG25FVBL05
KSRG25FVBL06
KSRG25FVMS
KSRG25FVMS00
KSRG25FVMS01
KSRG25FVMS02
KSRG25FVMS04
KSRG25FVMS05
KSRG25FVMS06
KSRG25FVMT
KSRG25FVMT00
KSRG25FVMT06
KSRG25FVWH
KSRG25FVWH01
KSRG25FVWH02
KSRG25FVWH05
KSRG25FVWH06
KSRJ25FXBL
KSRJ25FXBL00
KSRJ25FXBL01
KSRJ25FXBL03
KSRJ25FXBL04
KSRJ25FXMS
KSRJ25FXMS00
KSRJ25FXMS01
KSRJ25FXMS02
KSRJ25FXMS03
KSRJ25FXMS04
KSRJ25FXMT
KSRJ25FXMT00
KSRJ25FXMT01
KSRJ25FXMT03
KSRJ25FXWH
KSRJ25FXWH00
KSRJ25FXWH01
KSRJ25FXWH03
KSRJ25FXWH04
KSRK25FVBL
KSRK25FVBL00
KSRK25FVBL01
KSRK25FVBL02
KSRK25FVBL03
KSRK25FVBT
KSRK25FVBT00
KSRK25FVBT01
KSRK25FVBT02
KSRK25FVMK
KSRK25FVMK00
KSRK25FVMK01
KSRK25FVMK02
KSRK25FVMK03
KSRK25FVMS
KSRK25FVMS00
KSRK25FVMS01
KSRK25FVMS02
KSRK25FVMS03
KSRK25FVMS04
KSRK25FVSS
KSRK25FVSS00
KSRK25FVSS01
KSRK25FVSS02
KSRK25FVWH
KSRK25FVWH00
KSRK25FVWH01
KSRK25FVWH02
KSRL25FRBL
KSRL25FRBL00
KSRL25FRBL01
KSRL25FRBL02
KSRL25FRBL03
KSRL25FRBL04
KSRL25FRMS
KSRL25FRMS02
KSRL25FRSS
KSRL25FRSS00
KSRL25FRSS01
KSRL25FRSS02
KSRL25FRSS03
KSRL25FRSS04
KSRL25FRST
KSRL25FRST04
KSRL25FRWH
KSRL25FRWH00
KSRL25FRWH02
KSRL25FRWH03
KSRL25FRWH04
KSRL25FTSS
KSRL25FTSS00
KSRL25FTSS01
KSRL25FTST
KSRL25FTST00
KSRL25FTST01
KSRL25FXBL
KSRL25FXBL00
KSRL25FXBL01
KSRL25FXBL03
KSRL25FXMS
KSRL25FXMS00
KSRL25FXMS01
KSRL25FXMS02
KSRL25FXMS03
KSRL25FXMT
KSRL25FXMT00
KSRL25FXMT01
KSRL25FXWH
KSRL25FXWH00
KSRL25FXWH01
KSRL25FXWH03
KSRN25FRBL
KSRN25FRBL00
KSRN25FRSS
KSRN25FRSS00
KSRN25FRWH
KSRN25FRWH00
KSRN25FRWH01
KSRP22FSBL
KSRP22FSBL00
KSRP22FSBL01
KSRP22FSBT
KSRP22FSBT00
KSRP22FSBT01
KSRP22FSMS
KSRP22FSMS00
KSRP22FSMS01
KSRP22FSSS
KSRP22FSSS00
KSRP22FSSS01
KSRP22FSSS02
KSRP22FSWH
KSRP22FSWH00
KSRP22FSWH01
KSRP22FTBL
KSRP22FTBL00
KSRP22FTBL01
KSRP22FTBT
KSRP22FTBT00
KSRP22FTBT01
KSRP22FTMS
KSRP22FTMS00
KSRP22FTMS01
KSRP22FTSS
KSRP22FTSS00
KSRP22FTSS01
KSRP22FTSS02
KSRP22FTWH
KSRP22FTWH00
KSRP22FTWH01
KSRP22FTWH02
KSRP25FSBL
KSRP25FSBL00
KSRP25FSBL01
KSRP25FSBT
KSRP25FSBT00
KSRP25FSBT01
KSRP25FSMS
KSRP25FSMS00
KSRP25FSMS01
KSRP25FSSS
KSRP25FSSS00
KSRP25FSSS01
KSRP25FSWH
KSRP25FSWH00
KSRP25FSWH01
KSRP25FTBL
KSRP25FTBL00
KSRP25FTBL01
KSRP25FTBL02
KSRP25FTBT
KSRP25FTBT01
KSRP25FTBT02
KSRP25FTMS
KSRP25FTMS00
KSRP25FTMS01
KSRP25FTMS02
KSRP25FTSS
KSRP25FTSS00
KSRP25FTSS01
KSRP25FTSS02
KSRP25FTWH
KSRP25FTWH00
KSRP25FTWH01
KSRP25FTWH02
KSRS22MWMS
KSRS22MWMS00
KSRS22MWMS01
KSRS22MWMS02
KSRS25CSBL
KSRS25CSBL00
KSRS25CSBL01
KSRS25CSBL02
KSRS25CSBT
KSRS25CSBT00
KSRS25CSMK
KSRS25CSMK01
KSRS25CSMK02
KSRS25CSMK03
KSRS25CSMS
KSRS25CSMS00
KSRS25CSMS01
KSRS25CSMS02
KSRS25CSMS04
KSRS25CSSS
KSRS25CSSS01
KSRS25CSSS02
KSRS25CSWH
KSRS25CSWH00
KSRS25CSWH01
KSRS25CSWH02
KSRS25FTBL
KSRS25FTBL00
KSRS25FTBL01
KSRS25FTBL02
KSRS25FTBL03
KSRS25FTBT
KSRS25FTBT00
KSRS25FTBT01
KSRS25FTBT03
KSRS25FTMS
KSRS25FTMS00
KSRS25FTMS01
KSRS25FTMS02
KSRS25FTMS03
KSRS25FTSS
KSRS25FTSS00
KSRS25FTSS01
KSRS25FTSS03
KSRS25FTWH
KSRS25FTWH00
KSRS25FTWH01
KSRS25FTWH02
KSRS25FTWH03
KSRS25MWMS
KSRS25MWMS00
KSRS25MWMS01
KSRS25MWMS02
KSRS25MWMS03
KSRS25RSBL
KSRS25RSBL00
KSRS25RSBL01
KSRS25RSBL03
KSRS25RSBT
KSRS25RSBT00
KSRS25RSBT01
KSRS25RSMK
KSRS25RSMK00
KSRS25RSMK01
KSRS25RSMK03
KSRS25RSMS
KSRS25RSMS00
KSRS25RSMS01
KSRS25RSMS02
KSRS25RSMS03
KSRS25RSWH
KSRS25RSWH00
KSRS25RSWH01
KSRS25RSWH03
KSRS25RVBL
KSRS25RVBL01
KSRS25RVBL02
KSRS25RVBL03
KSRS25RVMK
KSRS25RVMK00
KSRS25RVMK01
KSRS25RVMK02
KSRS25RVMK03
KSRS25RVMK04
KSRS25RVMK05
KSRS25RVMS
KSRS25RVMS00
KSRS25RVMS01
KSRS25RVMS02
KSRS25RVMS03
KSRS25RVMS04
KSRS25RVMS05
KSRS25RVWH
KSRS25RVWH01
KSRS25RVWH02
KSRS25RVWH03
KSRT25CRBL
KSRT25CRBL01
KSRT25CRBT
KSRT25CRBT00
KSRT25CRBT01
KSRT25CRMS
KSRT25CRMS00
KSRT25CRMS01
KSRT25CRSS
KSRT25CRSS00
KSRT25CRSS01
KSRT25CRWH
KSRT25CRWH00
KSRT25CRWH01
KSRT25FWBL
KSRT25FWBL00
KSRT25FWBL01
KSRT25FWMK
KSRT25FWMK00
KSRT25FWMK01
KSRT25FWMK02
KSRT25FWMS
KSRT25FWMS00
KSRT25FWMS01
KSRT25FWMS02
KSRT25FWMS03
KSRT25FWWH
KSRT25FWWH00
KSRT25FWWH01
KSRU25CRBL
KSRU25CRBL00
KSRU25CRBT
KSRU25CRBT00
KSRU25CRSS
KSRU25CRSS00
KSRU25CRWH
KSRU25CRWH00
KSRV22FVBL
KSRV22FVBL00
KSRV22FVBL01
KSRV22FVBL02
KSRV22FVBT
KSRV22FVBT00
KSRV22FVBT01
KSRV22FVBT02
KSRV22FVMS
KSRV22FVMS00
KSRV22FVMS01
KSRV22FVMS02
KSRV22FVMS03
KSRV22FVMS04
KSRV22FVSS
KSRV22FVSS00
KSRV22FVSS01
KSRV22FVSS02
KSRV22FVSS03
KSRV22FVSS04
KSRV22FVWH
KSRV22FVWH00
KSRV22FVWH01
KSRV22FVWH02
KSRW25CRSS
KSRW25CRSS00
KSRW25CRSS01
KSRW25CRSS02
KSRW25CRSS03
KSRW25CTMK
KSRW25CTMK00
KSRW25CTMK01
KSRX22FSST
KSRX22FSST00
KSRX22FSST02
KSRX22FSST03
KSRX22FSWH
KSRX22FSWH00
KSRX22FSWH03
KSRX25FSBL
KSRX25FSBL00
KSRX25FSBL01
KSRX25FSST
KSRX25FSST00
KSRX25FSST01
KSRX25FSWH
KSRX25FSWH00
KSRX25FSWH01
KSRX25FTBL
KSRX25FTBL00
KSRX25FTBL01
KSRX25FTBL02
KSRX25FTSS
KSRX25FTSS00
KSRX25FTSS01
KSRX25FTSS02
KSRX25FTST
KSRX25FTST00
KSRX25FTWH
KSRX25FTWH00
KSRX25FTWH01
KSRX25FTWH02
KSRX25FVBL
KSRX25FVBL00
KSRX25FVBL01
KSRX25FVBL02
KSRX25FVBL03
KSRX25FVMS
KSRX25FVMS00
KSRX25FVMS01
KSRX25FVMS02
KSRX25FVMS03
KSRX25FVWH
KSRX25FVWH00
KSRX25FVWH02
KSRX25FVWH04
KSRY25CRMS
KSRY25CRMS00
KSRY25CRMS01
KSRY25CTMS
KSRY25CTMS00
KSRY25CVMS
KSRY25CVMS01
KSSC36FTS
KSSC36FTS00
KSSC36FTS02
KSSC36FTS03
KSSC36FTS04
KSSC36QTS
KSSC36QTS00
KSSC36QTS02
KSSC36QTS03
KSSC36QTS04
KSSC36QTS05
KSSC36QTS06
KSSC36QTS07
KSSC36QTS08
KSSC36QTS10
KSSC42FTS
KSSC42FTS00
KSSC42FTS02
KSSC42FTS03
KSSC42FTS04
KSSC42FTS15
KSSC42FTS16
KSSC42FTS17
KSSC42FTS18
KSSC42FTS20
KSSC42QTS
KSSC42QTS00
KSSC42QTS02
KSSC42QTS03
KSSC42QTS17
KSSC42QTS18
KSSC42QVS
KSSC42QVS00
KSSC42QVS01
KSSC42QVS02
KSSC42QVS03
KSSC42QVS04
KSSC42QVS05
KSSC42QVS06
KSSC42QVS10
KSSC48FTS
KSSC48FTS00
KSSC48FTS02
KSSC48FTS03
KSSC48FTS04
KSSC48FTS05
KSSC48FTS15
KSSC48FTS16
KSSC48FTS17
KSSC48FTS18
KSSC48FTS20
KSSC48QTS
KSSC48QTS00
KSSC48QTS02
KSSC48QTS03
KSSC48QTS04
KSSC48QTS15
KSSC48QTS18
KSSC48QVS
KSSC48QVS00
KSSC48QVS01
KSSC48QVS02
KSSC48QVS03
KSSC48QVS04
KSSC48QVS05
KSSC48QVS06
KSSC48QVS10
KSSO36FTX
KSSO36FTX00
KSSO36FTX02
KSSO36FTX03
KSSO36FTX04
KSSO36FTX15
KSSO36FTX17
KSSO36FTX18
KSSO36QTB
KSSO36QTB00
KSSO36QTB02
KSSO36QTB03
KSSO36QTB04
KSSO36QTX
KSSO36QTX00
KSSO36QTX02
KSSO36QTX03
KSSO36QTX04
KSSO36QTX05
KSSO42FTX
KSSO42FTX00
KSSO42FTX02
KSSO42FTX03
KSSO42FTX04
KSSO42FTX15
KSSO42FTX16
KSSO42FTX17
KSSO42FTX18
KSSO42FTX20
KSSO42QTB
KSSO42QTB00
KSSO42QTB02
KSSO42QTB03
KSSO42QTB04
KSSO42QTX
KSSO42QTX00
KSSO42QTX02
KSSO42QTX03
KSSO42QTX04
KSSO42QTX05
KSSO48FTX
KSSO48FTX00
KSSO48FTX02
KSSO48FTX03
KSSO48FTX04
KSSO48FTX05
KSSO48FTX15
KSSO48FTX16
KSSO48FTX17
KSSO48FTX18
KSSO48FTX20
KSSO48QTB
KSSO48QTB00
KSSO48QTB02
KSSO48QTB03
KSSO48QTB04
KSSO48QTX
KSSO48QTX00
KSSO48QTX02
KSSO48QTX03
KSSO48QTX04
KSSO48QTX15
KSSP36QTS
KSSP36QTS00
KSSP36QTS02
KSSP42QTS
KSSP42QTS00
KSSP42QTS01
KSSP42QTS02
KSSP48QTS
KSSP48QTS00
KSSP48QTS02
KSSS36FTX
KSSS36FTX00
KSSS36FTX02
KSSS36FTX03
KSSS36FTX04
KSSS36QTB
KSSS36QTB00
KSSS36QTB02
KSSS36QTB03
KSSS36QTB04
KSSS36QTW
KSSS36QTW00
KSSS36QTW02
KSSS36QTW03
KSSS36QTW04
KSSS36QTX
KSSS36QTX00
KSSS36QTX02
KSSS36QTX03
KSSS36QTX04
KSSS36QTX05
KSSS42FTX
KSSS42FTX00
KSSS42FTX02
KSSS42FTX03
KSSS42FTX04
KSSS42QTB
KSSS42QTB00
KSSS42QTB02
KSSS42QTB03
KSSS42QTB04
KSSS42QTW
KSSS42QTW00
KSSS42QTW02
KSSS42QTW03
KSSS42QTW04
KSSS42QTX
KSSS42QTX00
KSSS42QTX02
KSSS42QTX03
KSSS42QTX04
KSSS42QTX05
KSSS48FTX
KSSS48FTX00
KSSS48FTX02
KSSS48FTX03
KSSS48FTX04
KSSS48QTB
KSSS48QTB00
KSSS48QTB02
KSSS48QTB03
KSSS48QTB04
KSSS48QTW
KSSS48QTW00
KSSS48QTW02
KSSS48QTW03
KSSS48QTW04
KSSS48QTX
KSSS48QTX00
KSSS48QTX02
KSSS48QTX03
KSSS48QTX04
KSSS48QTX15
Maytag
GC3CHAXNB00
GC3CHAXNQ00
GC3CHAXNS00
GC3CHAXNT00
GC3JHAXTB00
GC3JHAXTB01
GC3JHAXTL00
GC3JHAXTL01
GC3JHAXTQ00
GC3JHAXTQ01
GC3JHAXTS00
GC3JHAXTS01
GC3NHAXSQ00
GC3NHAXSY00
GC3NHAXVA00
GC3NHAXVA01
GC3NHAXVB00
GC3NHAXVB01
GC3NHAXVQ00
GC3NHAXVQ01
GC3NHAXVS00
GC3NHAXVS01
GC3NHAXVY00
GC3NHAXVY01
GC3PHEXNB00
GC3PHEXNQ00
GC3PHEXNQ01
GC3PHEXNQ02
GC3PHEXNQ03
GC3PHEXNQ04
GC3PHEXNS00
GC3PHEXNS02
GC3PHEXNS03
GC3SHAXVA00
GC3SHAXVA01
GC3SHAXVA02
GC3SHAXVB00
GC3SHAXVB01
GC3SHAXVB02
GC3SHAXVQ00
GC3SHAXVQ02
GC3SHAXVS00
GC3SHAXVS01
GC3SHAXVS02
GC3SHAXVS03
GC3SHAXVT00
GC3SHAXVT01
GC3SHAXVT02
GC3SHAXVY00
GC3SHAXVY01
GC3SHAXVY02
GC3SHEXNB00
GC3SHEXNB02
GC3SHEXNB03
GC3SHEXNB04
GC3SHEXNB15
GC3SHEXNB16
GC3SHEXNQ00
GC3SHEXNQ02
GC3SHEXNQ03
GC3SHEXNQ04
GC3SHEXNQ15
GC3SHEXNQ16
GC3SHEXNS00
GC3SHEXNS02
GC3SHEXNS03
GC3SHEXNS04
GC3SHEXNS15
GC3SHEXNS16
GC3SHEXNT00
GC3SHEXNT01
GC3SHEXNT02
GC3SHEXNT03
GC3SHEXNT04
GC3SHEXNT16
GC5CHAXNB00
GC5CHAXNQ00
GC5NHAXSB00
GC5NHAXSB01
GC5NHAXSB02
GC5NHAXSB03
GC5NHAXSQ00
GC5NHAXSQ01
GC5NHAXSQ02
GC5NHAXST00
GC5NHAXST01
GC5NHAXST02
GC5NHAXST03
GC5NHAXSY00
GC5NHAXSY01
GC5NHAXSY02
GC5NHAXSY03
GC5NHAXVB00
GC5NHAXVB01
GC5NHAXVQ00
GC5NHAXVQ01
GC5NHAXVS00
GC5NHAXVS01
GC5NHAXVY00
GC5NHAXVY01
GC5SHAXVA00
GC5SHAXVA01
GC5SHAXVA02
GC5SHAXVB00
GC5SHAXVB01
GC5SHAXVB02
GC5SHAXVQ00
GC5SHAXVQ02
GC5SHAXVS00
GC5SHAXVS01
GC5SHAXVS02
GC5SHAXVT00
GC5SHAXVT01
GC5SHAXVT02
GC5SHAXVY00
GC5SHAXVY01
GC5SHAXVY02
GC5SHEXNB00
GC5SHEXNB02
GC5SHEXNB03
GC5SHEXNB04
GC5SHEXNB05
GC5SHEXNQ00
GC5SHEXNQ02
GC5SHEXNQ03
GC5SHEXNQ04
GC5SHEXNQ05
GC5SHEXNS00
GC5SHEXNS01
GC5SHEXNS02
GC5SHEXNS03
GC5SHEXNS04
GC5SHEXNS05
GC5SHEXNT00
GC5SHEXNT02
GC5SHEXNT03
GC5SHEXNT04
GC5SHEXNT05
GC5THEXNB00
GC5THEXNB01
GC5THEXNB02
GC5THEXNB03
GC5THEXNQ00
GC5THEXNS00
GC5THEXNS01
GC5THEXNS02
GC5THEXNS03
GC5THEXNT00
GD5DHAXVA00
GD5DHAXVA01
GD5DHAXVA04
GD5DHAXVA06
GD5DHAXVA07
GD5DHAXVB00
GD5DHAXVB01
GD5DHAXVB02
GD5DHAXVB04
GD5DHAXVB05
GD5DHAXVB06
GD5DHAXVB07
GD5DHAXVQ00
GD5DHAXVQ01
GD5DHAXVQ02
GD5DHAXVQ03
GD5DHAXVQ04
GD5DHAXVQ05
GD5DHAXVQ06
GD5DHAXVQ07
GD5DHAXVY00
GD5DHAXVY01
GD5DHAXVY02
GD5DHAXVY04
GD5DHAXVY05
GD5DHAXVY06
GD5DHAXVY07
GD5DHAXVY08
GD5NHAXSB00
GD5NHAXSB01
GD5NHAXSQ00
GD5NHAXSQ01
GD5NHAXST00
GD5NHAXST01
GD5NHAXSY00
GD5NHAXSY01
GD5NVAXSA00
GD5NVAXSA01
GD5NVAXSA02
GD5NVAXSB01
GD5NVAXSB02
GD5NVAXSB03
GD5NVAXSL00
GD5NVAXSL01
GD5NVAXSQ00
GD5NVAXSQ01
GD5NVAXSQ02
GD5NVAXSS01
GD5NVAXSS02
GD5NVAXSS03
GD5NVAXST01
GD5NVAXST02
GD5NVAXST03
GD5NVAXSY00
GD5NVAXSY01
GD5NVAXSY02
GD5NVAXSY03
GD5NVAXWA00
GD5RHAXRQ00
GD5RHAXSB00
GD5RHAXSB01
GD5RHAXSL00
GD5RHAXSQ00
GD5RHAXSQ01
GD5RHAXSS00
GD5RHAXSS01
GD5RHAXTB00
GD5RHAXTB01
GD5RHAXTQ00
GD5RHAXTS00
GD5RHAXTS01
GD5RHAXTS02
GD5RVAXVB00
GD5RVAXVB01
GD5RVAXVB02
GD5RVAXVB03
GD5RVAXVB04
GD5RVAXVB05
GD5RVAXVB06
GD5RVAXVQ00
GD5RVAXVQ01
GD5RVAXVQ02
GD5RVAXVQ03
GD5RVAXVQ04
GD5RVAXVQ05
GD5RVAXVY00
GD5RVAXVY01
GD5RVAXVY02
GD5RVAXVY03
GD5RVAXVY04
GD5RVAXVY05
GD5VVAXTY00
GD5VVAXTY02
GF6NFEXRB00
GF6NFEXRB01
GF6NFEXRQ00
GF6NFEXRQ01
GF6NFEXRY01
GF6NFEXTB00
GF6NFEXTQ00
GF6NFEXTQ01
GF6NFEXTY00
GF6NFEXTY01
GS2KVAXVS00
GS2KVAXVS01
GS2KVAXVS02
GS2KVAXVS03
GS2SHAXSB00
GS2SHAXSB01
GS2SHAXSB02
GS2SHAXSQ00
GS2SHAXSQ01
GS2SHAXSQ02
GS2SHAXSS00
GS2SHAXSS01
GS2SHAXSS02
GS2SHAXSS03
GS5DHAXVA00
GS5DHAXVA01
GS5DHAXVB00
GS5DHAXVB01
GS5DHAXVQ00
GS5DHAXVQ01
GS5DHAXVY00
GS5DHAXVY01
GS5SHAXSA00
GS5SHAXSA02
GS5SHAXSB00
GS5SHAXSB01
GS5SHAXSB02
GS5SHAXSL00
GS5SHAXSL01
GS5SHAXSQ00
GS5SHAXSQ01
GS5SHAXSQ02
GS5SHAXTB00
GS5SHAXTB01
GS5SHAXTB02
GS5SHAXTL00
GS5SHAXTL01
GS5SHAXTQ00
GS5SHAXTQ01
GS5SHAXTS00
GS5SVAXVA00
GS5SVAXVA01
GS5SVAXVB00
GS5SVAXVB01
GS5SVAXVQ00
GS5SVAXVQ01
GS5VHAXWA00
GS5VHAXWA01
GS5VHAXWA02
GS5VHAXWB00
GS5VHAXWB01
GS5VHAXWQ00
GS5VHAXWQ01
GS5VHAXWQ02
GS5VHAXWY00
GS5VHAXWY01
GS5VHAXWY02
GS5VHAXWY03
GS6NBEXRA00
GS6NBEXRA01
GS6NBEXRA02
GS6NBEXRA04
GS6NBEXRB00
GS6NBEXRB01
GS6NBEXRB02
GS6NBEXRB03
GS6NBEXRB04
GS6NBEXRL00
GS6NBEXRL01
GS6NBEXRL02
GS6NBEXRL03
GS6NBEXRL04
GS6NBEXRQ00
GS6NBEXRQ01
GS6NBEXRQ02
GS6NBEXRQ03
GS6NBEXRS00
GS6NBEXRS01
GS6NBEXRS02
GS6NBEXRS03
GS6NBEXRS04
GS6NBEXRT01
GS6NBEXRT02
GS6NBEXRT03
GS6NBEXRY00
GS6NBEXRY01
GS6NBEXRY02
GS6NBEXRY03
GS6NBEXRY04
GS6NHAXVA00
GS6NHAXVA01
GS6NHAXVA02
GS6NHAXVA03
GS6NHAXVA04
GS6NHAXVA05
GS6NHAXVA07
GS6NHAXVA08
GS6NHAXVA09
GS6NHAXVB00
GS6NHAXVB01
GS6NHAXVB02
GS6NHAXVB03
GS6NHAXVB04
GS6NHAXVB05
GS6NHAXVB07
GS6NHAXVB08
GS6NHAXVK00
GS6NHAXVK01
GS6NHAXVK02
GS6NHAXVK03
GS6NHAXVK04
GS6NHAXVK06
GS6NHAXVK07
GS6NHAXVK08
GS6NHAXVK09
GS6NHAXVQ00
GS6NHAXVQ01
GS6NHAXVQ02
GS6NHAXVQ03
GS6NHAXVQ04
GS6NHAXVQ05
GS6NHAXVQ07
GS6NHAXVQ08
GS6NHAXVQ09
GS6NHAXVS00
GS6NHAXVS01
GS6NHAXVS02
GS6NHAXVS03
GS6NHAXVS04
GS6NHAXVS05
GS6NHAXVS06
GS6NHAXVS07
GS6NHAXVS08
GS6NHAXVT00
GS6NHAXVT01
GS6NHAXVT02
GS6NHAXVT03
GS6NHAXVT04
GS6NHAXVT05
GS6NHAXVT08
GS6NHAXVY00
GS6NHAXVY01
GS6NHAXVY02
GS6NHAXVY03
GS6NHAXVY04
GS6NHAXVY06
GS6NHAXVY07
GS6NHAXVY08
GS6NHAXVY09
GS6NVEXSA01
GS6NVEXSB01
GS6NVEXSB03
GS6NVEXSL00
GS6NVEXSL01
GS6NVEXSL02
GS6NVEXSQ01
GS6NVEXSQ02
GS6NVEXSS00
GS6NVEXSS01
GS6NVEXSS02
GS6NVEXST01
GS6NVEXSY01
GS6NVEXSY02
GS6NVEXVB00
GS6NVEXVB01
GS6NVEXVL00
GS6NVEXVL01
GS6NVEXVQ00
GS6NVEXVQ01
GS6NVEXVS00
GS6NVEXVS01
MCD2358WEB
MCD2358WEB00
MCD2358WEB01
MCD2358WEM
MCD2358WEM00
MCD2358WEM01
MCD2358WEM02
MCD2358WEW
MCD2358WEW00
MCD2358WEW01
MSD2242VEB
MSD2242VEB00
MSD2242VEB01
MSD2242VES
MSD2242VES00
MSD2242VES01
MSD2242VES02
MSD2242VES03
MSD2242VEU
MSD2242VEU00
MSD2242VEU01
MSD2242VEW
MSD2242VEW00
MSD2242VEW01
MSD2254VEA
MSD2254VEA00
MSD2254VEA01
MSD2254VEB
MSD2254VEB00
MSD2254VEB01
MSD2254VEQ
MSD2254VEQ00
MSD2254VEQ01
MSD2254VEW
MSD2254VEW00
MSD2254VEW01
MSD2254VEY
MSD2254VEY00
MSD2254VEY01
MSD2254VEY02
MSD2254VEY03
MSD2258KES
MSD2258KES01
MSD2258KGB
MSD2258KGB00
MSD2258KGB01
MSD2269KEA
MSD2269KEA00
MSD2269KEA01
MSD2269KEW
MSD2269KEW00
MSD2269KEW01
MSD2272VEB
MSD2272VEB00
MSD2272VES
MSD2272VES00
MSD2272VES01
MSD2272VES02
MSD2272VEW
MSD2272VEW00
MSD2272VEW01
MSD2273VEB
MSD2273VEB00
MSD2273VES
MSD2273VES00
MSD2273VES02
MSD2273VEW
MSD2273VEW00
MSD2274VEA
MSD2274VEA00
MSD2274VEB
MSD2274VEB00
MSD2274VEM
MSD2274VEM00
MSD2274VEM01
MSD2274VEM02
MSD2274VEQ
MSD2274VEQ00
MSD2274VEW
MSD2274VEW00
MSD2542VEB
MSD2542VEB00
MSD2542VEB01
MSD2542VES
MSD2542VES00
MSD2542VES01
MSD2542VES02
MSD2542VEU
MSD2542VEU00
MSD2542VEU01
MSD2542VEW
MSD2542VEW00
MSD2542VEW01
MSD2550VEB
MSD2550VEB00
MSD2550VEB01
MSD2550VES
MSD2550VES00
MSD2550VES01
MSD2550VES02
MSD2550VES03
MSD2550VEU
MSD2550VEU00
MSD2550VEU01
MSD2550VEW
MSD2550VEW00
MSD2550VEW01
MSD2552VEA
MSD2552VEA00
MSD2552VEA01
MSD2552VEB
MSD2552VEB00
MSD2552VEB01
MSD2552VEQ
MSD2552VEQ00
MSD2552VEW
MSD2552VEW00
MSD2552VEW01
MSD2552VEY
MSD2552VEY00
MSD2552VEY01
MSD2553WEB
MSD2553WEB00
MSD2553WEB01
MSD2553WEB04
MSD2553WEB05
MSD2553WEM
MSD2553WEM00
MSD2553WEM01
MSD2553WEM03
MSD2553WEM04
MSD2553WEM05
MSD2553WEW
MSD2553WEW00
MSD2553WEW01
MSD2553WEW02
MSD2553WEW04
MSD2553WEW05
MSD2554VEA
MSD2554VEA00
MSD2554VEA01
MSD2554VEB
MSD2554VEB00
MSD2554VEB01
MSD2554VEQ
MSD2554VEQ00
MSD2554VEQ01
MSD2554VEW
MSD2554VEW00
MSD2554VEW01
MSD2554VEY
MSD2554VEY00
MSD2554VEY01
MSD2559XEB
MSD2559XEB00
MSD2559XEB01
MSD2559XEB03
MSD2559XEB04
MSD2559XEM
MSD2559XEM00
MSD2559XEM01
MSD2559XEM02
MSD2559XEM03
MSD2559XEM04
MSD2559XEM05
MSD2559XEW
MSD2559XEW00
MSD2559XEW01
MSD2559XEW03
MSD2559XEW04
MSD2572VEB
MSD2572VEB00
MSD2572VEB01
MSD2572VES
MSD2572VES00
MSD2572VES02
MSD2572VES03
MSD2572VEU
MSD2572VEU00
MSD2572VEU01
MSD2572VEW
MSD2572VEW00
MSD2572VEW01
MSD2573VEB
MSD2573VEB00
MSD2573VEB01
MSD2573VEB02
MSD2573VES
MSD2573VES00
MSD2573VES01
MSD2573VES02
MSD2573VES03
MSD2573VES04
MSD2573VEW
MSD2573VEW00
MSD2573VEW01
MSD2573VEW02
MSD2574VEA
MSD2574VEA00
MSD2574VEA10
MSD2574VEB
MSD2574VEB00
MSD2574VEB10
MSD2574VEM
MSD2574VEM00
MSD2574VEM10
MSD2574VEM11
MSD2574VEM12
MSD2574VEQ
MSD2574VEQ00
MSD2574VEQ10
MSD2574VEW
MSD2574VEW00
MSD2574VEW10
MSD2576VEA
MSD2576VEA00
MSD2576VEB
MSD2576VEB00
MSD2576VEM
MSD2576VEM00
MSD2576VEM01
MSD2576VEM02
MSD2576VEW
MSD2576VEW00
MSD2576VEW01
MSD2578VEA
MSD2578VEA00
MSD2578VEB
MSD2578VEB00
MSD2578VEB01
MSD2578VEM
MSD2578VEM00
MSD2578VEM01
MSD2578VEM02
MSD2578VEW
MSD2578VEW00
MSD2578VEW01
MSF22C2EXB
MSF22C2EXB00
MSF22C2EXM
MSF22C2EXM00
MSF22C2EXM01
MSF22C2EXS
MSF22C2EXS00
MSF22C2EXW
MSF22C2EXW00
MSF25C2EXB
MSF25C2EXB00
MSF25C2EXB01
MSF25C2EXM
MSF25C2EXM00
MSF25C2EXM01
MSF25C2EXM03
MSF25C2EXS
MSF25C2EXS00
MSF25C2EXW
MSF25C2EXW00
MSF25C2EXW01
MSF25D2EAB
MSF25D2EAB00
MSF25D2EAS
MSF25D2EAS00
MSF25D2EAS01
MSF25D2EAW
MSF25D2EAW00
Whirlpool

EC3JHAXRL
EC3JHAXRL00
EC3JHAXRL01
EC3JHAXRL12
EC3JHAXRL13
EC3JHAXRS
EC3JHAXRS00
EC3JHAXRS01
ED2DHEXWB
ED2DHEXWB00
ED2DHEXWL
ED2DHEXWL00
ED2DHEXWQ
ED2DHEXWQ00
ED2FHAXSB
ED2FHAXSB00
ED2FHAXSB03
ED2FHAXSB04
ED2FHAXSB05
ED2FHAXSL
ED2FHAXSL00
ED2FHAXSL02
ED2FHAXSL03
ED2FHAXSL04
ED2FHAXSL05
ED2FHAXSQ
ED2FHAXSQ00
ED2FHAXSQ01
ED2FHAXSQ03
ED2FHAXSQ04
ED2FHAXSQ05
ED2FHAXST
ED2FHAXST00
ED2FHAXST03
ED2FHAXST04
ED2FHAXST05
ED2FHEXSB
ED2FHEXSB00
ED2FHEXSB02
ED2FHEXSB03
ED2FHEXSB04
ED2FHEXSB05
ED2FHEXSL
ED2FHEXSL00
ED2FHEXSL01
ED2FHEXSL02
ED2FHEXSL03
ED2FHEXSL04
ED2FHEXSQ
ED2FHEXSQ00
ED2FHEXSQ02
ED2FHEXSQ03
ED2FHEXSQ04
ED2FHEXSQ05
ED2FHEXSS
ED2FHEXSS00
ED2FHEXSS02
ED2FHEXSS03
ED2FHEXSS04
ED2FHEXSS05
ED2FHEXST
ED2FHEXST00
ED2FHEXST02
ED2FHEXST03
ED2FHEXST04
ED2FHEXST05
ED2FHEXTB
ED2FHEXTB00
ED2FHEXTB01
ED2FHEXTB02
ED2FHEXTB03
ED2FHEXTL
ED2FHEXTL00
ED2FHEXTL01
ED2FHEXTL02
ED2FHEXTL03
ED2FHEXTQ
ED2FHEXTQ00
ED2FHEXTQ01
ED2FHEXTQ02
ED2FHEXTQ03
ED2FHEXTS
ED2FHEXTS00
ED2FHEXTS01
ED2FHEXTS02
ED2FHEXTS03
ED2FHEXTT
ED2FHEXTT00
ED2FHEXTT01
ED2FHEXTT02
ED2FHEXTT03
ED2FHEXVB
ED2FHEXVB00
ED2FHEXVB01
ED2FHEXVL
ED2FHEXVL00
ED2FHEXVL01
ED2FHEXVQ
ED2FHEXVQ00
ED2FHEXVQ01
ED2FHEXVS
ED2FHEXVS00
ED2FHEXVS01
ED2FHEXVS02
ED2FHEXVS03
ED2FHEXVT
ED2FHEXVT00
ED2FHEXVT01
ED2FHGXSB
ED2FHGXSB00
ED2FHGXSQ
ED2FHGXSQ00
ED2FVGXSS
ED2FVGXSS00
ED2GVEXVD
ED2GVEXVD00
ED2GVEXVD01
ED2HBEXTB
ED2HBEXTB00
ED2HBEXTB01
ED2HBEXTL
ED2HBEXTL00
ED2HBEXTL01
ED2HBEXTQ
ED2HBEXTQ00
ED2HBEXTQ01
ED2HBEXTS
ED2HBEXTS00
ED2HBEXTS01
ED2HBEXTT
ED2HBEXTT00
ED2HBEXTT01
ED2HHEXTB
ED2HHEXTB00
ED2HHEXTL
ED2HHEXTL00
ED2HHEXTQ
ED2HHEXTQ00
ED2HHEXVB
ED2HHEXVB00
ED2HHEXVB01
ED2HHEXVL
ED2HHEXVL00
ED2HHEXVL01
ED2HHEXVQ
ED2HHEXVQ00
ED2HHEXVQ01
ED2JHAXTB
ED2JHAXTB00
ED2JHAXTB01
ED2JHAXTB02
ED2JHAXTL
ED2JHAXTL00
ED2JHAXTL01
ED2JHAXTL02
ED2JHAXTQ
ED2JHAXTQ00
ED2JHAXTQ01
ED2JHAXTQ02
ED2JHAXTS
ED2JHAXTS00
ED2JHAXTS01
ED2JHAXTS02
ED2JHAXTT
ED2JHAXTT00
ED2JHAXTT01
ED2JHEXTD
ED2JHEXTD00
ED2JHEXTS
ED2JHEXTS00
ED2JHGXRB
ED2JHGXRB00
ED2JHGXRB02
ED2JHGXRQ
ED2JHGXRQ00
ED2JHGXRQ02
ED2JHGXRT
ED2JHGXRT00
ED2JHGXRT02
ED2JVEXTS
ED2JVEXTS00
ED2KHAXVA
ED2KHAXVA00
ED2KHAXVA01
ED2KHAXVB
ED2KHAXVB00
ED2KHAXVB01
ED2KHAXVL
ED2KHAXVL00
ED2KHAXVL01
ED2KHAXVQ
ED2KHAXVQ00
ED2KHAXVQ01
ED2KHAXVS
ED2KHAXVS00
ED2KHAXVS01
ED2KHAXVS02
ED2KHAXVS03
ED2KHAXVT
ED2KHAXVT00
ED2KHAXVT01
ED2KVEXVB
ED2KVEXVB00
ED2KVEXVB01
ED2KVEXVL
ED2KVEXVL00
ED2KVEXVL01
ED2KVEXVQ
ED2KVEXVQ00
ED2KVEXVQ01
ED2LDEXWB
ED2LDEXWB00
ED2LDEXWL
ED2LDEXWL00
ED2LDEXWQ
ED2LDEXWQ00
ED2LHEXTD
ED2LHEXTD00
ED2LHEXTD10
ED2NHGXTL
ED2NHGXTL00
ED2NHGXTQ
ED2NHGXTQ00
ED2NHGXVB
ED2NHGXVB00
ED2NHGXVL
ED2NHGXVL00
ED2NHGXVL01
ED2NHGXVQ
ED2NHGXVQ00
ED2NHGXVQ01
ED2PBEXTB
ED2PBEXTB00
ED2PBEXTQ
ED2PBEXTQ00
ED2PBEXTT
ED2PBEXTT00
ED2SHEXXB
ED2SHEXXB00
ED2SHEXXQ
ED2SHEXXQ00
ED2SHEXXU
ED2SHEXXU00
ED2VHEXSQ
ED2VHEXSQ00
ED2VHEXTB
ED2VHEXTB00
ED2VHEXTB01
ED2VHEXTL
ED2VHEXTL01
ED2VHEXTQ
ED2VHEXTQ01
ED2VHEXTS
ED2VHEXTS01
ED2VHEXVB
ED2VHEXVB00
ED2VHEXVB01
ED2VHEXVL
ED2VHEXVL00
ED2VHEXVL01
ED2VHEXVQ
ED2VHEXVQ00
ED2VHEXVQ01
ED5DHEXWB
ED5DHEXWB00
ED5DHEXWB03
ED5DHEXWL
ED5DHEXWL00
ED5DHEXWL03
ED5DHEXWQ
ED5DHEXWQ00
ED5DHEXWQ02
ED5DHEXWQ03
ED5FHAXSB
ED5FHAXSB00
ED5FHAXSB01
ED5FHAXSB02
ED5FHAXSB03
ED5FHAXSL
ED5FHAXSL00
ED5FHAXSL01
ED5FHAXSL02
ED5FHAXSL03
ED5FHAXSQ
ED5FHAXSQ00
ED5FHAXSQ01
ED5FHAXSQ02
ED5FHAXSQ03
ED5FHAXSS
ED5FHAXSS00
ED5FHAXSS01
ED5FHAXSS02
ED5FHAXSS03
ED5FHAXST
ED5FHAXST00
ED5FHAXST01
ED5FHAXST02
ED5FHAXST03
ED5FHAXVA
ED5FHAXVA00
ED5FHAXVA01
ED5FHAXVA02
ED5FHAXVA03
ED5FHAXVA06
ED5FHAXVB
ED5FHAXVB00
ED5FHAXVB01
ED5FHAXVB02
ED5FHAXVB03
ED5FHAXVQ
ED5FHAXVQ00
ED5FHAXVQ01
ED5FHAXVQ02
ED5FHAXVQ04
ED5FHAXVS
ED5FHAXVS00
ED5FHAXVS01
ED5FHAXVS02
ED5FHAXVS03
ED5FHAXVS05
ED5FHAXVT
ED5FHAXVT00
ED5FHAXVT01
ED5FHAXVT02
ED5FHAXVY
ED5FHAXVY00
ED5FHAXVY01
ED5FHAXVY02
ED5FHAXVY03
ED5FHAXVY04
ED5FHAXVY05
ED5FHAXVY06
ED5FHEXSB
ED5FHEXSB00
ED5FHEXSB02
ED5FHEXSB03
ED5FHEXSL
ED5FHEXSL00
ED5FHEXSL02
ED5FHEXSQ
ED5FHEXSQ00
ED5FHEXSQ02
ED5FHEXSQ03
ED5FHEXSS
ED5FHEXSS00
ED5FHEXSS02
ED5FHEXSS03
ED5FHEXST
ED5FHEXST00
ED5FHEXST02
ED5FHEXST03
ED5FHEXTB
ED5FHEXTB00
ED5FHEXTB01
ED5FHEXTL
ED5FHEXTL00
ED5FHEXTL01
ED5FHEXTQ
ED5FHEXTQ00
ED5FHEXTQ01
ED5FHEXTS
ED5FHEXTS00
ED5FHEXTS01
ED5FHEXTT
ED5FHEXTT00
ED5FHEXTT01
ED5FHEXVB
ED5FHEXVB00
ED5FHEXVB01
ED5FHEXVL
ED5FHEXVL00
ED5FHEXVL01
ED5FHEXVQ
ED5FHEXVQ00
ED5FHEXVQ01
ED5FHEXVS
ED5FHEXVS00
ED5FHEXVS01
ED5FHEXVS02
ED5FHEXVS04
ED5FHEXVT
ED5FHEXVT00
ED5FHEXVT01
ED5FHGXSB
ED5FHGXSB00
ED5FHGXSQ
ED5FHGXSQ00
ED5FVAXWL
ED5FVAXWL00
ED5FVAXWL01
ED5FVEXSS
ED5FVEXSS00
ED5FVGXSS
ED5FVGXSS00
ED5FVGXSS01
ED5FVGXSS02
ED5FVGXSS03
ED5FVGXSS04
ED5FVGXVS
ED5FVGXVS00
ED5FVGXVS01
ED5FVGXVY
ED5FVGXVY00
ED5FVGXVY01
ED5FVGXWS
ED5FVGXWS00
ED5FVGXWS01
ED5FVGXWS02
ED5FVGXWS05
ED5FVGXWS06
ED5FVGXWS07
ED5FVGXWS08
ED5GTGXWB
ED5GTGXWB00
ED5GTGXWQ
ED5GTGXWQ00
ED5GVEXVD
ED5GVEXVD00
ED5GVEXVD01
ED5GVEXVD02
ED5GVEXVD03
ED5GVEXVD04
ED5GVEXVD05
ED5GVEXVD06
ED5GVEXVD07
ED5HBEXTB
ED5HBEXTB00
ED5HBEXTB01
ED5HBEXTL
ED5HBEXTL01
ED5HBEXTQ
ED5HBEXTQ00
ED5HBEXTQ01
ED5HBEXTS
ED5HBEXTS00
ED5HBEXTS01
ED5HBEXTT
ED5HBEXTT01
ED5HHAXVB
ED5HHAXVB00
ED5HHAXVB01
ED5HHAXVB02
ED5HHAXVB03
ED5HHAXVL
ED5HHAXVL00
ED5HHAXVQ
ED5HHAXVQ00
ED5HHAXVQ01
ED5HHAXVQ02
ED5HHAXVQ03
ED5HHEXTB
ED5HHEXTB00
ED5HHEXTL
ED5HHEXTL00
ED5HHEXTQ
ED5HHEXTQ00
ED5HHGXTQ
ED5HHGXTQ00
ED5HHGXTS
ED5HHGXTS00
ED5HVAXVL
ED5HVAXVL00
ED5HVAXVL01
ED5HVAXVL02
ED5HVAXVL03
ED5HVEXVB
ED5HVEXVL
ED5HVEXVL00
ED5HVEXVL01
ED5HVEXVL02
ED5HVEXVL03
ED5HVEXVQ
ED5HVEXVQ00
ED5HVEXVQ01
ED5HVEXVQ02
ED5HVEXVQ03
ED5JHAXTB
ED5JHAXTB00
ED5JHAXTB01
ED5JHAXTB02
ED5JHAXTL
ED5JHAXTL00
ED5JHAXTL01
ED5JHAXTL02
ED5JHAXTQ
ED5JHAXTQ00
ED5JHAXTQ01
ED5JHAXTQ02
ED5JHAXTS
ED5JHAXTS00
ED5JHAXTS01
ED5JHAXTS02
ED5JHAXTT
ED5JHAXTT00
ED5JHAXTT01
ED5JHAXTT02
ED5JHEXTB
ED5JHEXTB00
ED5JHEXTB10
ED5JHEXTB11
ED5JHEXTD
ED5JHEXTD00
ED5JHEXTQ
ED5JHEXTQ00
ED5JHEXTQ10
ED5JHEXTQ11
ED5JHEXTS
ED5JHEXTS00
ED5JHEXTS10
ED5JHEXTS11
ED5JHEXWB
ED5JHEXWB00
ED5JHEXWQ
ED5JHEXWQ00
ED5JHGXRB
ED5JHGXRB00
ED5JHGXRL
ED5JHGXRL00
ED5JHGXRQ
ED5JHGXRQ00
ED5JHGXRQ01
ED5JHGXRQ02
ED5JHGXRT
ED5JHGXRT00
ED5JVAXTB
ED5JVAXTB00
ED5JVAXTB01
ED5JVAXTL
ED5JVAXTL00
ED5JVAXTL01
ED5JVAXTQ
ED5JVAXTQ00
ED5JVAXTQ01
ED5JVEXTB
ED5JVEXTB00
ED5JVEXTQ
ED5JVEXTQ00
ED5JVEXTS
ED5JVEXTS00
ED5KVEXVB
ED5KVEXVB00
ED5KVEXVB01
ED5KVEXVB02
ED5KVEXVB03
ED5KVEXVB04
ED5KVEXVB05
ED5KVEXVB06
ED5KVEXVB07
ED5KVEXVL
ED5KVEXVL00
ED5KVEXVL01
ED5KVEXVL02
ED5KVEXVL03
ED5KVEXVQ
ED5KVEXVQ00
ED5KVEXVQ01
ED5KVEXVQ02
ED5KVEXVQ03
ED5KVEXVQ04
ED5KVEXVQ05
ED5KVEXVQ06
ED5KVEXVQ07
ED5KVEXVQ5
ED5LDEXWB
ED5LDEXWB00
ED5LDEXWL
ED5LDEXWL00
ED5LDEXWQ
ED5LDEXWQ00
ED5LHAXWB
ED5LHAXWB00
ED5LHAXWB01
ED5LHAXWB02
ED5LHAXWQ
ED5LHAXWQ00
ED5LHAXWQ01
ED5LHAXWQ02
ED5LHAXWS
ED5LHAXWS00
ED5LHAXWS01
ED5LHAXWS02
ED5LHAXWS03
ED5LHAXWS06
ED5LHAXWS07
ED5LHAXWT
ED5LHAXWT00
ED5LHAXWT01
ED5LHAXWT02
ED5LHEXTD
ED5LHEXTD00
ED5LHEXTD10
ED5LHEXTD11
ED5LTAXVB
ED5LTAXVB00
ED5LTAXVB01
ED5LTAXVL
ED5LTAXVL00
ED5LTAXVL01
ED5LTAXVQ
ED5LTAXVQ00
ED5LTAXVQ01
ED5LVAXVB
ED5LVAXVB00
ED5LVAXVB01
ED5LVAXVQ
ED5LVAXVQ00
ED5LVAXVQ01
ED5LVAXWB
ED5LVAXWB00
ED5LVAXWB02
ED5LVAXWB05
ED5LVAXWQ
ED5LVAXWQ00
ED5LVAXWQ02
ED5LVAXWQ05
ED5LVAXWS
ED5LVAXWS00
ED5LVAXWS01
ED5LVAXWS02
ED5LVAXWS03
ED5LVAXWT
ED5LVAXWT00
ED5NHGXTL
ED5NHGXTL00
ED5NHGXTQ
ED5NHGXTQ00
ED5NHGXVB
ED5NHGXVB00
ED5NHGXVL
ED5NHGXVL00
ED5NHGXVL01
ED5NHGXVQ
ED5NHGXVQ00
ED5NHGXVQ01
ED5PBAXVB
ED5PBAXVB00
ED5PBAXVB01
ED5PBAXVQ
ED5PBAXVQ00
ED5PBAXVQ01
ED5PBAXVT
ED5PBAXVT00
ED5PBAXVY
ED5PBAXVY00
ED5PBAXVY01
ED5PBEXTB
ED5PBEXTB00
ED5PBEXTQ
ED5PBEXTQ00
ED5PHAXSB
ED5PHAXSB00
ED5PHAXSB01
ED5PHAXSB02
ED5PHAXSL
ED5PHAXSL00
ED5PHAXSL01
ED5PHAXSQ
ED5PHAXSQ00
ED5PHAXSQ01
ED5PHAXSQ02
ED5PHAXST
ED5PHAXST00
ED5PHAXST01
ED5PHAXST02
ED5PHEXRB
ED5PHEXRB00
ED5PHEXRB01
ED5PHEXRL
ED5PHEXRL00
ED5PHEXRL02
ED5PHEXRQ
ED5PHEXRQ00
ED5PHEXRQ01
ED5PHEXRS
ED5PHEXRS00
ED5PHEXRT
ED5PHEXRT00
ED5PHEXRT01
ED5PVEXVS
ED5PVEXVS00
ED5PVEXVS01
ED5PVEXVS02
ED5PVEXVS03
ED5PVEXVS04
ED5PVEXWS
ED5PVEXWS00
ED5PVEXWS01
ED5PVEXWS02
ED5PVEXWS05
ED5PVEXWS06
ED5PVEXWS07
ED5PVEXWS08
ED5PVEXWS09
ED5PVEXWS10
ED5PVEXWS11
ED5PVEXWS12
ED5PVEXWS13
ED5PVEXWS14
ED5VBEXTB
ED5VBEXTB00
ED5VBEXTL
ED5VBEXTL00
ED5VBEXTQ
ED5VBEXTQ00
ED5VBEXTS
ED5VBEXTS00
ED5VHAXVB
ED5VHAXVB00
ED5VHAXVB01
ED5VHAXVQ
ED5VHAXVQ00
ED5VHAXVQ01
ED5VHEXTB
ED5VHEXTB00
ED5VHEXTB01
ED5VHEXTL
ED5VHEXTL00
ED5VHEXTL01
ED5VHEXTQ
ED5VHEXTQ00
ED5VHEXTQ01
ED5VHEXTS
ED5VHEXTS01
ED5VHEXVB
ED5VHEXVB00
ED5VHEXVB01
ED5VHEXVB02
ED5VHEXVB03
ED5VHEXVB04
ED5VHEXVB06
ED5VHEXVB07
ED5VHEXVB08
ED5VHEXVB09
ED5VHEXVL
ED5VHEXVL00
ED5VHEXVL01
ED5VHEXVQ
ED5VHEXVQ00
ED5VHEXVQ01
ED5VHEXVQ02
ED5VHEXVQ03
ED5VHEXVQ04
ED5VHEXVQ05
ED5VHEXVQ06
ED5VHEXVQ07
ED5VHEXVQ08
ED5VHEXVQ09
EH050FXKQ
EH070FXMQ
EH101FXMQ
ES2FHAXSA
ES2FHAXSB
ES2FHAXSQ
ES5DVAXWA
ES5DVAXWB
ES5DVAXWQ
ES5DVAXWS
ES5DVAXWY
ES5FHAXSA
ES5FHAXSB
ES5FHAXSQ
ES5LHAXSA
ES5LHAXSB
ES5LHAXSQ
ES5PHAXSB
ES5PHAXSL
ES5PHAXSQ
ES5PVAXWA
ES5PVAXWB
ES5PVAXWQ
ES5PVAXWY
GC3CHAXNB
GC3CHAXNQ
GC3CHAXNS
GC3CHAXNT
GC3JHAXTB
GC3JHAXTL
GC3JHAXTQ
GC3JHAXTS
GC3NHAXSQ
GC3NHAXSY
GC3NHAXVA
GC3NHAXVB
GC3NHAXVQ
GC3NHAXVS
GC3NHAXVY
GC3PHEXNB
GC3PHEXNQ
GC3PHEXNS
GC3SHAXVA
GC3SHAXVB
GC3SHAXVQ
GC3SHAXVS
GC3SHAXVT
GC3SHAXVY
GC3SHEXNB
GC3SHEXNQ
GC3SHEXNS
GC3SHEXNT
GC5CHAXNB
GC5CHAXNQ
GC5NHAXSB
GC5NHAXSQ
GC5NHAXST
GC5NHAXSY
GC5NHAXVB
GC5NHAXVQ
GC5NHAXVS
GC5NHAXVY
GC5SHAXVA
GC5SHAXVB
GC5SHAXVQ
GC5SHAXVS
GC5SHAXVT
GC5SHAXVY
GC5SHEXNB
GC5SHEXNQ
GC5SHEXNS
GC5SHEXNT
GC5THEXNB
GC5THEXNQ
GC5THEXNS
GC5THEXNT
GD5DHAXVA
GD5DHAXVB
GD5DHAXVQ
GD5DHAXVY
GD5NHAXSB
GD5NHAXSQ
GD5NHAXST
GD5NHAXSY
GD5NVAXSA
GD5NVAXSB
GD5NVAXSL
GD5NVAXSQ
GD5NVAXSS
GD5NVAXST
GD5NVAXSY
GD5NVAXWA
GD5RHAXRQ
GD5RHAXSB
GD5RHAXSL
GD5RHAXSQ
GD5RHAXSS
GD5RHAXTB
GD5RHAXTQ
GD5RHAXTS
GD5RVAXVB
GD5RVAXVQ
GD5RVAXVY
GD5VVAXTY
GF6NFEXRB
GF6NFEXRQ
GF6NFEXRY
GF6NFEXTB
GF6NFEXTQ
GF6NFEXTY
GS2KVAXVS
GS2SHAXSB
GS2SHAXSQ
GS2SHAXSS
GS5DHAXVA
GS5DHAXVB
GS5DHAXVQ
GS5DHAXVY
GS5SHAXSA
GS5SHAXSB
GS5SHAXSL
GS5SHAXSQ
GS5SHAXTB
GS5SHAXTL
GS5SHAXTQ
GS5SHAXTS
GS5SVAXVA
GS5SVAXVB
GS5SVAXVQ
GS5VHAXWA
GS5VHAXWB
GS5VHAXWQ
GS5VHAXWY
GS6NBEXRA
GS6NBEXRB
GS6NBEXRL
GS6NBEXRQ
GS6NBEXRS
GS6NBEXRT
GS6NBEXRY
GS6NHAXVA
GS6NHAXVB
GS6NHAXVK
GS6NHAXVQ
GS6NHAXVS
GS6NHAXVT
GS6NHAXVY
GS6NVEXSA
GS6NVEXSB
GS6NVEXSL
GS6NVEXSQ
GS6NVEXSS
GS6NVEXST
GS6NVEXSY
GS6NVEXVB
GS6NVEXVL
GS6NVEXVQ
GS6NVEXVS
Couldn't load pickup availability