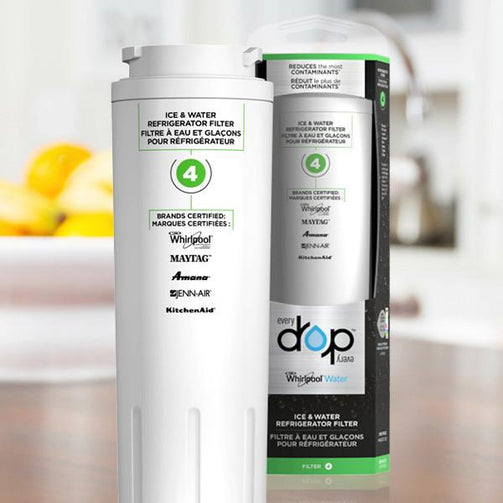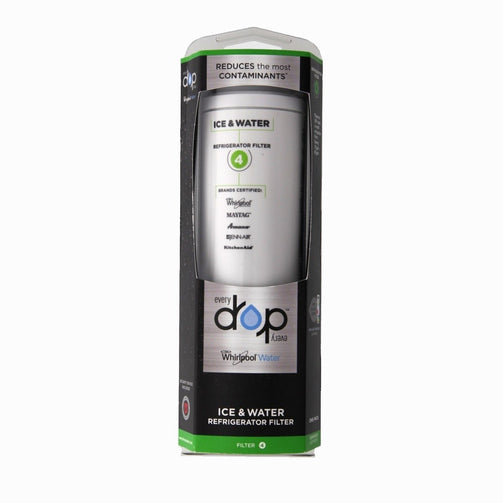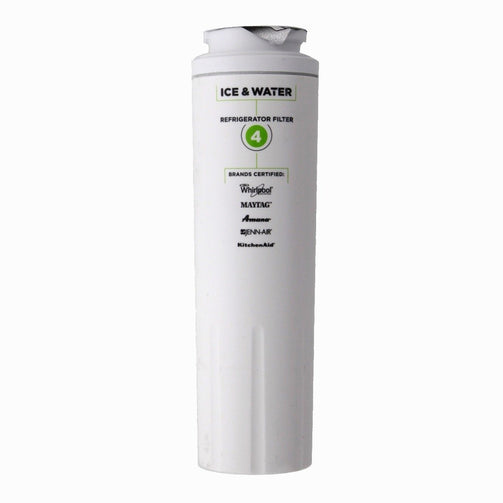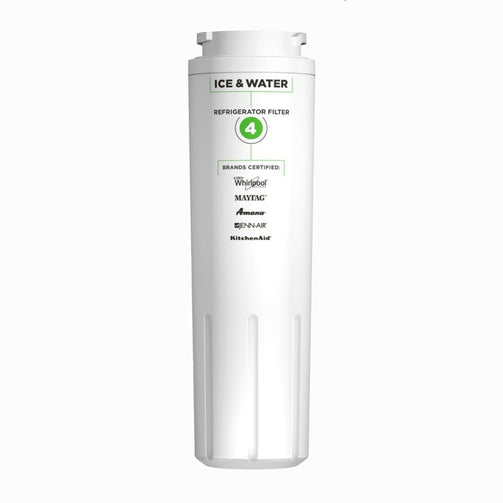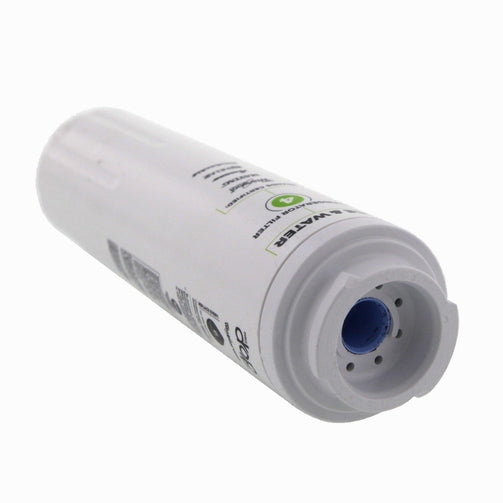 EveryDrop Refrigerator Filter 4
EveryDrop Refrigerator Filter 4
Regular price

$59.99

Sale price

$54.99
Whirlpool EveryDrop Refrigerator Water Filter, Filter 4
NSF-certified to reduce 31 contaminants, including chlorine, lead, and particulates. Combats chlorine for great-tasting water.
Genuine OEM EveryDrop Filter 4 [EDR4RXD1B Refrigerator Ice & Water Filter] replaces previous model UKF8001.
Compatible with the following refrigerator brands: Admiral, Amana, IKEA, Inglis, Jenn-Air, KitchenAid, Magic Chef, Maytag, Whirlpool.
Details
Reduces 31 contaminants including lead, chlorine, some pesticides, and some pharmaceuticals
Uses Triple Filtration Technology to reduce contaminants
Can replace up to 1500 plastic water bottles
Capacity: 200 gallons (757 liters)
Replace every 6 months for optimal contaminant reduction
Tested and certified by NSF International against NSF/ANSI Standards 42, 53, 401 and CSA B483.1
Specifications [PDF]
Additional
Replace according to the monitor in your fridge, or every 6 months or 200 gallons for optimal water taste and filter performance.
After replacing, flush the filter according to the instructions in your refrigerator manual.
—
04609005000
04609006000
050946902692
101412
101412B
101412-B
101412C
101412-C
101412D
101412-D
10883049139804
10883049175284
12589201
12589203
12589206
12589208
12589210
13040201
13040210
13040216
13040216N
13040218
1446373
4
4273163
4396395
4396395P
45-WX5X-EAHM
4609005000
4609006000
469005
46-9005
469005750
46-9005-750
469005-750
469006
46-9006
469006750
46-9006-750
469006-750
46-9084
469992
46-9992
46-9992-100
469992-100
67002671
67003523
67003523-750
67003526
67003527
67003528
67003591
67003640
67003727
67006464
67006467
67006468
67006469
67006470A
67006474
67006475
67006476
67006477
67006633
67006634
67006637
67006639
70-50I9-ZEY8
719881131429
719881131993
8001
8001P
8015250041217
8171032
8171249
883049139807
883049369907
9005
9005P
9006
9006A
9084
960253
9992P
A2-8OTE-2VBR
AFF3
AH11701546
AH11722130
AH2326380
AH733850
AP3177254
AP4343647
AP5983564
B001XW8KW4
B00412TO0U
B009B6MZI4
B00COPJPAA
B00DM8L3EY
B00UB38V2A
B00YHY6IFQ
B018HF7LHO
B018HFSDN0
EA11701546
EA11722130
EA2326380
EA733850
EAP11701546
EAP11722130
EAP2326380
EAP733850
EDR4RXD1
EDR4RXD2B
EFF6007A
EFF 6007A
EFF-6007A
ES-2HJM-84A6
F4WP6M1
FILTER4
FILTER 4
FILTER 4A
OWF50
OWF50-NI300
OWF50-NI500
OWF50-WI500
OWF51
P4-Z9H2-F3MF
PS11701546
PS11722130
PS2326380
PS733850
PS805431
RTR507A
RWFFR
SW30M
TA-UDEY-7N2Q
UK8001
UKF8001
UKF-8001
UKF8001AXX
UKF8001AXX-750
UKF8001AXXP
UKF9001
UKF9001AXX
W10181835
W10336197
W10336197N
W10735404
W11256384
WF50
WF-50
WF50-KNI300
WF50-KWI500
WF50-NI300
WF50-NI500
WF50-WI500
Admiral
Amana
IKEA
Inglis
JennAir
KitchenAid
Magic Chef
Maytag
Whirlpool
Admiral

LSD2615HEB

LSD2615HEW

LSD2615HEZ

Amana

ABB2222FEB
ABB2222FEB0
ABB2222FEB1
ABB2222FEB2
ABB2222FEB3
ABB2222FED
ABB2222FED0
ABB2222FEQ
ABB2222FEQ0
ABB2222FEQ1
ABB2222FEQ2
ABB2222FEQ3
ABB2222FEW
ABB2222FEW0
ABB2222FEW1
ABB2222FEW2
ABB2222FEW3
ABC2037DEB
ABC2037DEB2
ABC2037DEB4
ABC2037DEQ
ABC2037DES
ABC2037DEW
ABC2037DEW2
ABC2037DPS
ABC2037DPS0
ABC2037DPS2
ABC2037DTB
ABC2037DTB2
ABC2037DTS
ABC2037DTS2
ABC2037DTW
ABD2233DEB
ABD2233DEB2
ABD2233DEQ
ABD2233DES
ABD2233DEW
ABD2233DEW2
ABD2533DEB
ABD2533DEB2
ABD2533DEQ
ABD2533DES
ABD2533DEW
ABD2533DEW2
ABL2037FES
ABL2037FES0
ABL2037FES1
ABL2222FES
ABL2222FES0
ABL2222FES1
ABL2222FES2
ABL2222FES3
ABL2222FES4
ABL2222FES5
ABL2222FES6
ABL2233FES
ABL2233FES0
ABL2533FES
ABL2533FES0
ABR2037FES
ABR2037FES0
ABR2037FES1
ABR2222FES
ABR2222FES0
ABR2222FES1
ABR2222FES2
ABR2222FES3
ABR2222FES4
ABR2222FES5
ABR2222FES6
ABR2233FES
ABR2233FES0
ABR2533FES
ABR2533FES0
AC2224GEKB
AC2224GEKB1
AC2224GEKB2
AC2224GEKS
AC2224GEKS1
AC2224GEKS2
AC2224GEKS3
AC2224GEKW
AC2224GEKW1
AC2225GEKB
AC2225GEKB2
AC2225GEKB3
AC2225GEKS
AC2225GEKS1
AC2225GEKS4
AC2225GEKW
AC2225GEKW2
AC2225GEKW3
AC2228HEKB
AC2228HEKB2
AC2228HEKB3
AC2228HEKS
AC2228HEKS2
AC2228HEKW
AC2228HEKW2
AC2228HEKW3
ACD2232HRS
ACD2232HRW
ACD2234HRB
ACD2234HRB2
ACD2234HRQ
ACD2234HRQ2
ACD2234HRS
ACD2234HRW
ACD2234HRW2
ACD2234KRS
ACD2234KRS0
ACD2234KRS1
ACD2238HTS
ACD2238HTS2
AFD2535DEB
AFD2535DEB0
AFD2535DEB10
AFD2535DEB11
AFD2535DEB2
AFD2535DEB4
AFD2535DEB5
AFD2535DEB6
AFD2535DEB7
AFD2535DEB8
AFD2535DEB9
AFD2535DEQ
AFD2535DEQ1
AFD2535DEQ2
AFD2535DEQ4
AFD2535DEQ5
AFD2535DES
AFD2535DEW
AFD2535DEW1
AFD2535DEW10
AFD2535DEW11
AFD2535DEW2
AFD2535DEW4
AFD2535DEW5
AFD2535DEW6
AFD2535DEW7
AFD2535DEW8
AFD2535DEW9
AFD2535FES
AFD2535FES0
AFD2535FES1
AFD2535FES10
AFD2535FES11
AFD2535FES12
AFD2535FES2
AFD2535FES4
AFD2535FES5
AFD2535FES6
AFD2535FES7
AFD2535FES8
AFD2535FES9
AFI2237AEB
AFI2237AEB0
AFI2237AEQ
AFI2237AEQ0
AFI2237AES
AFI2237AES0
AFI2237AEW
AFI2237AEW0
AFI2538AEB
AFI2538AEB0
AFI2538AEB2
AFI2538AEB3
AFI2538AEB4
AFI2538AEB5
AFI2538AEQ
AFI2538AEQ0
AFI2538AEQ2
AFI2538AEQ3
AFI2538AEQ4
AFI2538AES
AFI2538AES0
AFI2538AES2
AFI2538AES3
AFI2538AES4
AFI2538AES5
AFI2538AES6
AFI2538AES7
AFI2538AEW
AFI2538AEW0
AFI2538AEW2
AFI2538AEW3
AFI2538AEW4
AFI2538AEW5
AFI2539ERB
AFI2539ERB00
AFI2539ERB01
AFI2539ERB02
AFI2539ERB03
AFI2539ERM
AFI2539ERM00
AFI2539ERM01
AFI2539ERM02
AFI2539ERM03
AFI2539ERM04
AFI2539ERW
AFI2539ERW00
AFI2539ERW01
AFI2539ERW02
AFI2539ERW03
ARB2257CB
ARB2257CC
ARB2257CSL
ARB2257CSR
ARB2257CW
ARB2259CB
ARB2259CC
ARB2259CS
ARB2259CW
ARB2557CB
ARB2557CC
ARB2557CSL
ARB2557CSR
ARB2557CW
ARB8057CB
ARB8057CC
ARB8057CSL
ARB8057CSR
ARB8057CW
ARB9058CB
ARB9058CS
ARB9058CW
ARB9059CS
ARSE667BS
AS2324GEKB
AS2626GEKB
AS2626GEKB2
AS2626GEKB3
AS2626GEKS
AS2626GEKS1
AS2626GEKS2
AS2626GEKS3
AS2626GEKS4
AS2626GEKW
AS2626GEKW2
AS2626GEKW3
AS2628HEKB
AS2628HEKB1
AS2628HEKB2
AS2628HEKB3
ASD2324HEB
ASD2324HES
ASD2324HEW
ASD2325KEB
ASD2325KEB0
ASD2325KEQ
ASD2325KEQ0
ASD2325KES
ASD2325KES0
ASD2325KEW
ASD2325KEW0
ASD2620HRB
ASD2620HRB0
ASD2620HRB1
ASD2620HRQ
ASD2620HRW
ASD2620HRZ
ASD2620HRZ0
ASD2622HRS
ASD2622HRW
ASD2624HEQ
ASD2624HES
ASD2624HEW
ASD2625KEB
ASD2625KEB1
ASD2625KEQ
ASD2625KES
ASD2625KES7
ASD2625KEW
ASD2625KEW0
ASD2625KEW1
ASD2626HEB
ASD2626HES
ASD2626HEW
ASD2627KEB
ASD2627KEB0
ASD2627KES
ASD2627KES0
ASD2627KEW
ASD2627KEW01
ASD2627KEW1
ASD262RHRW
IKEA

IF36BNDFSF
Inglis

IF36BNDFSF0
IF36BNDFSF1
IF36INDFSF
IX7DDEXGZ
IX7DDEXGZ000
IX7DDEXGZ001
IX7DDEXGZ002
IX7DDEXGZ003
JennAir

JBC2088HTB
JBC2088HTB1
JBC2088HTW
JBC2088HTW1
JBD2256HEB
JBD2256HEW
JBD2286KEB
JBD2286KEB0
JBD2286KEB1
JBD2286KEW
JBD2286KEW0
JBD2286KEW1
JBL2086HES
JBL2088HES
JBL2088HES1
JBL2088HES2
JBL2088HES3
JBL2088HES5
JBL2088WEM
JBL2088WEM0
JBL2088WEM1
JBL2088WES
JBL2256HES
JBL2286KES
JBL2286KES0
JBL2286KES1
JBL2286KES2
JBL2286KES3
JBR2086HES
JBR2088HES
JBR2088HES1
JBR2088HES2
JBR2088HES3
JBR2088HES4
JBR2088HES5
JBR2088WEM
JBR2088WEM0
JBR2088WEM1
JBR2088WES
JBR2256HES
JBR2256HEW
JBR2286KES
JBR2286KES0
JBR2286KES1
JBR2286KES2
JC2225GEKB
JC2225GEKB1
JC2225GEKB2
JC2225GEKB3
JCB2058GEB
JCB2058GEW
JCB2059GES
JCD2290HEB
JCD2290HEB2
JCD2290HEQ
JCD2290HEQ2
JCD2290HES
JCD2290HES2
JCD2290HES3
JCD2290HEW
JCD2290HEW1
JCD2290HEW2
JCD2292HTB
JCD2292HTW
JCD2292KTB
JCD2292KTB2
JCD2292KTW
JCD2292KTW2
JCD2295HES
JCD2295KEP
JCD2295KEP2
JCD2295KEP3
JCD2295KES
JCD2295KES2
JCD2295KES3
JCD2297KEF
JCD2297KEF2
JCD2297KEY
JCD2297KEY2
JFC2070KRB
JFC2070KRB0
JFC2070KRB1
JFC2070KRS
JFC2070KRS0
JFC2070KRS1
JFC2070KRS2
JFC2070KRW
JFC2070KRW0
JFC2070KRW1
JFC2087HRP
JFC2087HRS
JFC2089BEM
JFC2089BEM00
JFC2089BEM01
JFC2089BEM03
JFC2089BEP
JFC2089BEP00
JFC2089BEP01
JFC2089BEP03
JFC2089HEP
JFC2089HEP1
JFC2089HEP2
JFC2089HEP3
JFC2089HEP4
JFC2089HEP5
JFC2089HES
JFC2089HES0
JFC2089HES1
JFC2089HES2
JFC2089HES3
JFC2089HES4
JFC2089HES5
JFC2089HPF
JFC2089HPF1
JFC2089HPF2
JFC2089HPF3
JFC2089HPR
JFC2089HPR0
JFC2089HPR1
JFC2089HPR2
JFC2089HPY
JFC2089HPY1
JFC2089HPY2
JFC2089HPY3
JFC2089HTB
JFC2089HTB1
JFC2089HTB2
JFC2089HTB3
JFC2089HTW
JFC2089HTW1
JFC2089HTW2
JFC2089HTW3
JFC2089WEM
JFC2089WEM0
JFC2089WEM1
JFC2089WEM11
JFC2089WEM2
JFC2089WEM3
JFC2089WEM4
JFC2089WEM5
JFC2089WEM6
JFC2089WEM7
JFC2089WEM9
JFC2089WEP
JFC2089WEP0
JFC2089WEP1
JFC2089WEP11
JFC2089WEP2
JFC2089WEP3
JFC2089WEP4
JFC2089WEP5
JFC2089WEP6
JFC2089WEP7
JFC2089WEP9
JFC2089WTB
JFC2089WTB0
JFC2089WTB1
JFC2089WTB2
JFC2089WTB4
JFC2089WTB5
JFC2089WTB7
JFC2089WTB9
JFC2089WTW
JFC2089WTW0
JFC2089WTW1
JFC2290REM
JFC2290REM00
JFC2290REM02
JFC2290REP
JFC2290REP00
JFC2290REP02
JFC2290REY
JFC2290REY00
JFC2290REY02
JFC2290RTB
JFC2290RTB00
JFC2290RTB02
JFC2290VEM
JFC2290VEM1
JFC2290VEM2
JFC2290VEM3
JFC2290VEM4
JFC2290VEM5
JFC2290VEM6
JFC2290VEM7
JFC2290VEM8
JFC2290VEP
JFC2290VEP0
JFC2290VEP2
JFC2290VEP3
JFC2290VEP4
JFC2290VEP5
JFC2290VEP6
JFC2290VEP7
JFC2290VEP8
JFC2290VPF
JFC2290VPF1
JFC2290VPF2
JFC2290VPF3
JFC2290VPF4
JFC2290VPF5
JFC2290VPR
JFC2290VPR0
JFC2290VPR1
JFC2290VPR2
JFC2290VPR3
JFC2290VPR4
JFC2290VPY
JFC2290VPY1
JFC2290VPY2
JFC2290VPY3
JFC2290VPY4
JFC2290VPY5
JFC2290VTB
JFC2290VTB0
JFC2290VTB1
JFC2290VTB2
JFC2290VTB3
JFC2290VTB4
JFC2290VTB5
JFD2589KEP
JFD2589KEP0
JFD2589KEP1
JFD2589KEP2
JFD2589KEP4
JFD2589KES
JFD2589KES0
JFD2589KES1
JFD2589KES2
JFD2589KES4
JFFCF72DKL
JFI2089AEB
JFI2089AEB0
JFI2089AEB2
JFI2089AEP
JFI2089AEP0
JFI2089AEP10
JFI2089AEP12
JFI2089AEP13
JFI2089AEP14
JFI2089AEP2
JFI2089AEP3
JFI2089AEP4
JFI2089AEP5
JFI2089AEP6
JFI2089AEP7
JFI2089AEP8
JFI2089AES
JFI2089AES0
JFI2089AES2
JFI2089AES3
JFI2089AEW
JFI2089AEW0
JFI2089AEW2
JFI2089ATS
JFI2089ATS0
JFI2089ATS2
JFI2089WES
JFI2089WES0
JFI2089WES1
JFI2089WES10
JFI2089WES2
JFI2089WES3
JFI2089WES4
JFI2089WES5
JFI2089WES6
JFI2089WES8
JFI2089WES9
JFI2089WTS
JFI2089WTS0
JFI2089WTS2
JFI2089WTS3
JFI2089WTS4
JFI2089WTS6
JFI2089WTS7
JFI2589AEB
JFI2589AEB0
JFI2589AEP
JFI2589AEP0
JFI2589AEP2
JFI2589AEP3
JFI2589AES
JFI2589AES0
JFI2589AES2
JFI2589AES3
JFI2589AEW
JFI2589AEW0
JFX2597AEM
JFX2597AEM0
JFX2597AEM2
JFX2597AEM3
JFX2597AEP
JFX2597AEP0
JFX2597AEP2
JFX2597AEP3
JS2628HEKB
JS2628HEKB2
JS2628HEKB3
JSD2690HEB
JSD2690HES
JSD2690HES1
JSD2690HEW
JSD2690HEW8
JSD2695KES
JSD2695KES0
JSD2695KES00
JSD2695KES01
JSD2695KES1
JSD2695KES7
JSD2695KGB
JSD2695KGB0
JSD2695KGW
JSD2697KEF
JSD2697KEF2
JSD2697KEY
JSD2697KEY2
PJSD2695KES
PJSD2695KGB
PJSD2695KGW
KitchenAid

KBFA20ERBL
KBFA20ERBL00
KBFA20ERBL01
KBFA20ERBL02
KBFA20ERBT
KBFA20ERBT0
KBFA20ERBT00
KBFA20ERSS
KBFA20ERSS00
KBFA20ERSS01
KBFA20ERSS02
KBFA20ERWH
KBFA20ERWH00
KBFA20ERWH01
KBFA20ERWH02
KBFA25ERBL
KBFA25ERBL00
KBFA25ERBL01
KBFA25ERBL02
KBFA25ERSS
KBFA25ERSS00
KBFA25ERSS01
KBFA25ERSS02
KBFA25ERWH
KBFA25ERWH00
KBFA25ERWH01
KBFA25ERWH02
KBFL25ETBL
KBFL25ETBL0
KBFL25ETBL1
KBFL25ETSS
KBFL25ETSS0
KBFL25ETSS00
KBFL25ETSS01
KBFL25ETSS1
KBFL25ETWH
KBFL25ETWH0
KBFL25ETWH1
KBFL25EVMS
KBFL25EVMS0
KBFL25EVMS00
KBFL25EVMS1
KBFS20ECBL
KBFS20ECBL00
KBFS20ECBL01
KBFS20ECMS
KBFS20ECMS00
KBFS20ECMS01
KBFS20ECWH
KBFS20ECWH00
KBFS20ECWH01
KBFS20ETBL
KBFS20ETBL0
KBFS20ETBL00
KBFS20ETBL01
KBFS20ETBL1
KBFS20ETSS
KBFS20ETSS0
KBFS20ETSS00
KBFS20ETSS01
KBFS20ETSS1
KBFS20ETWH
KBFS20ETWH0
KBFS20ETWH00
KBFS20ETWH01
KBFS20ETWH1
KBFS20EVBL
KBFS20EVBL0
KBFS20EVBL1
KBFS20EVBL10
KBFS20EVBL2
KBFS20EVBL3
KBFS20EVBL4
KBFS20EVBL5
KBFS20EVBL6
KBFS20EVBL8
KBFS20EVMS
KBFS20EVMS0
KBFS20EVMS1
KBFS20EVMS11
KBFS20EVMS13
KBFS20EVMS2
KBFS20EVMS3
KBFS20EVMS4
KBFS20EVMS5
KBFS20EVMS6
KBFS20EVMS7
KBFS20EVMS8
KBFS20EVMS9
KBFS20EVWH
KBFS20EVWH0
KBFS20EVWH1
KBFS20EVWH10
KBFS20EVWH2
KBFS20EVWH3
KBFS20EVWH4
KBFS20EVWH5
KBFS20EVWH6
KBFS20EVWH8
KBFS22ECBL
KBFS22ECBL00
KBFS22ECBL01
KBFS22ECMS
KBFS22ECMS00
KBFS22ECMS01
KBFS22ECWH
KBFS22ECWH00
KBFS22ECWH01
KBFS22EWBL
KBFS22EWBL1
KBFS22EWBL2
KBFS22EWBL3
KBFS22EWBL5
KBFS22EWBL7
KBFS22EWMS
KBFS22EWMS1
KBFS22EWMS3
KBFS22EWMS4
KBFS22EWMS5
KBFS22EWMS7
KBFS22EWMS9
KBFS22EWWH
KBFS22EWWH0
KBFS22EWWH1
KBFS22EWWH2
KBFS22EWWH3
KBFS22EWWH5
KBFS22EWWH7
KBFS25ECBL
KBFS25ECBL00
KBFS25ECMS
KBFS25ECMS00
KBFS25ECWH
KBFS25ECWH00
KBFS25ETBL
KBFS25ETBL0
KBFS25ETBL00
KBFS25ETBL01
KBFS25ETBL1
KBFS25ETSS
KBFS25ETSS0
KBFS25ETSS00
KBFS25ETSS01
KBFS25ETSS1
KBFS25ETWH
KBFS25ETWH0
KBFS25ETWH00
KBFS25ETWH01
KBFS25ETWH1
KBFS25EVBL
KBFS25EVBL0
KBFS25EVBL00
KBFS25EVBL1
KBFS25EVBL2
KBFS25EVMS
KBFS25EVMS0
KBFS25EVMS00
KBFS25EVMS1
KBFS25EVMS2
KBFS25EVMS3
KBFS25EVSS
KBFS25EVSS0
KBFS25EVWH
KBFS25EVWH0
KBFS25EVWH00
KBFS25EVWH1
KBFS25EVWH2
KBFS25EWBL
KBFS25EWBL1
KBFS25EWBL2
KBFS25EWBL3
KBFS25EWBL4
KBFS25EWBL5
KBFS25EWBL7
KBFS25EWBL9
KBFS25EWMS
KBFS25EWMS1
KBFS25EWMS10
KBFS25EWMS2
KBFS25EWMS3
KBFS25EWMS4
KBFS25EWMS5
KBFS25EWMS6
KBFS25EWMS8
KBFS25EWWH
KBFS25EWWH1
KBFS25EWWH2
KBFS25EWWH3
KBFS25EWWH4
KBFS25EWWH5
KBFS25EWWH7
KBFS25EWWH9
KBLA20ELSS
KBLA20ELSS00
KBLA20ELSS01
KBLA20EMSS
KBLA20EMSS00
KBLA20ERSS
KBLA20ERSS00
KBLA20ERSS01
KBLA20ERSS02
KBLA22ERSS
KBLA22ERSS00
KBLA22ERSS01
KBLA22ERSS02
KBLS20ETSS
KBLS20ETSS0
KBLS20ETSS00
KBLS20ETSS01
KBLS20ETSS1
KBLS20EVMS
KBLS20EVMS0
KBLS20EVMS00
KBLS20EVMS1
KBLS20EVMS2
KBLS20EVMS3
KBLS20EVMS4
KBLS20EVMS5
KBLS22ETSS
KBLS22ETSS0
KBLS22ETSS00
KBLS22ETSS01
KBLS22ETSS1
KBLS22EVMS
KBLS22EVMS0
KBLS22EVMS00
KBLS22EVMS1
KBLS22EVMS2
KBLS22EVMS3
KBLS22EVSS
KBRA20ELBL
KBRA20ELBL00
KBRA20ELBT
KBRA20ELBT00
KBRA20ELBT01
KBRA20ELSS
KBRA20ELSS00
KBRA20ELSS01
KBRA20ELWH
KBRA20ELWH00
KBRA20ELWH01
KBRA20EMBL
KBRA20EMBL00
KBRA20EMBT
KBRA20EMBT00
KBRA20EMSS
KBRA20EMSS00
KBRA20EMWH
KBRA20EMWH00
KBRA20ERBL
KBRA20ERBL00
KBRA20ERBL01
KBRA20ERBL02
KBRA20ERSS
KBRA20ERSS00
KBRA20ERSS01
KBRA20ERSS02
KBRA20ERWH
KBRA20ERWH00
KBRA20ERWH01
KBRA20ERWH02
KBRA22ERBL
KBRA22ERBL00
KBRA22ERBL01
KBRA22ERBL02
KBRA22ERSS
KBRA22ERSS00
KBRA22ERSS01
KBRA22ERSS02
KBRA22ERWH
KBRA22ERWH00
KBRA22ERWH01
KBRA22ERWH02
KBRP20ELSS
KBRP20ELSS00
KBRP20ELSS01
KBRP20EMSS
KBRP20EMSS00
KBRP20ERSS
KBRP20ERSS00
KBRP20ERSS01
KBRP20ERSS02
KBRP20ERSS03
KBRS20ETBL
KBRS20ETBL0
KBRS20ETBL00
KBRS20ETBL01
KBRS20ETBL1
KBRS20ETSS
KBRS20ETSS0
KBRS20ETSS00
KBRS20ETSS01
KBRS20ETSS1
KBRS20ETWH
KBRS20ETWH0
KBRS20ETWH1
KBRS20EVBL
KBRS20EVBL0
KBRS20EVBL1
KBRS20EVBL2
KBRS20EVBL3
KBRS20EVMS
KBRS20EVMS0
KBRS20EVMS00
KBRS20EVMS1
KBRS20EVMS2
KBRS20EVMS3
KBRS20EVMS4
KBRS20EVMS5
KBRS20EVSS
KBRS20EVWH
KBRS20EVWH0
KBRS20EVWH1
KBRS20EVWH2
KBRS22ETBL
KBRS22ETBL0
KBRS22ETBL00
KBRS22ETBL01
KBRS22ETBL1
KBRS22ETSS
KBRS22ETSS0
KBRS22ETSS00
KBRS22ETSS01
KBRS22ETSS1
KBRS22ETWH
KBRS22ETWH0
KBRS22ETWH00
KBRS22ETWH01
KBRS22ETWH1
KBRS22EVBL
KBRS22EVBL0
KBRS22EVBL1
KBRS22EVMS
KBRS22EVMS0
KBRS22EVMS00
KBRS22EVMS1
KBRS22EVMS2
KBRS22EVMS3
KBRS22EVSS
KBRS22EVWH
KBRS22EVWH0
KBRS22EVWH1
KFCO22EVBL
KFCO22EVBL0
KFCO22EVBL00
KFCO22EVBL1
KFCO22EVBL2
KFCO22EVBL3
KFCO22EVBL4
KFCO22EVBL5
KFCP22EXMP
KFCP22EXMP1
KFCP22EXMP2
KFCP22EXMP3
KFCP22EXMP4
KFCP22EXMP5
KFCS22EVBL
KFCS22EVBL0
KFCS22EVBL00
KFCS22EVBL1
KFCS22EVBL2
KFCS22EVBL3
KFCS22EVBL4
KFCS22EVBL5
KFCS22EVMS
KFCS22EVMS0
KFCS22EVMS00
KFCS22EVMS1
KFCS22EVMS2
KFCS22EVMS3
KFCS22EVMS4
KFCS22EVMS5
KFCS22EVMS6
KFCS22EVMS7
KFCS22EVMS8
KFCS22EVWH
KFCS22EVWH0
KFCS22EVWH00
KFCS22EVWH1
KFCS22EVWH2
KFCS22EVWH3
KFCS22EVWH4
KFCS22EVWH5
KFIL27CXMS
KFIL27CXMS0
KFIL27CXMS1
KFIL27CXMS2
KFIL27CXMS3
KFIL27CXMS5
KFIS20XVBL
KFIS20XVBL0
KFIS20XVBL00
KFIS20XVBL1
KFIS20XVBL2
KFIS20XVBL3
KFIS20XVBL4
KFIS20XVBL5
KFIS20XVBL7
KFIS20XVBL8
KFIS20XVMS
KFIS20XVMS0
KFIS20XVMS00
KFIS20XVMS1
KFIS20XVMS10
KFIS20XVMS11
KFIS20XVMS2
KFIS20XVMS3
KFIS20XVMS4
KFIS20XVMS5
KFIS20XVMS6
KFIS20XVMS7
KFIS20XVMS8
KFIS20XVWH
KFIS20XVWH0
KFIS20XVWH00
KFIS20XVWH1
KFIS20XVWH2
KFIS20XVWH3
KFIS20XVWH4
KFIS20XVWH5
KFIS20XVWH7
KFIS20XVWH8
KFIS25XVBL
KFIS25XVBL0
KFIS25XVBL00
KFIS25XVBL1
KFIS25XVBL2
KFIS25XVBL3
KFIS25XVBL4
KFIS25XVBL5
KFIS25XVBL6
KFIS25XVBL7
KFIS25XVMS
KFIS25XVMS0
KFIS25XVMS00
KFIS25XVMS1
KFIS25XVMS10
KFIS25XVMS11
KFIS25XVMS2
KFIS25XVMS3
KFIS25XVMS4
KFIS25XVMS5
KFIS25XVMS6
KFIS25XVMS7
KFIS25XVMS8
KFIS25XVMS9
KFIS25XVWH
KFIS25XVWH0
KFIS25XVWH00
KFIS25XVWH1
KFIS25XVWH3
KFIS25XVWH4
KFIS25XVWH5
KFIS25XVWH8
KFIS27CXBL
KFIS27CXBL0
KFIS27CXBL1
KFIS27CXBL2
KFIS27CXBL3
KFIS27CXMS
KFIS27CXMS0
KFIS27CXMS1
KFIS27CXMS2
KFIS27CXMS3
KFIS27CXMS4
KFIS27CXMS5
KFIS27CXMS6
KFIS27CXWH
KFIS27CXWH0
KFIS27CXWH1
KFIS27CXWH2
KFIS27CXWH3
KFXL25RYMS
KFXL25RYMS0
KFXL25RYMS1
KFXL25RYMS2
KFXL25RYMS5
KFXS25RYBL
KFXS25RYBL0
KFXS25RYBL1
KFXS25RYBL2
KFXS25RYBL4
KFXS25RYBL5
KFXS25RYMS
KFXS25RYMS0
KFXS25RYMS1
KFXS25RYMS2
KFXS25RYMS4
KFXS25RYMS5
KFXS25RYWH
KFXS25RYWH0
KFXS25RYWH1
KFXS25RYWH2
KFXS25RYWH4
KFXS25RYWH5
KRFC300EBL
KRFC300EBL00
KRFC300EBL01
KRFC300EBL03
KRFC300EBS
KRFC300EBS00
KRFC300EBS01
KRFC300ESS
KRFC300ESS00
KRFC300ESS01
KRFC300ESS03
KRFC300EWH
KRFC300EWH00
KRFC300EWH01
KRFC300EWH03
KRFC302EBL
KRFC302EBL00
KRFC302EBS
KRFC302EBS00
KRFC302EBS02
KRFC302EPA
KRFC302EPA00
KRFC302EPA02
KRFC302ESS
KRFC302ESS00
KRFC302ESS02
KRFC302EWH
KRFC302EWH00
KRFC400EBL
KRFC400EBL00
KRFC400EBL01
KRFC400ESS
KRFC400ESS00
KRFC400ESS01
KRFC400EWH
KRFC400EWH00
KRFC400EWH01
KRFF302EBL
KRFF302EBL00
KRFF302EBL01
KRFF302EBL02
KRFF302EBS
KRFF302EBS00
KRFF302EBS01
KRFF302ESS
KRFF302ESS00
KRFF302ESS01
KRFF302ESS02
KRFF302EWH
KRFF302EWH00
KRFF302EWH01
KRFF302EWH02
KRFF305EBL
KRFF305EBL00
KRFF305EBL02
KRFF305EBS
KRFF305EBS00
KRFF305EBS01
KRFF305ESS
KRFF305ESS00
KRFF305ESS02
KRFF305EWH
KRFF305EWH00
KRFF305EWH02
KRFF305EWH1
KRK55BRANA
KRK55BRANA1
Magic Chef

CSD2610KRW
Maytag

G32027WEKB0
G32027WEKB1
G32027WEKB3
G32027WEKB4
GB2SHTXTB00
GB2SHTXTB01
GB2SHTXTB02
GB2SHTXTL00
GB2SHTXTL01
GB2SHTXTQ00
GB2SHTXTQ01
GB2SHTXTQ02
GB2SHTXTQ03
GB2SHTXTS00
GB2SHTXTS01
GB2SHTXTS02
GB2SHTXTS03
GB2SHTXTT00
GB2SHTXTT01
GC2223GEKB
GC2223GEKB0
GC2223GEKW
GC2223GEKW0
GC2224GEKB
GC2224GEKB1
GC2224GEKW
GC2224GEKW1
GC2224GEKW2
GC2225GEK3
GC2225GEK5
GC2225GEK9
GC2225GEK91
GC2225GEKB
GC2225GEKB1
GC2225GEKB2
GC2225GEKB3
GC2225GEKS1
GC2225GEKS2
GC2225GEKS3
GC2225GEKS4
GC2225GEKW2
GC2227HEKB2
GC2227HEKS1
GC2227HEKS2
GC2227HEKS3
GC2227HEKW
GC2227HEKW2
GI0FSAXVA00
GI0FSAXVA01
GI0FSAXVB00
GI0FSAXVB01
GI0FSAXVB02
GI0FSAXVB03
GI0FSAXVB04
GI0FSAXVB05
GI0FSAXVB06
GI0FSAXVB09
GI0FSAXVQ00
GI0FSAXVQ01
GI0FSAXVY00
GI0FSAXVY01
GI0FSAXVY010
GI0FSAXVY011
GI0FSAXVY012
GI0FSAXVY02
GI0FSAXVY03
GI0FSAXVY04
GI0FSAXVY05
GI0FSAXVY06
GI0FSAXVY07
GI0FSAXVY08
GI0FSAXVY11
GI0FSAXVY12
GI5FSAXVA00
GI5FSAXVA01
GI5FSAXVB00
GI5FSAXVB01
GI5FSAXVQ00
GI5FSAXVQ01
GI5FSAXVS00
GI5FSAXVS01
GI5FSAXVY00
GI5FSAXVY01
GI5FSAXVY02
GI5FSAXVY03
GI5FSAXVY04
GI5FVAXVB00
GI5FVAXVB01
GI5FVAXVB02
GI5FVAXVB03
GI5FVAXVL00
GI5FVAXVL01
GI5FVAXVL02
GI5FVAXVQ00
GI5FVAXVQ01
GI5FVAXVQ02
GI5FVAXYB00
GI5FVAXYQ00
GI5FVAXYY00
GI5SVAXVB00
GI5SVAXVB01
GI5SVAXVB02
GI5SVAXVL00
GI5SVAXVL01
GI5SVAXVQ00
GI5SVAXVQ01
GI6FARXXB00
GI6FARXXB02
GI6FARXXB03
GI6FARXXB05
GI6FARXXB06
GI6FARXXB07
GI6FARXXF00
GI6FARXXF01
GI6FARXXF02
GI6FARXXF04
GI6FARXXF05
GI6FARXXF06
GI6FARXXQ00
GI6FARXXQ01
GI6FARXXQ02
GI6FARXXQ03
GI6FARXXQ05
GI6FARXXQ06
GI6FARXXQ07
GI6FARXXY00
GI6FARXXY01
GI6FARXXY02
GI6FARXXY04
GI6FARXXY06
GI6FARXXY07
GI6FARXXY08
GI6FDRXXB00
GI6FDRXXB01
GI6FDRXXB02
GI6FDRXXB03
GI6FDRXXB04
GI6FDRXXB06
GI6FDRXXB08
GI6FDRXXB09
GI6FDRXXQ00
GI6FDRXXQ01
GI6FDRXXQ02
GI6FDRXXQ03
GI6FDRXXQ06
GI6FDRXXQ08
GI6FDRXXQ09
GI6FDRXXY00
GI6FDRXXY01
GI6FDRXXY010
GI6FDRXXY02
GI6FDRXXY03
GI6FDRXXY04
GI6FDRXXY05
GI6FDRXXY07
GI6FDRXXY09
GI6SARXXF00
GI6SARXXF01
GI6SARXXF02
GI6SARXXF04
GI6SARXXF05
GI6SARXXF06
GI6SDRXXB00
GI6SDRXXB01
GI6SDRXXB02
GI6SDRXXB03
GI6SDRXXB06
GI6SDRXXQ00
GI6SDRXXQ02
GI6SDRXXQ03
GI6SDRXXQ04
GI6SDRXXQ06
GI6SDRXXY00
GI6SDRXXY01
GI6SDRXXY02
GI6SDRXXY03
GI6SDRXXY04
GI6SDRXXY05
GI6SDRXXY07
GI7FVCXWA00
GI7FVCXWA01
GI7FVCXWB00
GI7FVCXWB01
GI7FVCXWQ00
GI7FVCXWQ01
GI7FVCXWQ02
GI7FVCXWY00
GI7FVCXWY01
GI7FVCXWY02
GI7FVCXWY03
GI7FVCXXA00
GI7FVCXXA01
GI7FVCXXB00
GI7FVCXXB01
GI7FVCXXQ00
GI7FVCXXQ01
GI7FVCXXY00
GI7FVCXXY01
GI7FVCXXY02
GI7FVCXXY03
GS2325GEKB1
GS2325GEKW1
GS2325GEKW2
GS2625GEKB
GS2625GEKB1
GS2625GEKB2
GS2625GEKS1
GS2625GEKS2
GS2625GEKS3
GS2625GEKW1
GS2625GEKW2
GX5FHTXTB00
GX5FHTXTB01
GX5FHTXTL00
GX5FHTXTL01
GX5FHTXTQ00
GX5FHTXTQ01
GX5FHTXTS00
GX5FHTXTS01
GX5FHTXTT00
GX5FHTXTT01
GX5FHTXVA00
GX5FHTXVA01
GX5FHTXVA02
GX5FHTXVA03
GX5FHTXVB00
GX5FHTXVB01
GX5FHTXVB02
GX5FHTXVB03
GX5FHTXVB04
GX5FHTXVB05
GX5FHTXVB06
GX5FHTXVB07
GX5FHTXVB08
GX5FHTXVQ00
GX5FHTXVQ01
GX5FHTXVQ02
GX5FHTXVQ03
GX5FHTXVQ04
GX5FHTXVQ05
GX5FHTXVQ06
GX5FHTXVQ07
GX5FHTXVY00
GX5FHTXVY01
GX5FHTXVY010
GX5FHTXVY02
GX5FHTXVY03
GX5FHTXVY04
GX5FHTXVY05
GX5FHTXVY06
GX5FHTXVY07
GX5FHTXVY08
GX5FHTXVY09
GX5SHTXTB00
GX5SHTXTB01
GX5SHTXTL00
GX5SHTXTL01
GX5SHTXTQ00
GX5SHTXTQ01
GX5SHTXTS00
GX5SHTXTS01
GX5SHTXTT00
GX5SHTXTT01
GX5SHTXVA00
GX5SHTXVA01
GX5SHTXVB00
GX5SHTXVB01
GX5SHTXVB03
GX5SHTXVQ00
GX5SHTXVQ01
GX5SHTXVY00
GX5SHTXVY01
GZ25FSRXYY0
GZ25FSRXYY1
GZ25FSRXYY2
GZ25FSRXYY5
GZ25FSRXYY6
GZ25FSRXYY7
GZ2626GEKB1
GZ2626GEKB2
GZ2626GEKB3
GZ2626GEKS1
GZ2626GEKS2
GZ2626GEKS3
GZ2626GEKW1
GZ2626GEKW2
GZ2626GEKW3
MCD2257HEB
MCD2257HEB2
MCD2257HEQ
MCD2257HES
MCD2257HEW
MCD2257HEW2
MCD2257KES
MCD2257KES0
MCD2257KES1
MFC2061HEB
MFC2061HEB0
MFC2061HEB1
MFC2061HEB3
MFC2061HEB4
MFC2061HES
MFC2061HES0
MFC2061HEW
MFC2061HEW1
MFC2061HEW3
MFC2061HEW4
MFC2061KEQ
MFC2061KES
MFC2061KES0
MFC2061KES1
MFC2061KES10
MFC2061KES12
MFC2061KES14
MFC2061KES2
MFC2061KES4
MFC2061KES5
MFC2061KES6
MFC2061KES7
MFC2061KES8
MFC2061KES9
MFC2062DEM
MFC2062DEM00
MFC2062DEM01
MFC2062FEZ
MFC2062FEZ00
MFC2062FEZ01
MFC2062FEZ02
MFC2062FEZ03
MFD2560HEB
MFD2560HEQ
MFD2560HES
MFD2560HEW
MFD2561HEB
MFD2561HEB0
MFD2561HEB2
MFD2561HEB4
MFD2561HEQ
MFD2561HEQ2
MFD2561HEQ4
MFD2561HES
MFD2561HES0
MFD2561HEW
MFD2561HEW2
MFD2561KES
MFD2561KES0
MFD2561KES1
MFD2562KEB
MFD2562KEB0
MFD2562KEB1
MFD2562KES
MFD2562KES0
MFD2562KES1
MFD2562KEW
MFD2562KEW0
MFD2562KEW1
MFD2562VEA
MFD2562VEA0
MFD2562VEA1
MFD2562VEB
MFD2562VEB0
MFD2562VEB1
MFD2562VEB2
MFD2562VEB3
MFD2562VEB4
MFD2562VEB5
MFD2562VEB6
MFD2562VEB7
MFD2562VEB9
MFD2562VEM
MFD2562VEM0
MFD2562VEM1
MFD2562VEM11
MFD2562VEM2
MFD2562VEM3
MFD2562VEM4
MFD2562VEM5
MFD2562VEM6
MFD2562VEM7
MFD2562VEM8
MFD2562VEM9
MFD2562VEW
MFD2562VEW0
MFD2562VEW1
MFD2562VEW10
MFD2562VEW2
MFD2562VEW3
MFD2562VEW4
MFD2562VEW5
MFD2562VEW6
MFD2562VEW8
MFI2067AEB
MFI2067AEB0
MFI2067AEB2
MFI2067AEB3
MFI2067AEB4
MFI2067AEB5
MFI2067AEQ
MFI2067AEQ0
MFI2067AEQ2
MFI2067AEQ3
MFI2067AEQ4
MFI2067AES
MFI2067AES0
MFI2067AES10
MFI2067AES11
MFI2067AES13
MFI2067AES2
MFI2067AES4
MFI2067AES5
MFI2067AES6
MFI2067AES7
MFI2067AES8
MFI2067AES9
MFI2067AEW
MFI2067AEW0
MFI2067AEW2
MFI2067AEW3
MFI2067AEW4
MFI2266AEB
MFI2266AEB0
MFI2266AEB1
MFI2266AEQ
MFI2266AEQ0
MFI2266AEQ1
MFI2266AES
MFI2266AES0
MFI2266AES1
MFI2266AEU
MFI2266AEU0
MFI2266AEU1
MFI2266AEW
MFI2266AEW0
MFI2266AEW1
MFI2269DRE
MFI2269DRE00
MFI2269DRE01
MFI2269DRH
MFI2269DRH00
MFI2269DRH01
MFI2269DRM
MFI2269DRM00
MFI2269DRM01
MFI2269FRB
MFI2269FRB00
MFI2269FRB01
MFI2269FRW
MFI2269FRW00
MFI2269FRW01
MFI2269FRZ
MFI2269FRZ00
MFI2269FRZ01
MFI2269FRZ02
MFI2269FRZ03
MFI2269FRZ04
MFI2269VEA
MFI2269VEA0
MFI2269VEA00
MFI2269VEA1
MFI2269VEB
MFI2269VEB0
MFI2269VEB00
MFI2269VEB1
MFI2269VEB2
MFI2269VEB4
MFI2269VEB5
MFI2269VEB6
MFI2269VEB8
MFI2269VEB9
MFI2269VEM
MFI2269VEM0
MFI2269VEM00
MFI2269VEM1
MFI2269VEM10
MFI2269VEM11
MFI2269VEM2
MFI2269VEM3
MFI2269VEM4
MFI2269VEM5
MFI2269VEM6
MFI2269VEM7
MFI2269VEM8
MFI2269VEQ
MFI2269VEQ0
MFI2269VEQ00
MFI2269VEQ1
MFI2269VEQ3
MFI2269VEQ4
MFI2269VEQ5
MFI2269VEQ7
MFI2269VEQ8
MFI2269VEW
MFI2269VEW0
MFI2269VEW00
MFI2269VEW1
MFI2269VEW3
MFI2269VEW4
MFI2269VEW5
MFI2269VEW7
MFI2269VEW8
MFI2568AEB
MFI2568AEB0
MFI2568AEB2
MFI2568AEQ
MFI2568AEQ0
MFI2568AEQ2
MFI2568AES
MFI2568AES0
MFI2568AES2
MFI2568AES3
MFI2568AEW
MFI2568AEW0
MFI2568AEW2
MFI2568AEW3
MFI2569VEA
MFI2569VEA0
MFI2569VEA1
MFI2569VEA2
MFI2569VEB
MFI2569VEB0
MFI2569VEB1
MFI2569VEB2
MFI2569VEB3
MFI2569VEM
MFI2569VEM0
MFI2569VEM1
MFI2569VEM2
MFI2569VEM3
MFI2569VEM4
MFI2569VEM5
MFI2569VEQ
MFI2569VEQ0
MFI2569VEQ1
MFI2569VEQ2
MFI2569VEW
MFI2569VEW0
MFI2569VEW1
MFI2569VEW2
MFI2569YEB
MFI2569YEB0
MFI2569YEM
MFI2569YEM0
MFI2569YEM2
MFI2569YEW
MFI2569YEW0
MFI2569YEW1
MFI2569YEW2
MFI2570FEB
MFI2570FEB00
MFI2570FEB01
MFI2570FEB02
MFI2570FEH
MFI2570FEH02
MFI2570FEW
MFI2570FEW00
MFI2570FEW01
MFI2570FEW02
MFI2570FEZ
MFI2570FEZ00
MFI2570FEZ01
MFI2570FEZ02
MFI2570FEZ03
MFI2570FEZ04
MFI2570FEZ05
MFI2570FEZ06
MFI2570FEZ07
MFI2665XEB
MFI2665XEB0
MFI2665XEB1
MFI2665XEB3
MFI2665XEB5
MFI2665XEB6
MFI2665XEB7
MFI2665XEM
MFI2665XEM0
MFI2665XEM1
MFI2665XEM2
MFI2665XEM3
MFI2665XEM4
MFI2665XEM6
MFI2665XEM7
MFI2665XEM8
MFI2665XEW
MFI2665XEW0
MFI2665XEW1
MFI2665XEW2
MFI2665XEW3
MFI2665XEW5
MFI2665XEW6
MFI2665XEW7
MFI2670XEB
MFI2670XEB0
MFI2670XEB1
MFI2670XEB2
MFI2670XEB3
MFI2670XEB4
MFI2670XEB6
MFI2670XEB8
MFI2670XEB9
MFI2670XEM
MFI2670XEM0
MFI2670XEM1
MFI2670XEM10
MFI2670XEM2
MFI2670XEM3
MFI2670XEM4
MFI2670XEM5
MFI2670XEM7
MFI2670XEM9
MFI2670XEW
MFI2670XEW0
MFI2670XEW1
MFI2670XEW2
MFI2670XEW3
MFI2670XEW4
MFI2670XEW5
MFI2670XEW6
MFI2670XEW8
MFI2670XEW9
MFT2771WEB
MFT2771WEB0
MFT2771WEB1
MFT2771WEM
MFT2771WEM0
MFT2771WEM1
MFT2771WEM2
MFT2771WEM3
MFT2771WEM4
MFT2771WEW
MFT2771WEW0
MFT2771WEW1
MFT2771WEW2
MFT2771XEB
MFT2771XEB0
MFT2771XEM
MFT2771XEM0
MFT2771XEM1
MFT2771XEW
MFT2771XEW0
MFX2570AEB
MFX2570AEB0
MFX2570AEB3
MFX2570AEB4
MFX2570AEB5
MFX2570AEM
MFX2570AEM0
MFX2570AEM3
MFX2570AEM4
MFX2570AEM5
MFX2570AEW
MFX2570AEW0
MFX2570AEW3
MFX2570AEW4
MFX2570AEW5
MFX2571XEB
MFX2571XEB0
MFX2571XEB1
MFX2571XEB2
MFX2571XEB3
MFX2571XEM
MFX2571XEM0
MFX2571XEM1
MFX2571XEM2
MFX2571XEM3
MFX2571XEW
MFX2571XEW0
MFX2571XEW1
MFX2571XEW2
MFX2571XEW3
MSD2351HEB
MSD2351HEB1
MSD2351HEQ
MSD2351HES
MSD2351HES0
MSD2351HEW
MSD2351HEW0
MSD2351HEW1
MSD2351KES
MSD2351KES0
MSD2352KEB
MSD2352KEB0
MSD2352KES
MSD2352KES0
MSD2352KEW
MSD2352KEW0
MSD2355HEB
MSD2355HES
MSD2355HEW
MSD2357HEB
MSD2357HEQ
MSD2357HES
MSD2357HEW
MSD2359KEB
MSD2359KEQ
MSD2359KES
MSD2359KEW
MSD2641KEB
MSD2641KEB00
MSD2641KEB01
MSD2641KEB1
MSD2641KES
MSD2641KES0
MSD2641KEU
MSD2641KEW
MSD2641KEW0
MSD2641KEW00
MSD2641KEW01
MSD264RHEB
MSD264RHEQ
MSD264RHEW
MSD2650HEB
MSD2650HEQ
MSD2650HEQ0
MSD2650HEW
MSD2650HEW01
MSD2650KES
MSD2650KES0
MSD2650KEU
MSD2651HEB
MSD2651HEQ
MSD2651HES
MSD2651HEW
MSD2651KES
MSD2651KES0
MSD2651KES00
MSD2651KES1
MSD2651KEU
MSD2651KGB
MSD2651KGB0
MSD2651KGB1
MSD2651KGW
MSD2651KGW0
MSD2652KEB
MSD2652KEB0
MSD2652KEB1
MSD2652KEB7
MSD2652KES
MSD2652KES0
MSD2652KES1
MSD2652KEU
MSD2652KEU01
MSD2652KEW
MSD2652KEW1
MSD2652KGB
MSD2652KGW
MSD2655HEB
MSD2655HEQ
MSD2655HES
MSD2655HEW
MSD2656KES
MSD2656KES0
MSD2656KES1
MSD2656KEU
MSD2656KGB
MSD2656KGB0
MSD2656KGW
MSD2656KGW0
MSD2656KGW1
MSD2657HEB
MSD2657HEQ
MSD2657HES
MSD2657HEW
MSD2659KEQ
MSD265MHES
MSD265MHEW
MSD265RHEQ
MSD265RHES
MSD2660KES
MSD2660KGB
MSD2660KGB1
MSD2660KGW
MZD2663KEB
MZD2663KEB0
MZD2663KEQ
MZD2663KEQ0
MZD2663KES
MZD2663KES0
MZD2663KEW
MZD2663KEW0
MZD2665HEB
MZD2665HEB1
MZD2665HEQ
MZD2665HES
MZD2665HEW
MZD2665HEW1
MZD2666KEB
MZD2666KEB0
MZD2666KES
MZD2666KES0
MZD2666KEW
MZD2666KEW0
MZD2667HEB
MZD2667HEQ
MZD2667HES
MZD2667HEW
MZD2669KEB
MZD2669KEQ
MZD2669KES
MZD2669KEW
PMSD2641KEW
PMSD264RHEB
PMSD2652KES
PSD262LHEB
PSD262LHEW
PSD262LHEZ
Whirlpool

EF36BNDFSS
EF36BNNFSS
EF36LNDFSS
EF36RNDFSS
G32027WEKB
GB2SHTXTB
GB2SHTXTL
GB2SHTXTQ
GB2SHTXTS
GB2SHTXTT
GC2225GEKS
GC2225GEKW
GC2227HEKB
GC2227HEKS
GI0FSAXVA
GI0FSAXVB
GI0FSAXVQ
GI0FSAXVY
GI5FSAXVA
GI5FSAXVB
GI5FSAXVQ
GI5FSAXVS
GI5FSAXVY
GI5FVAXVB
GI5FVAXVL
GI5FVAXVQ
GI5FVAXYB
GI5FVAXYQ
GI5FVAXYY
GI5SVAXVB
GI5SVAXVL
GI5SVAXVQ
GI6FARXXB
GI6FARXXF
GI6FARXXQ
GI6FARXXY
GI6FDRXXB
GI6FDRXXQ
GI6FDRXXY
GI6SARXXF
GI6SDRXXB
GI6SDRXXQ
GI6SDRXXY
GI7FVCXWA
GI7FVCXWB
GI7FVCXWQ
GI7FVCXWY
GI7FVCXXA
GI7FVCXXB
GI7FVCXXQ
GI7FVCXXY
GS2325GEKB
GS2325GEKW
GS2625GEKS
GS2625GEKW
GSD2615HEW
GX5FHTXTB
GX5FHTXTL
GX5FHTXTQ
GX5FHTXTS
GX5FHTXTT
GX5FHTXVA
GX5FHTXVB
GX5FHTXVQ
GX5FHTXVY
GX5SHTXTB
GX5SHTXTL
GX5SHTXTQ
GX5SHTXTS
GX5SHTXTT
GX5SHTXVA
GX5SHTXVB
GX5SHTXVQ
GX5SHTXVY
GZ25FSRXYY
GZ2626GEKB
GZ2626GEKS
GZ2626GEKW
WRB329DMBM
WRF535SWBB
WRF535SWBB00
WRF535SWBM
WRF535SWBM00
WRF535SWBW
WRF535SWBW00
WRF535SWHB
WRF535SWHB00
WRF535SWHB01
WRF535SWHV
WRF535SWHV00
WRF535SWHV01
WRF535SWHW
WRF535SWHW00
WRF535SWHW01
WRF535SWHZ
WRF535SWHZ00
WRF535SWHZ01
WRF535SWHZ02
WRF540CWBB
WRF540CWBB00
WRF540CWBB01
WRF540CWBM
WRF540CWBM00
WRF540CWBM01
WRF540CWBW
WRF540CWBW00
WRF540CWBW01
WRF540CWHB
WRF540CWHB00
WRF540CWHB01
WRF540CWHV
WRF540CWHV00
WRF540CWHV01
WRF540CWHW
WRF540CWHW00
WRF540CWHW01
WRF540CWHZ
WRF540CWHZ00
WRF540CWHZ01
WRF540CWHZ02
WRF550CDHZ
WRF550CDHZ00
WRF550CDHZ01
WRF550CDHZ02
WRF555SDFE
WRF555SDFE00
WRF555SDFZ
WRF555SDFZ00
WRF555SDFZ01
WRF555SDFZ02
WRF555SDFZ03
WRF555SDFZ04
WRF555SDFZ05
WRF555SDFZ06
WRF555SDFZ07
WRF555SDFZ08
WRF555SDFZ09
WRF555SDHB
WRF555SDHB00
WRF555SDHB01
WRF555SDHV
WRF555SDHV00
WRF555SDHV01
WRF555SDHV02
WRF555SDHW
WRF555SDHW00
WRF555SDHW01
WRFA35SWHN
WRFA35SWHN00
WRFA35SWHN01
WRFA35SWHZ
WRFA35SWHZ00
WRFA35SWHZ01
WRFA35SWHZ02
WRX735SDBE
WRX735SDBE00
WRX735SDBE01
WRX735SDBE02
WRX735SDBH
WRX735SDBH00
WRX735SDBH01
WRX735SDBH02
WRX735SDBM
WRX735SDBM00
WRX735SDBM02
WRX735SDBM03
WRX735SDBM04
WRX735SDHB
WRX735SDHB00
WRX735SDHB01
WRX735SDHV
WRX735SDHV00
WRX735SDHV01
WRX735SDHW
WRX735SDHW00
WRX735SDHW01
WRX735SDHZ
WRX735SDHZ00
WRX735SDHZ01
WRX735SDHZ02
Couldn't load pickup availability