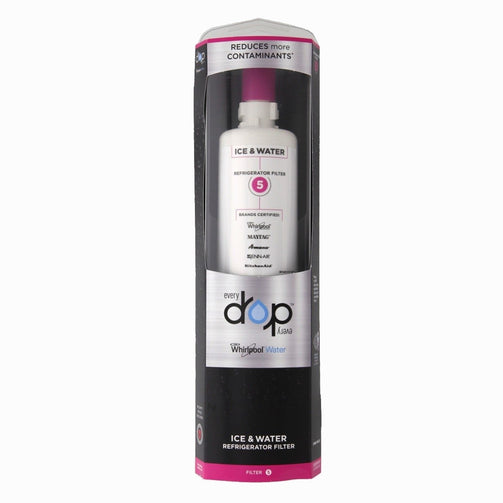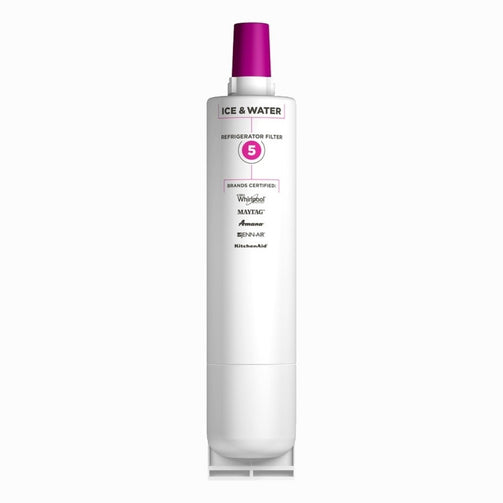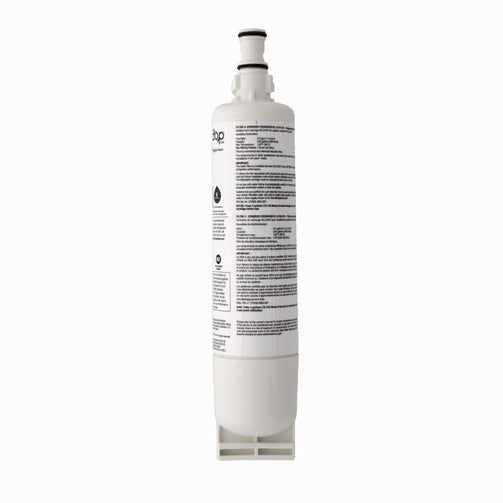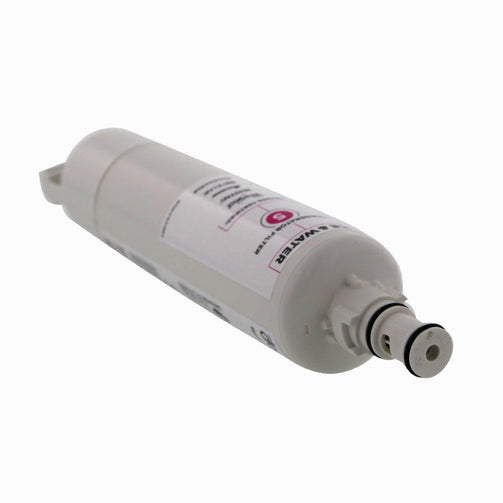 EveryDrop Refrigerator Filter 5
EveryDrop Refrigerator Filter 5
Regular price

$59.99

Sale price

$54.99
Whirlpool EveryDrop Refrigerator Water Filter, Filter 5
NSF-certified to reduce 27 contaminants, including chlorine, lead, pesticides, and pharmaceuticals. Combats chlorine for great-tasting water.
Genuine OEM EveryDrop Filter 5 [EDR5RXD1B Refrigerator Ice & Water Filter] replaces previous models 4396508, 4396510.
Compatible with the following refrigerator brands: Crosely, Estate, IKEA, Inglis, KitchenAid, Maytag, Roper, Whirlpool.
Details
Reduces 28 contaminants including chlorine, lead, some pesticides, and some pharmaceuticals
Uses Triple Filtration Technology to reduce contaminants
Can replace up to 1500 plastic water bottles
Capacity: 200 gallons (757 liters)
Replace every 6 months for optimal contaminant reduction
Tested and certified by NSF International against NSF/ANSI Standards 42, 53, 401 and CSA B483.1
Specifications [PDF]
Additional
Replace according to the monitor in your fridge, or every 6 months or 200 gallons for optimal water taste and filter performance.
After replacing, flush the filter according to the instructions in your refrigerator manual.
—
042074044597
04609010000
04609902000
04609908000
050946013411
050946723235
050946926117
050946926162
050946969367
09010
10050946926114
10050946926169
10050946935925
1017291
1038683
19950158
2186444
2200203
2203220
2203221
2203980
22200203
223764
2255518
2255519
2255520
2255709
229346
2305766
2305767
2305768
4268741
4392857
4392857R
4392922
4396163
4396164
4396508
4396509
4396509P
4396510
4396510_FILTER
4396510PT
4396547
4396548
4396562
4396563
4396918
4396919
4609010000
4609902000
4609908000
46195022000
46195022077
46195023294
469010
46-9010
469010P
46-9010P
469902
46-9902
469908
46-9908
481281720000
481281728986
643898
6510
687152205998
8212491
8212652
883049152462
883049152509
883049369921
9010H
9010IN
9010P
9902
9902P
9908
9908P
AFF5
AH11722133
AH879461
AH896755
AP3182816
AP3182817
AP3672633
AP5983565
B0009793KC
B000UW3RK8
B005LPHIU4
B00M4WMXAC
B00U264W0Q
B00YHYGLBW
BM-UOKT-SMB8
C4-XW7P-INZT
EA11722133
EA879461
EA896755
EAP11722133
EAP879461
EAP896755
EDR5RXD1
EDR5RXD2B
EFF6002
EFF 6002
EFF-6002
EFF6002A
EFF 6002A
EFF-6002A
HX-51XV-NM94
IF
IL-Y8OI-JBEP
IQ-J45X-0287
KSZ6T9500
L400V
LC400
LC400V
NL240
NL240V
NL300
NL 300
NL-300
NL500
NL 500
NL-500
NLC240
NLC240V
NLC250
PNL240V
PS11722133
PS879461
PS896755
PWF-NL240V
RTR502A
RWF1020
RWF-1020
SGFW01
SGF-W01
SGFW80
SGF-W80
W10141392
W10186668
WF285
WF-285
WF-400
WF-L300
WFL400
WF-L400
WFL400V
WF-L400V
WFL500
WF-L500
WFLC400
WF-LC400
WFLC400V
WF-LC400V
WFNL24
WFNL240
WF-NL240
WFNL240V
WF-NL240V
WFNL300
WF-NL300
WF-NL500
WFNLC240
WF-NLC240
WFNLC240V
WF-NLC240V
WFNLC250
WF-NLC250
WPRF100
WPRF-100
Crosely
Estate
IKEA
Inglis
KitchenAid
Maytag
Roper
Whirlpool

Crosely
CS22AFXKB
CS22AFXKQ
CS22AFXKS
CS22AFXKT
CS22CFXTB
CS22CFXTQ
CS22CFXTS
CS22CFXTT
CS25AFXKQ
CS25AFXKT
CS25CFXTQ
Estate
TS22AFXKQ
TS22AFXKT
TS22CFXTQ
TS25AFXHW
TS25AFXKQ
TS25AFXKS
TS25AFXKT
TS25AGXNS
TS25AGXRD
TS25CFXTQ
TS25CGXTD
IKEA
ID2GFGXRS
ID2HHEXTS
ID5GFGXRQ
ID5GFGXRS
ID5HHEXTQ
ID5HHEXTS
ID5HHEXVQ
ID5HHEXVS
ID5HHEXWQ
ID5HHEXWS
IS22AGXTQ
IS25AFXRD
IS25AGXRQ
IS25CFXTQ
IS25CGXTD
Inglis
ID2GFGXRS00
ID2GFGXRS01
ID2HHEXTS00
ID2HHEXTS01
ID5GFGXRQ00
ID5GFGXRQ01
ID5GFGXRQ02
ID5GFGXRS00
ID5GFGXRS01
ID5GFGXRS02
ID5HHEXTQ00
ID5HHEXTS00
ID5HHEXTS01
ID5HHEXVQ00
ID5HHEXVQ01
ID5HHEXVQ02
ID5HHEXVS00
ID5HHEXVS01
ID5HHEXVS02
ID5HHEXVS04
ID5HHEXVS05
ID5HHEXWQ00
ID5HHEXWS00
ID5HHEXWS01
ID5HHEXWS03
IS22AGXTQ00
IS25AFXRD00
IS25AFXRD01
IS25AFXRD02
IS25AGXRQ00
IS25AGXRQ01
IS25AGXRQ02
IS25CFXTQ00
IS25CFXTQ01
IS25CFXTQ02
IS25CGXTD00
IS25CGXTD01
KitchenAid
KBBP100LSS
KBBP100LSS0
KBFC42FSS
KBFC42FSS00
KBFO42FSX
KBFO42FSX00
KBFU271TSS
KBFU271TSS0
KBFU271TSS00
KBFU271VSS
KBFU271VSS00
KBLC36FKB
KBLC36FKB00
KBLC36FKB01
KBLC36FKB02
KBLC36FKS
KBLC36FKS00
KBLC36FKS01
KBLC36FKS02
KBLC36FMS
KBLC36FMS00
KBLC36FMS01
KBLC36FMS02
KBLO36FMX
KBLO36FMX00
KBLO36FMX01
KBLO36FMX02
KBLO36FMX03
KBLP36FKS
KBLP36FKS00
KBLP36FKS01
KBLP36FKS02
KBLP36FMS
KBLP36FMS00
KBLP36FMS01
KBLS36FKB
KBLS36FKB00
KBLS36FKB01
KBLS36FKB02
KBLS36FKT
KBLS36FKT00
KBLS36FKT01
KBLS36FKT02
KBLS36FKW
KBLS36FKW00
KBLS36FKW01
KBLS36FKW02
KBLS36FKX
KBLS36FKX00
KBLS36FKX01
KBLS36FKX02
KBLS36FMB
KBLS36FMB00
KBLS36FMB01
KBLS36FMX
KBLS36FMX00
KBLS36FMX01
KBLS36FMX02
KBLS36FMX03
KBLV36FPM
KBLV36FPM01
KBLV36FPS
KBLV36FPS01
KBRC36FKB
KBRC36FKB00
KBRC36FKB01
KBRC36FKB02
KBRC36FKS
KBRC36FKS00
KBRC36FKS01
KBRC36FKS02
KBRC36FKU
KBRC36FKU00
KBRC36FKU01
KBRC36FKU02
KBRC36FMS
KBRC36FMS00
KBRC36FMS01
KBRC36FMS02
KBRC36FMS03
KBRO36FMX
KBRO36FMX00
KBRO36FMX01
KBRO36FMX02
KBRO36FMX03
KBRP36FKS
KBRP36FKS00
KBRP36FKS01
KBRP36FKS02
KBRP36FMS
KBRP36FMS00
KBRP36FMS01
KBRS36FKB
KBRS36FKB00
KBRS36FKB01
KBRS36FKB02
KBRS36FKT
KBRS36FKT00
KBRS36FKT01
KBRS36FKT02
KBRS36FKW
KBRS36FKW00
KBRS36FKW01
KBRS36FKW02
KBRS36FKX
KBRS36FKX00
KBRS36FKX01
KBRS36FKX02
KBRS36FMB
KBRS36FMB00
KBRS36FMB01
KBRS36FMX
KBRS36FMX00
KBRS36FMX01
KBRS36FMX02
KBRS36FMX03
KBRV36FPM
KBRV36FPM01
KBRV36FPM02
KBRV36FPS
KBRV36FPS01
KBUDT4265E
KBUDT4265E01
KBUDT4265E03
KBUDT4265E04
KBUDT4265E05
KBUDT4265E06
KBUDT4265E07
KBUDT4270A
KBUDT4270A01
KBUDT4270A02
KBULT3661A
KBULT3661A01
KBULT3661A02
KBURT3665E
KBURT3665E01
KBURT3665E03
KBURT3665E14
KFBP102LSS
KFBP102LSS0
KFFU271TSS
KFFU271TSS00
KSBP25FJSS
KSBP25FJSS00
KSBP25FJSS01
KSBP25FKSS
KSBP25FKSS00
KSBP25FKSS01
KSBP25FKSS02
KSBS25FJBL
KSBS25FJBL00
KSBS25FJBL01
KSBS25FJBT
KSBS25FJBT00
KSBS25FJBT01
KSBS25FJWH
KSBS25FJWH00
KSBS25FJWH01
KSBS25FKBL
KSBS25FKBL00
KSBS25FKBL01
KSBS25FKBL02
KSBS25FKBT
KSBS25FKBT00
KSBS25FKBT01
KSBS25FKBT02
KSBS25FKSS
KSBS25FKSS01
KSBS25FKSS02
KSBS25FKWH
KSBS25FKWH00
KSBS25FKWH01
KSBS25FKWH02
KSCS25FJSS
KSCS25FJSS00
KSCS25FJSS01
KSCS25FKBL
KSCS25FKBL01
KSCS25FKBL02
KSCS25FKBT
KSCS25FKBT01
KSCS25FKBT02
KSCS25FKSS
KSCS25FKSS00
KSCS25FKSS01
KSCS25FKSS02
KSCS25FKWH
KSCS25FKWH01
KSCS25FKWH02
KSFS25FJBL
KSFS25FJBL00
KSFS25FJBL01
KSFS25FJBT
KSFS25FJBT00
KSFS25FJBT01
KSFS25FJWH
KSFS25FJWH00
KSFS25FJWH01
KSFS25FKBL
KSFS25FKBL00
KSFS25FKBL01
KSFS25FKBL02
KSFS25FKBT
KSFS25FKBT00
KSFS25FKBT01
KSFS25FKBT02
KSFS25FKWH
KSFS25FKWH00
KSFS25FKWH01
KSFS25FKWH02
KSRA22CNBL
KSRA22CNBL00
KSRA22CNBL01
KSRA22CNBL02
KSRA22CNBT
KSRA22CNBT00
KSRA22CNSS
KSRA22CNSS00
KSRA22CNSS01
KSRA22CNSS02
KSRA22CNWH
KSRA22CNWH00
KSRA22CNWH01
KSRA22CNWH02
KSRA22FKBL
KSRA22FKBL00
KSRA22FKBL01
KSRA22FKBT
KSRA22FKBT00
KSRA22FKSS
KSRA22FKSS00
KSRA22FKSS01
KSRA22FKWH
KSRA22FKWH00
KSRA22ILBL
KSRA22ILBL00
KSRA22ILBL01
KSRA22ILBL02
KSRA22ILBL03
KSRA22ILBL13
KSRA22ILBT
KSRA22ILBT00
KSRA22ILBT01
KSRA22ILBT02
KSRA22ILBT03
KSRA22ILBT13
KSRA22ILSS
KSRA22ILSS00
KSRA22ILSS01
KSRA22ILSS02
KSRA22ILSS03
KSRA22ILSS13
KSRA22ILWH
KSRA22ILWH00
KSRA22ILWH01
KSRA22ILWH02
KSRA22ILWH03
KSRA22ILWH13
KSRA25CNBL
KSRA25CNBL00
KSRA25CNBL01
KSRA25CNBL02
KSRA25CNBT
KSRA25CNBT00
KSRA25CNBT01
KSRA25CNBU
KSRA25CNBU00
KSRA25CNLK
KSRA25CNLK00
KSRA25CNSS
KSRA25CNSS00
KSRA25CNSS01
KSRA25CNSS02
KSRA25CNSS03
KSRA25CNWH
KSRA25CNWH00
KSRA25CNWH01
KSRA25CNWH02
KSRA25FKBL
KSRA25FKBL00
KSRA25FKBL01
KSRA25FKBT
KSRA25FKBT00
KSRA25FKSS
KSRA25FKSS00
KSRA25FKSS01
KSRA25FKWH
KSRA25FKWH00
KSRA25FKWH01
KSRA25ILBL
KSRA25ILBL00
KSRA25ILBL01
KSRA25ILBL02
KSRA25ILBL03
KSRA25ILBL13
KSRA25ILBT
KSRA25ILBT00
KSRA25ILBT01
KSRA25ILBT02
KSRA25ILBT03
KSRA25ILBT13
KSRA25ILBU
KSRA25ILBU03
KSRA25ILBU13
KSRA25ILSS
KSRA25ILSS00
KSRA25ILSS01
KSRA25ILSS02
KSRA25ILSS03
KSRA25ILSS13
KSRA25ILWH
KSRA25ILWH00
KSRA25ILWH01
KSRA25ILWH02
KSRA25ILWH03
KSRA25ILWH13
KSRA25PNBL
KSRA25PNBL00
KSRA25PNBT
KSRA25PNBT00
KSRA25PNLK
KSRA25PNLK00
KSRA25PNSS
KSRA25PNSS00
KSRA25PNWH
KSRA25PNWH00
KSRB22FGBL
KSRB22FGBL00
KSRB22FGSS
KSRB22FGSS00
KSRB22FGWH
KSRB22FGWH00
KSRB22FHBL
KSRB22FHBL00
KSRB22FHBL01
KSRB22FHBL02
KSRB22FHBL03
KSRB22FHBL04
KSRB22FHBL05
KSRB22FHBL06
KSRB22FHBT
KSRB22FHBT01
KSRB22FHBT03
KSRB22FHBT05
KSRB22FHBT06
KSRB22FHSS
KSRB22FHSS00
KSRB22FHSS01
KSRB22FHSS02
KSRB22FHSS03
KSRB22FHSS04
KSRB22FHSS05
KSRB22FHWH
KSRB22FHWH00
KSRB22FHWH01
KSRB22FHWH02
KSRB22FHWH03
KSRB22FHWH04
KSRB22FHWH05
KSRB22FHWH06
KSRB22FKBL
KSRB22FKBL00
KSRB22FKBL01
KSRB22FKBL02
KSRB22FKBL03
KSRB22FKBL04
KSRB22FKBL14
KSRB22FKSS
KSRB22FKSS00
KSRB22FKSS01
KSRB22FKSS02
KSRB22FKSS03
KSRB22FKSS04
KSRB22FKSS14
KSRB22FNSS
KSRB22FNSS00
KSRB22FRBX
KSRB22FRBX00
KSRB22FRBX01
KSRB22FRBX02
KSRB25FBBL
KSRB25FBBL00
KSRB25FGBT
KSRB25FGBT00
KSRB25FGSS
KSRB25FGSS00
KSRB25FGWH
KSRB25FGWH00
KSRB25FHBL
KSRB25FHBL00
KSRB25FHBL01
KSRB25FHBL02
KSRB25FHBL03
KSRB25FHBL04
KSRB25FHBL05
KSRB25FHBT
KSRB25FHBT00
KSRB25FHBT01
KSRB25FHBT02
KSRB25FHBT03
KSRB25FHBT04
KSRB25FHBT05
KSRB25FHSS
KSRB25FHSS00
KSRB25FHSS01
KSRB25FHSS02
KSRB25FHSS03
KSRB25FHSS04
KSRB25FHSS05
KSRB25FHWH
KSRB25FHWH00
KSRB25FHWH01
KSRB25FHWH02
KSRB25FHWH03
KSRB25FHWH04
KSRB25FHWH05
KSRB25FKBL
KSRB25FKBL00
KSRB25FKBL01
KSRB25FKBL02
KSRB25FKBL03
KSRB25FKBL04
KSRB25FKBL14
KSRB25FKSS
KSRB25FKSS00
KSRB25FKSS01
KSRB25FKSS02
KSRB25FKSS03
KSRB25FKSS04
KSRB25FKSS14
KSRB25FNBL
KSRB25FNBL00
KSRB25FNSS
KSRB25FNSS00
KSRB25FRBX
KSRB25FRBX00
KSRB25FRBX01
KSRB25FRBX02
KSRB27FGBL
KSRB27FGBL00
KSRB27FGSS
KSRB27FGSS00
KSRB27FGWH
KSRB27FGWH00
KSRB27FHBL
KSRB27FHBL00
KSRB27FHBL01
KSRB27FHBL02
KSRB27FHBL03
KSRB27FHBL04
KSRB27FHBL05
KSRB27FHBT
KSRB27FHBT01
KSRB27FHBT02
KSRB27FHBT03
KSRB27FHBT05
KSRB27FHSS
KSRB27FHSS00
KSRB27FHSS01
KSRB27FHSS02
KSRB27FHSS03
KSRB27FHSS04
KSRB27FHSS05
KSRB27FHWH
KSRB27FHWH01
KSRB27FHWH02
KSRB27FHWH03
KSRB27FHWH05
KSRD22FKBL
KSRD22FKBL03
KSRD22FKBL04
KSRD22FKBL14
KSRD22FKBT
KSRD22FKBT01
KSRD22FKBT02
KSRD22FKBT03
KSRD22FKBT04
KSRD22FKBT14
KSRD22FKBT15
KSRD22FKSS
KSRD22FKSS03
KSRD22FKSS04
KSRD22FKSS14
KSRD22FKSS15
KSRD22FKST
KSRD22FKST15
KSRD22FKST16
KSRD22FKST17
KSRD22FKST18
KSRD22FKST19
KSRD22FKWH
KSRD22FKWH01
KSRD22FKWH02
KSRD22FKWH03
KSRD22FKWH04
KSRD22FKWH14
KSRD22FKWH15
KSRD22FTST
KSRD22FTST01
KSRD22FTST02
KSRD22FTST03
KSRD22FTST04
KSRD25FKBL
KSRD25FKBL03
KSRD25FKBL04
KSRD25FKBL14
KSRD25FKBL15
KSRD25FKBT
KSRD25FKBT01
KSRD25FKBT02
KSRD25FKBT03
KSRD25FKBT04
KSRD25FKBT14
KSRD25FKBT15
KSRD25FKSS
KSRD25FKSS03
KSRD25FKSS04
KSRD25FKSS14
KSRD25FKSS15
KSRD25FKST
KSRD25FKST15
KSRD25FKST17
KSRD25FKWH
KSRD25FKWH00
KSRD25FKWH01
KSRD25FKWH02
KSRD25FKWH03
KSRD25FKWH04
KSRD25FKWH14
KSRD25FKWH15
KSRD25FKWH16
KSRD27FKBT
KSRD27FKBT01
KSRD27FKWH
KSRD27FKWH01
KSRE22FHBT
KSRE22FHBT00
KSRE22FHBT01
KSRE22FHBT02
KSRE22FHWH
KSRE22FHWH00
KSRE22FHWH01
KSRE22FHWH02
KSRE25FHBT
KSRE25FHBT00
KSRE25FHBT01
KSRE25FHBT02
KSRE25FHWH
KSRE25FHWH00
KSRE25FHWH01
KSRE25FHWH02
KSRE27FHBT
KSRE27FHBT00
KSRE27FHWH
KSRE27FHWH00
KSRE27FHWH01
KSRG22FKBL
KSRG22FKBL01
KSRG22FKBL02
KSRG22FKBL03
KSRG22FKBL04
KSRG22FKBL05
KSRG22FKBL15
KSRG22FKBL17
KSRG22FKBL18
KSRG22FKBT
KSRG22FKBT01
KSRG22FKBT02
KSRG22FKBT03
KSRG22FKBT04
KSRG22FKBT05
KSRG22FKBT15
KSRG22FKBT17
KSRG22FKBT18
KSRG22FKSS
KSRG22FKSS01
KSRG22FKSS02
KSRG22FKSS03
KSRG22FKSS04
KSRG22FKSS05
KSRG22FKSS15
KSRG22FKSS17
KSRG22FKSS18
KSRG22FKWH
KSRG22FKWH01
KSRG22FKWH02
KSRG22FKWH03
KSRG22FKWH04
KSRG22FKWH05
KSRG22FKWH15
KSRG22FKWH17
KSRG22FKWH18
KSRG25FKBL
KSRG25FKBL01
KSRG25FKBL02
KSRG25FKBL03
KSRG25FKBL04
KSRG25FKBL05
KSRG25FKBL15
KSRG25FKBL17
KSRG25FKBL18
KSRG25FKBT
KSRG25FKBT01
KSRG25FKBT02
KSRG25FKBT03
KSRG25FKBT04
KSRG25FKBT05
KSRG25FKBT15
KSRG25FKBT17
KSRG25FKBT18
KSRG25FKSS
KSRG25FKSS01
KSRG25FKSS02
KSRG25FKSS03
KSRG25FKSS04
KSRG25FKSS05
KSRG25FKSS15
KSRG25FKSS16
KSRG25FKSS17
KSRG25FKSS18
KSRG25FKST
KSRG25FKST16
KSRG25FKST17
KSRG25FKST18
KSRG25FKWH
KSRG25FKWH00
KSRG25FKWH01
KSRG25FKWH02
KSRG25FKWH03
KSRG25FKWH04
KSRG25FKWH05
KSRG25FKWH15
KSRG25FKWH17
KSRG25FKWH18
KSRG27FKBL
KSRG27FKBL01
KSRG27FKBL02
KSRG27FKBL03
KSRG27FKBL04
KSRG27FKBT
KSRG27FKBT01
KSRG27FKBT03
KSRG27FKBT04
KSRG27FKWH
KSRG27FKWH00
KSRG27FKWH01
KSRG27FKWH02
KSRG27FKWH03
KSRG27FKWH04
KSRI22FNBL
KSRI22FNBL00
KSRI22FNBL01
KSRI22FNBT
KSRI22FNBT00
KSRI22FNSS
KSRI22FNSS00
KSRI22FNST
KSRI22FNST00
KSRI22FNST01
KSRI22FNWH
KSRI22FNWH00
KSRI25FNBL
KSRI25FNBL00
KSRI25FNBT
KSRI25FNBT00
KSRI25FNBT01
KSRI25FNSS
KSRI25FNSS00
KSRI25FNST
KSRI25FNST00
KSRI25FNST02
KSRI25FNWH
KSRI25FNWH00
KSRJ22CNBL
KSRJ22CNBL00
KSRJ22CNBT
KSRJ22CNBT00
KSRJ22CNSS
KSRJ22CNSS00
KSRJ22CNST
KSRJ22CNST00
KSRJ22CNWH
KSRJ22CNWH00
KSRJ22IMST
KSRJ22IMST00
KSRJ22IMST10
KSRJ25CNBL
KSRJ25CNBL00
KSRJ25CNBT
KSRJ25CNBT00
KSRJ25CNSS
KSRJ25CNSS00
KSRJ25CNST
KSRJ25CNST00
KSRJ25CNST01
KSRJ25CNWH
KSRJ25CNWH00
KSRJ25IMST
KSRJ25IMST00
KSRJ25IMST10
KSRK22ILBL
KSRK22ILBL02
KSRK22ILBL03
KSRK22ILBL13
KSRK22ILBT
KSRK22ILBT02
KSRK22ILBT03
KSRK22ILBT13
KSRK22ILSS
KSRK22ILSS02
KSRK22ILSS03
KSRK22ILSS13
KSRK22ILWH
KSRK22ILWH02
KSRK22ILWH03
KSRK22ILWH13
KSRK22XLBL
KSRK22XLBL00
KSRK22XLBT
KSRK22XLBT00
KSRK22XLSS
KSRK22XLSS00
KSRK22XLWH
KSRK22XLWH00
KSRK25ILBL
KSRK25ILBL02
KSRK25ILBL03
KSRK25ILBL13
KSRK25ILBT
KSRK25ILBT02
KSRK25ILBT03
KSRK25ILBT13
KSRK25ILSS
KSRK25ILSS01
KSRK25ILSS02
KSRK25ILSS03
KSRK25ILSS13
KSRK25ILWH
KSRK25ILWH02
KSRK25ILWH03
KSRK25ILWH13
KSRK25XLBL
KSRK25XLBL00
KSRK25XLBT
KSRK25XLBT00
KSRK25XLSS
KSRK25XLSS00
KSRK25XLSS10
KSRK25XLWH
KSRK25XLWH00
KSRP22FNBL
KSRP22FNBL00
KSRP22FNBL01
KSRP22FNBT
KSRP22FNBT00
KSRP22FNBT01
KSRP22FNSS
KSRP22FNSS00
KSRP22FNSS01
KSRP22FNWH
KSRP22FNWH00
KSRP25FNBL
KSRP25FNBL00
KSRP25FNBL01
KSRP25FNBT
KSRP25FNBT00
KSRP25FNBT01
KSRP25FNSS
KSRP25FNSS00
KSRP25FNSS01
KSRP25FNST
KSRP25FNST00
KSRP25FNWH
KSRP25FNWH00
KSRS22FGAL
KSRS22FGAL00
KSRS22FGBL
KSRS22FGBL00
KSRS22FGBL01
KSRS22FGBL02
KSRS22FGBL03
KSRS22FGBL04
KSRS22FGBL05
KSRS22FGBT
KSRS22FGBT00
KSRS22FGBT01
KSRS22FGBT02
KSRS22FGBT03
KSRS22FGBT04
KSRS22FGBT05
KSRS22FGSS
KSRS22FGSS11
KSRS22FGSS13
KSRS22FGSS14
KSRS22FGSS15
KSRS22FGWH
KSRS22FGWH00
KSRS22FGWH01
KSRS22FGWH02
KSRS22FGWH03
KSRS22FGWH04
KSRS22FGWH05
KSRS25CHBL
KSRS25CHBL00
KSRS25CHBT
KSRS25CHBT01
KSRS25CHSS
KSRS25CHSS00
KSRS25CHWH
KSRS25CHWH00
KSRS25CHWH01
KSRS25CKBL
KSRS25CKBL01
KSRS25CKBL02
KSRS25CKBL03
KSRS25CKBT
KSRS25CKBT01
KSRS25CKBT02
KSRS25CKSS
KSRS25CKSS01
KSRS25CKSS02
KSRS25CKSS03
KSRS25CKWH
KSRS25CKWH01
KSRS25CKWH02
KSRS25CKWH03
KSRS25CNBL
KSRS25CNBL00
KSRS25CNBT
KSRS25CNBT00
KSRS25CNLK
KSRS25CNLK00
KSRS25CNSS
KSRS25CNSS00
KSRS25CNWH
KSRS25CNWH00
KSRS25FDAL
KSRS25FDAL00
KSRS25FDAL02
KSRS25FDWH
KSRS25FDWH00
KSRS25FDWH01
KSRS25FDWH02
KSRS25FGAL
KSRS25FGAL00
KSRS25FGAL01
KSRS25FGAL02
KSRS25FGBL
KSRS25FGBL00
KSRS25FGBL01
KSRS25FGBL02
KSRS25FGBL03
KSRS25FGBL04
KSRS25FGBT
KSRS25FGBT00
KSRS25FGBT01
KSRS25FGBT02
KSRS25FGBT03
KSRS25FGBT04
KSRS25FGSS
KSRS25FGSS00
KSRS25FGSS11
KSRS25FGSS13
KSRS25FGSS14
KSRS25FGSS15
KSRS25FGWH
KSRS25FGWH00
KSRS25FGWH01
KSRS25FGWH02
KSRS25FGWH03
KSRS25FGWH04
KSRS25IHBL
KSRS25IHBL00
KSRS25IHBL02
KSRS25IHBT
KSRS25IHBT00
KSRS25IHBT02
KSRS25IHBU
KSRS25IHBU00
KSRS25IHBU02
KSRS25IHSS
KSRS25IHSS00
KSRS25IHSS02
KSRS25IHWH
KSRS25IHWH00
KSRS25IHWH01
KSRS25IHWH02
KSRS25IKBL
KSRS25IKBL01
KSRS25IKBL03
KSRS25IKBT
KSRS25IKBT01
KSRS25IKBT02
KSRS25IKBT03
KSRS25IKBU
KSRS25IKBU01
KSRS25IKSS
KSRS25IKSS01
KSRS25IKSS03
KSRS25IKWH
KSRS25IKWH00
KSRS25IKWH01
KSRS25IKWH02
KSRS25IKWH03
KSRS25ILBL
KSRS25ILBL00
KSRS25ILBL01
KSRS25ILBL02
KSRS25ILBL03
KSRS25ILBL13
KSRS25ILBT
KSRS25ILBT00
KSRS25ILBT01
KSRS25ILBT02
KSRS25ILBT03
KSRS25ILBT13
KSRS25ILBU
KSRS25ILBU01
KSRS25ILBU02
KSRS25ILBU03
KSRS25ILSS
KSRS25ILSS00
KSRS25ILSS01
KSRS25ILSS02
KSRS25ILSS03
KSRS25ILSS13
KSRS25ILWH
KSRS25ILWH00
KSRS25ILWH01
KSRS25ILWH02
KSRS25ILWH03
KSRS25ILWH13
KSRS25PNBL
KSRS25PNBL00
KSRS25PNBT
KSRS25PNBT00
KSRS25PNLK
KSRS25PNLK00
KSRS25PNSS
KSRS25PNSS00
KSRS25PNWH
KSRS25PNWH00
KSRS27CNBL
KSRS27CNBL00
KSRS27CNBT
KSRS27CNBT00
KSRS27CNSS
KSRS27CNSS00
KSRS27CNWH
KSRS27CNWH00
KSRS27FGAL
KSRS27FGAL00
KSRS27FGAL01
KSRS27FGBL
KSRS27FGBL00
KSRS27FGBL01
KSRS27FGBL02
KSRS27FGBL03
KSRS27FGBL04
KSRS27FGBT
KSRS27FGBT00
KSRS27FGBT01
KSRS27FGBT02
KSRS27FGBT03
KSRS27FGBT04
KSRS27FGSS
KSRS27FGSS11
KSRS27FGSS13
KSRS27FGSS14
KSRS27FGWH
KSRS27FGWH00
KSRS27FGWH01
KSRS27FGWH02
KSRS27FGWH03
KSRS27FGWH04
KSRS27IHBL
KSRS27IHBL00
KSRS27IHBL02
KSRS27IHBT
KSRS27IHBT00
KSRS27IHBT02
KSRS27IHSS
KSRS27IHSS00
KSRS27IHSS02
KSRS27IHWH
KSRS27IHWH00
KSRS27IHWH01
KSRS27IHWH02
KSRS27IKBL
KSRS27IKBL01
KSRS27IKBL02
KSRS27IKBT
KSRS27IKBT01
KSRS27IKBT02
KSRS27IKSS
KSRS27IKSS01
KSRS27IKSS02
KSRS27IKWH
KSRS27IKWH00
KSRS27IKWH01
KSRS27IKWH02
KSRS27ILBL
KSRS27ILBL00
KSRS27ILBL01
KSRS27ILBL02
KSRS27ILBL03
KSRS27ILBL13
KSRS27ILBT
KSRS27ILBT00
KSRS27ILBT01
KSRS27ILBT02
KSRS27ILBT03
KSRS27ILBT13
KSRS27ILSS
KSRS27ILSS00
KSRS27ILSS01
KSRS27ILSS02
KSRS27ILSS03
KSRS27ILSS13
KSRS27ILWH
KSRS27ILWH00
KSRS27ILWH01
KSRS27ILWH02
KSRS27ILWH03
KSRS27ILWH13
KSRU22FKBT
KSRU22FKBT01
KSRU22FKBT02
KSRU22FKBT03
KSRU22FKWH
KSRU22FKWH01
KSRU22FKWH02
KSRU22FKWH03
KSRU22FKWH04
KSRU25FKBT
KSRU25FKBT01
KSRU25FKBT02
KSRU25FKBT03
KSRU25FKWH
KSRU25FKWH01
KSRU25FKWH02
KSRU25FKWH03
KSRV25FHBL
KSRV25FHBL00
KSRV25FHBT
KSRV25FHBT00
KSRV25FHWH
KSRV25FHWH00
KSRV25FHWH01
KSRW22FHBL
KSRW22FHBL02
KSRW22FHBT
KSRW22FHBT02
KSRW22FHWH
KSRW22FHWH00
KSRW22FHWH02
KSRW25FHBL
KSRW25FHBL00
KSRW25FHBL01
KSRW25FHBT
KSRW25FHBT00
KSRW25FHBT01
KSRW25FHBT02
KSRW25FHWH
KSRW25FHWH00
KSRW25FHWH01
KSRW25FHWH02
KSRX22FNBL
KSRX22FNBL01
KSRX22FNBT
KSRX22FNBT01
KSRX22FNST
KSRX22FNST01
KSRX22FNST02
KSRX22FNWH
KSRX22FNWH01
KSRX22FNWH02
KSRX25FNBL
KSRX25FNBL01
KSRX25FNBL02
KSRX25FNBT
KSRX25FNBT01
KSRX25FNST
KSRX25FNST01
KSRX25FNST02
KSRX25FNST03
KSRX25FNWH
KSRX25FNWH01
KSRX25FNWH02
KSSC36FJB
KSSC36FJB00
KSSC36FJS
KSSC36FJS00
KSSC36FJT
KSSC36FJT00
KSSC36FJW
KSSC36FJW00
KSSC36FKB
KSSC36FKB00
KSSC36FKB01
KSSC36FKB02
KSSC36FKS
KSSC36FKS00
KSSC36FKS01
KSSC36FKS02
KSSC36FMS
KSSC36FMS00
KSSC36FMS01
KSSC36FMS02
KSSC36FMS03
KSSC36QKS
KSSC36QKS00
KSSC36QKS01
KSSC36QKS02
KSSC36QMS
KSSC36QMS00
KSSC36QMS01
KSSC36QMS02
KSSC36QMS03
KSSC42FJB
KSSC42FJB00
KSSC42FJS
KSSC42FJS00
KSSC42FJT
KSSC42FJT00
KSSC42FJW
KSSC42FJW00
KSSC42FKB
KSSC42FKB00
KSSC42FKB01
KSSC42FKB02
KSSC42FKS
KSSC42FKS00
KSSC42FKS01
KSSC42FKS02
KSSC42FMS
KSSC42FMS00
KSSC42FMS01
KSSC42FMS02
KSSC42FMS03
KSSC42QKS
KSSC42QKS00
KSSC42QKS01
KSSC42QKS02
KSSC42QMS
KSSC42QMS00
KSSC42QMS01
KSSC42QMS02
KSSC42QMS03
KSSC42QMU
KSSC42QMU00
KSSC42QMU01
KSSC48FJB
KSSC48FJB00
KSSC48FJS
KSSC48FJS00
KSSC48FJT
KSSC48FJT00
KSSC48FJW
KSSC48FJW00
KSSC48FKB
KSSC48FKB00
KSSC48FKB01
KSSC48FKS
KSSC48FKS00
KSSC48FKS01
KSSC48FKS02
KSSC48FMS
KSSC48FMS00
KSSC48FMS01
KSSC48FMS02
KSSC48FMS03
KSSC48QKS
KSSC48QKS00
KSSC48QKS01
KSSC48QKS02
KSSC48QMS
KSSC48QMS00
KSSC48QMS01
KSSC48QMS02
KSSC48QMS03
KSSO36FMX
KSSO36FMX00
KSSO36FMX01
KSSO36FMX02
KSSO36FMX03
KSSO36QMB
KSSO36QMB00
KSSO36QMB01
KSSO36QMB02
KSSO36QMB03
KSSO36QMW
KSSO36QMW00
KSSO36QMW01
KSSO36QMX
KSSO36QMX01
KSSO42FMX
KSSO42FMX00
KSSO42FMX01
KSSO42FMX02
KSSO42FMX03
KSSO42QMB
KSSO42QMB00
KSSO42QMB01
KSSO42QMB02
KSSO42QMB03
KSSO42QMW
KSSO42QMW00
KSSO42QMW01
KSSO42QMX
KSSO42QMX01
KSSO48FMX
KSSO48FMX00
KSSO48FMX01
KSSO48FMX02
KSSO48FMX03
KSSO48QMB
KSSO48QMB00
KSSO48QMB01
KSSO48QMB02
KSSO48QMB03
KSSO48QMW
KSSO48QMW00
KSSO48QMW01
KSSO48QMX
KSSO48QMX01
KSSP36QJS
KSSP36QJS00
KSSP36QKS
KSSP36QKS00
KSSP36QKS01
KSSP36QKS02
KSSP36QMS
KSSP36QMS00
KSSP36QMS01
KSSP36QMS02
KSSP36QMS03
KSSP42QJS
KSSP42QJS00
KSSP42QKS
KSSP42QKS00
KSSP42QKS01
KSSP42QKS02
KSSP42QMS
KSSP42QMS00
KSSP42QMS01
KSSP42QMS02
KSSP42QMS03
KSSP48QJS
KSSP48QJS00
KSSP48QKS
KSSP48QKS00
KSSP48QKS01
KSSP48QKS02
KSSP48QMS
KSSP48QMS00
KSSP48QMS01
KSSP48QMS02
KSSP48QMS03
KSSS36FJB
KSSS36FJB00
KSSS36FJT
KSSS36FJT00
KSSS36FJW
KSSS36FJW00
KSSS36FJX
KSSS36FJX00
KSSS36FKB
KSSS36FKB00
KSSS36FKB01
KSSS36FKB02
KSSS36FKT
KSSS36FKT00
KSSS36FKT01
KSSS36FKT02
KSSS36FKW
KSSS36FKW00
KSSS36FKW01
KSSS36FKW02
KSSS36FKX
KSSS36FKX00
KSSS36FKX01
KSSS36FKX02
KSSS36FMB
KSSS36FMB00
KSSS36FMB01
KSSS36FMX
KSSS36FMX00
KSSS36FMX01
KSSS36FMX02
KSSS36FMX03
KSSS36QJB
KSSS36QJB00
KSSS36QJT
KSSS36QJT00
KSSS36QJW
KSSS36QJW00
KSSS36QJX
KSSS36QJX00
KSSS36QKB
KSSS36QKB00
KSSS36QKB01
KSSS36QKB02
KSSS36QKT
KSSS36QKT00
KSSS36QKT01
KSSS36QKT02
KSSS36QKW
KSSS36QKW00
KSSS36QKW01
KSSS36QKW02
KSSS36QKX
KSSS36QKX00
KSSS36QKX01
KSSS36QKX02
KSSS36QMB
KSSS36QMB00
KSSS36QMB01
KSSS36QMB02
KSSS36QMB03
KSSS36QMW
KSSS36QMW00
KSSS36QMW01
KSSS36QMW02
KSSS36QMW03
KSSS36QMX
KSSS36QMX00
KSSS36QMX01
KSSS36QMX02
KSSS36QMX03
KSSS42FJB
KSSS42FJB00
KSSS42FJT
KSSS42FJT00
KSSS42FJW
KSSS42FJW00
KSSS42FJX
KSSS42FJX00
KSSS42FKB
KSSS42FKB00
KSSS42FKB01
KSSS42FKB02
KSSS42FKT
KSSS42FKT00
KSSS42FKT01
KSSS42FKT02
KSSS42FKW
KSSS42FKW00
KSSS42FKW01
KSSS42FKW02
KSSS42FKX
KSSS42FKX00
KSSS42FKX01
KSSS42FKX02
KSSS42FMB
KSSS42FMB00
KSSS42FMB01
KSSS42FMX
KSSS42FMX00
KSSS42FMX01
KSSS42FMX02
KSSS42FMX03
KSSS42QJB
KSSS42QJB00
KSSS42QJT
KSSS42QJT00
KSSS42QJW
KSSS42QJW00
KSSS42QJX
KSSS42QJX00
KSSS42QKB
KSSS42QKB00
KSSS42QKB01
KSSS42QKB02
KSSS42QKT
KSSS42QKT00
KSSS42QKT01
KSSS42QKT02
KSSS42QKW
KSSS42QKW00
KSSS42QKW01
KSSS42QKW02
KSSS42QKX
KSSS42QKX00
KSSS42QKX01
KSSS42QKX02
KSSS42QMB
KSSS42QMB00
KSSS42QMB01
KSSS42QMB02
KSSS42QMB03
KSSS42QMW
KSSS42QMW00
KSSS42QMW01
KSSS42QMW02
KSSS42QMW03
KSSS42QMX
KSSS42QMX00
KSSS42QMX01
KSSS42QMX02
KSSS42QMX03
KSSS48FJB
KSSS48FJB00
KSSS48FJT
KSSS48FJT00
KSSS48FJW
KSSS48FJW00
KSSS48FJX
KSSS48FJX00
KSSS48FKB
KSSS48FKB00
KSSS48FKB01
KSSS48FKB02
KSSS48FKT
KSSS48FKT00
KSSS48FKT01
KSSS48FKT02
KSSS48FKW
KSSS48FKW00
KSSS48FKW01
KSSS48FKW02
KSSS48FKX
KSSS48FKX00
KSSS48FKX01
KSSS48FKX02
KSSS48FMB
KSSS48FMB00
KSSS48FMB01
KSSS48FMX
KSSS48FMX00
KSSS48FMX01
KSSS48FMX02
KSSS48FMX03
KSSS48QJB
KSSS48QJB00
KSSS48QJT
KSSS48QJT00
KSSS48QJW
KSSS48QJW00
KSSS48QJX
KSSS48QJX00
KSSS48QKB
KSSS48QKB00
KSSS48QKB01
KSSS48QKB02
KSSS48QKT
KSSS48QKT00
KSSS48QKT01
KSSS48QKT02
KSSS48QKW
KSSS48QKW00
KSSS48QKW01
KSSS48QKW02
KSSS48QKX
KSSS48QKX00
KSSS48QKX01
KSSS48QKX02
KSSS48QMB
KSSS48QMB00
KSSS48QMB01
KSSS48QMB02
KSSS48QMB03
KSSS48QMW
KSSS48QMW00
KSSS48QMW01
KSSS48QMW02
KSSS48QMW03
KSSS48QMX
KSSS48QMX00
KSSS48QMX01
KSSS48QMX02
KSSS48QMX03
KSSV42FMM
KSSV42FMM00
KSSV42FMM01
KSSV42FMM02
KSSV42FMS
KSSV42FMS00
KSSV42FMS01
KSSV42FMS02
Maytag
GC1SHAXMB00
GC1SHAXMQ00
GC1SHAXMS00
GC5SHGXKB00
GC5SHGXKQ00
GC5SHGXKS00
GC5SHGXKT00
GC5SHGXKT01
GC5SHGXLB00
GC5SHGXLB01
GC5SHGXLQ00
GC5SHGXLQ01
GC5SHGXLS00
GC5SHGXLS01
GC5SHGXLT00
GC5SHGXLT01
GC5THGXKB00
GC5THGXKB01
GC5THGXKQ00
GC5THGXKT00
GC5THGXKT01
GC5THGXLB00
GC5THGXLB01
GC5THGXLQ00
GC5THGXLQ01
GC5THGXLS00
GC5THGXLT00
GC5THGXLT01
GD22DCXHB00
GD22DCXHB01
GD22DCXHB02
GD22DCXHS01
GD22DCXHS02
GD22DCXHT00
GD22DCXHT01
GD22DCXHW00
GD22DCXHW01
GD22DCXHW02
GD22DFXFB00
GD22DFXFB01
GD22DFXFB02
GD22DFXFB03
GD22DFXFB05
GD22DFXFN00
GD22DFXFN01
GD22DFXFN02
GD22DFXFN03
GD22DFXFN05
GD22DFXFT01
GD22DFXFT02
GD22DFXFT03
GD22DFXFT04
GD22DFXFT05
GD22DFXFW00
GD22DFXFW01
GD22DFXFW02
GD22DFXFW03
GD22DFXFW04
GD22DFXFW05
GD22SFXHS00
GD22SFXHS01
GD22SFXHS02
GD22SFXHS03
GD22SFXHS04
GD22SFXHS05
GD25BFCHB00
GD25BFCHB01
GD25BFCHT00
GD25BFCHT01
GD25BFCHW00
GD25DCXHS00
GD25DFXFB00
GD25DFXFB01
GD25DFXFB02
GD25DFXFB03
GD25DFXFN00
GD25DFXFN01
GD25DFXFN02
GD25DFXFN03
GD25DFXFN04
GD25DFXFT01
GD25DFXFT02
GD25DFXFT03
GD25DFXFW00
GD25DFXFW01
GD25DFXFW02
GD25DFXFW03
GD25DFXFW04
GD25DIXHB00
GD25DIXHB01
GD25DIXHB02
GD25DIXHS00
GD25DIXHS02
GD25DIXHT00
GD25DIXHT02
GD25DIXHW00
GD25DIXHW01
GD25DIXHW02
GD25FFCHB00
GD25FFCHB01
GD25FFCHT00
GD25FFCHT01
GD25FFCHW00
GD25FFCHW01
GD25SFCHS10
GD25SFCHS11
GD25SFXHS00
GD25SFXHS01
GD25SFXHS02
GD25SFXHS03
GD25SFXHS04
GD25SFXHS05
GD27DFXFB00
GD27DFXFB01
GD27DFXFB02
GD27DFXFN00
GD27DFXFN01
GD27DFXFN02
GD27DFXFN03
GD27DFXFT01
GD27DFXFT02
GD27DFXFW00
GD27DFXFW01
GD27DFXFW02
GD27DFXFW03
GD27DIXHB00
GD27DIXHB01
GD27DIXHB02
GD27DIXHS00
GD27DIXHS02
GD27DIXHT00
GD27DIXHT02
GD27DIXHW00
GD27DIXHW02
GD2LHGXKB00
GD2LHGXKQ00
GD2LHGXKT00
GD2LHGXLB00
GD2LHGXLB01
GD2LHGXLB03
GD2LHGXLB04
GD2LHGXLQ00
GD2LHGXLQ01
GD2LHGXLQ03
GD2LHGXLQ04
GD2LHGXLT00
GD2LHGXLT01
GD2LHGXLT03
GD2LHGXLT04
GD2NHAXMB00
GD2NHAXMQ00
GD2NHAXMT00
GD2NHGXKQ01
GD2NHGXKQ02
GD2NHGXKT01
GD2NHGXLQ00
GD2NHGXLT00
GD2SHAXKB01
GD2SHAXKB02
GD2SHAXKB03
GD2SHAXKQ01
GD2SHAXKQ02
GD2SHAXKT00
GD2SHAXKT01
GD2SHAXKT02
GD2SHAXLB00
GD2SHAXLB01
GD2SHAXLB02
GD2SHAXLQ00
GD2SHAXLQ01
GD2SHAXLQ02
GD2SHAXLT00
GD2SHAXLT01
GD2SHAXLT02
GD2SHAXMB00
GD2SHAXMQ00
GD2SHAXMT00
GD2SHAXNB00
GD2SHAXNQ00
GD2SHAXNS00
GD2SHAXNT00
GD2SHGXKB00
GD2SHGXKB01
GD2SHGXKB02
GD2SHGXKQ00
GD2SHGXKQ01
GD2SHGXKQ02
GD2SHGXKT00
GD2SHGXKT01
GD2SHGXKT02
GD2SHGXLB00
GD2SHGXLB01
GD2SHGXLQ00
GD2SHGXLQ01
GD2SHGXLT00
GD2SHGXLT01
GD5LHGXKB00
GD5LHGXKB01
GD5LHGXKQ00
GD5LHGXKQ01
GD5LHGXKT00
GD5LHGXKT01
GD5LHGXLB01
GD5LHGXLB02
GD5LHGXLQ01
GD5LHGXLQ02
GD5LHGXLT01
GD5LHGXLT02
GD5NHAXMB00
GD5NHAXMQ00
GD5NHAXMT00
GD5NHGXKQ00
GD5NHGXKQ01
GD5NHGXKQ02
GD5NHGXKT01
GD5NHGXLQ00
GD5NHGXLQ01
GD5NHGXLT00
GD5PHAXLB00
GD5PHAXLB01
GD5PHAXLQ00
GD5PHAXLQ01
GD5PHAXMS00
GD5PHAXMS10
GD5PHAXMS11
GD5RHAXNB00
GD5RHAXNB01
GD5RHAXNQ00
GD5RHAXNQ01
GD5RHAXNT00
GD5RHAXNT01
GD5SHAXKB00
GD5SHAXKB01
GD5SHAXKB02
GD5SHAXKQ00
GD5SHAXKQ01
GD5SHAXKQ02
GD5SHAXKT00
GD5SHAXKT01
GD5SHAXKT02
GD5SHAXLB00
GD5SHAXLB01
GD5SHAXLB02
GD5SHAXLB12
GD5SHAXLQ00
GD5SHAXLQ01
GD5SHAXLQ02
GD5SHAXLQ12
GD5SHAXLT00
GD5SHAXLT01
GD5SHAXLT02
GD5SHAXLT12
GD5SHAXMB00
GD5SHAXMQ00
GD5SHAXMT00
GD5SHAXNB00
GD5SHAXNB01
GD5SHAXNL00
GD5SHAXNQ00
GD5SHAXNQ01
GD5SHAXNS00
GD5SHAXNS01
GD5SHAXNS03
GD5SHAXNT00
GD5SHGXKB00
GD5SHGXKB01
GD5SHGXKB02
GD5SHGXKQ00
GD5SHGXKQ01
GD5SHGXKQ02
GD5SHGXKT00
GD5SHGXKT01
GD5SHGXKT02
GD5SHGXLB00
GD5SHGXLB01
GD5SHGXLQ00
GD5SHGXLQ01
GD5SHGXLT00
GD5SHGXLT01
GD5THGXKS00
GD5THGXKS01
GD5THGXKS02
GD5THGXKS03
GD5YHAXNL00
GD5YHAXNL02
GD5YHAXNL03
GD5YHAXNL04
GD5YHAXTL00
GD5YHAXTL01
GD5YHAXTL02
GD5YHEXLS00
GD5YHEXLS01
GS2SHAXKB01
GS2SHAXKB02
GS2SHAXKQ00
GS2SHAXKQ01
GS2SHAXKQ02
GS2SHAXKQ03
GS2SHAXKS01
GS2SHAXKS02
GS2SHAXKT01
GS2SHAXKT02
GS2SHAXLB01
GS2SHAXLB02
GS2SHAXLB03
GS2SHAXLL01
GS2SHAXLL02
GS2SHAXLL03
GS2SHAXLQ01
GS2SHAXLQ02
GS2SHAXLQ03
GS2SHAXLS00
GS2SHAXLS01
GS2SHAXLS02
GS2SHAXLS03
GS2SHAXLT01
GS2SHAXLT03
GS2SHAXMB00
GS2SHAXML00
GS2SHAXMQ00
GS2SHAXMS00
GS2SHAXMT00
GS2SHAXNB00
GS2SHAXNB01
GS2SHAXNB02
GS2SHAXNL00
GS2SHAXNL01
GS2SHAXNL02
GS2SHAXNQ00
GS2SHAXNQ01
GS2SHAXNQ02
GS2SHAXNT00
GS2SHAXNT01
GS2SHAXNT02
GS2SHEXMB00
GS2SHEXML00
GS2SHEXMQ00
GS2SHEXMS00
GS2SHEXMT00
GS2SHEXNB00
GS2SHEXNB02
GS2SHEXNL00
GS2SHEXNL02
GS2SHEXNQ00
GS2SHEXNQ02
GS2SHEXNS00
GS2SHEXNS02
GS2SHEXNT00
GS2SHGXKB01
GS2SHGXKB02
GS2SHGXKQ01
GS2SHGXKS01
GS2SHGXKS02
GS2SHGXKT01
GS2SHGXLB00
GS2SHGXLB01
GS2SHGXLL00
GS2SHGXLL01
GS2SHGXLQ00
GS2SHGXLQ01
GS2SHGXLS00
GS2SHGXLS01
GS2SHGXLT00
GS2SHGXLT01
GS5SHAXNB00
GS5SHAXNB01
GS5SHAXNB02
GS5SHAXNL00
GS5SHAXNL01
GS5SHAXNL02
GS5SHAXNQ00
GS5SHAXNQ01
GS5SHAXNQ02
GS5SHAXNT00
GS5SHAXNT01
GS5SHAXNT02
GS5SHGXKB00
GS5SHGXKQ00
GS5SHGXKS00
GS5SHGXKT00
GS5SHGXLB00
GS5SHGXLB01
GS5SHGXLL00
GS5SHGXLL01
GS5SHGXLQ00
GS5SHGXLQ01
GS5SHGXLS00
GS5SHGXLS01
GS5SHGXLT00
GS5SHGXLT01
GS6SHANLQ10
GS6SHAXKB01
GS6SHAXKB02
GS6SHAXKQ00
GS6SHAXKQ01
GS6SHAXKQ02
GS6SHAXKS01
GS6SHAXKS02
GS6SHAXKT01
GS6SHAXKT02
GS6SHAXLB01
GS6SHAXLB02
GS6SHAXLB03
GS6SHAXLL01
GS6SHAXLL02
GS6SHAXLL03
GS6SHAXLQ01
GS6SHAXLQ02
GS6SHAXLQ03
GS6SHAXLS01
GS6SHAXLS02
GS6SHAXLS03
GS6SHAXLT01
GS6SHAXLT02
GS6SHAXLT03
GS6SHAXMB00
GS6SHAXML00
GS6SHAXMQ00
GS6SHAXMS00
GS6SHAXMT00
GS6SHEXMB00
GS6SHEXML00
GS6SHEXML01
GS6SHEXMQ00
GS6SHEXMS00
GS6SHEXMS01
GS6SHEXMT00
GS6SHEXNB00
GS6SHEXNB01
GS6SHEXNB02
GS6SHEXNB03
GS6SHEXNB04
GS6SHEXNB05
GS6SHEXNL00
GS6SHEXNL01
GS6SHEXNL02
GS6SHEXNL03
GS6SHEXNL04
GS6SHEXNL05
GS6SHEXNQ00
GS6SHEXNQ01
GS6SHEXNQ02
GS6SHEXNQ03
GS6SHEXNQ04
GS6SHEXNQ05
GS6SHEXNS00
GS6SHEXNS01
GS6SHEXNS02
GS6SHEXNS03
GS6SHEXNS04
GS6SHEXNT00
MSD2258KEU
MSD2258KEU00
MSD2258KEU01
MSD2258KGW
MSD2258KGW00
MSD2258KGW01
MSD2269KEB
MSD2269KEB01
MSD2269KEB02
MSD2269KEY
MSD2269KEY01
MSD2269KEY02
MSD2658KES
MSD2658KES00
MSD2658KES01
MSD2658KES02
MSD2658KEU
MSD2658KEU00
MSD2658KEU01
MSD2658KGB
MSD2658KGB00
MSD2658KGB01
MSD2658KGB02
MSD2658KGW
MSD2658KGW00
MSD2658KGW01
MSD2658KGW02
MSD2669KEA
MSD2669KEA00
MSD2669KEA01
MSD2669KEB
MSD2669KEB00
MSD2669KEB01
MSD2669KEW
MSD2669KEW00
MSD2669KEW01
MSD2669KEW02
MSD2669KEY
MSD2669KEY00
MSD2669KEY01
Roper
RS22AGXTQ
RS22CFXTQ
RS25AFXRD
RS25AGXNQ
RS25CFXTQ
RS25CGXTD
Whirlpool
ED22LFXGB
ED22LFXGB00
ED22LFXGN
ED22LFXGN00
ED22LFXGT
ED22LFXGT00
ED22LFXGW
ED22LFXGW00
ED22LFXHB
ED22LFXHB00
ED22LFXHB01
ED22LFXHB02
ED22LFXHB03
ED22LFXHT
ED22LFXHT00
ED22LFXHT01
ED22LFXHT02
ED22LFXHT03
ED22LFXHW
ED22LFXHW00
ED22LFXHW01
ED22LFXHW02
ED22LFXHW03
ED22QFXHB
ED22QFXHB00
ED22QFXHB02
ED22QFXHN
ED22QFXHN00
ED22QFXHN01
ED22QFXHT
ED22QFXHT00
ED22QFXHT01
ED22QFXHT02
ED22QFXHT03
ED22QFXHW
ED22QFXHW00
ED22QFXHW01
ED22QFXHW02
ED22QFXHW03
ED22RFXFB
ED22RFXFB00
ED22RFXFB01
ED22RFXFN
ED22RFXFN00
ED22RFXFN01
ED22RFXFN02
ED22RFXFN03
ED22RFXFN04
ED22RFXFW
ED22RFXFW00
ED22RFXFW01
ED22RFXFW02
ED22RFXFW03
ED22RFXFW04
ED25LFXGB
ED25LFXGB00
ED25LFXGN
ED25LFXGN00
ED25LFXGT
ED25LFXGT00
ED25LFXGW
ED25LFXGW00
ED25LFXHB
ED25LFXHB00
ED25LFXHB01
ED25LFXHB02
ED25LFXHT
ED25LFXHT00
ED25LFXHT01
ED25LFXHT02
ED25LFXHW
ED25LFXHW00
ED25LFXHW01
ED25LFXHW02
ED25QFXHB
ED25QFXHB00
ED25QFXHB01
ED25QFXHB02
ED25QFXHN
ED25QFXHN00
ED25QFXHN01
ED25QFXHT
ED25QFXHT00
ED25QFXHT01
ED25QFXHT02
ED25QFXHW
ED25QFXHW00
ED25QFXHW01
ED25QFXHW02
ED25RFXFB
ED25RFXFB00
ED25RFXFB01
ED25RFXFN
ED25RFXFN00
ED25RFXFN01
ED25RFXFN02
ED25RFXFN03
ED25RFXFW
ED25RFXFW00
ED25RFXFW01
ED25RFXFW02
ED25RFXFW03
ED25VFXHT
ED25VFXHT00
ED25VFXHT01
ED25VFXHT02
ED25VFXHW
ED25VFXHW00
ED25VFXHW01
ED25VFXHW02
ED27QFXHB
ED27QFXHB00
ED27QFXHB01
ED27QFXHB02
ED27QFXHT
ED27QFXHT00
ED27QFXHT01
ED27QFXHT02
ED27QFXHW
ED27QFXHW00
ED27QFXHW01
ED27QFXHW02
ED2CHGXKQ
ED2CHGXKQ00
ED2CHGXKT
ED2CHGXKT00
ED2FHEXLQ
ED2FHEXLQ00
ED2FHEXLQ01
ED2FHEXLT
ED2FHEXLT00
ED2FHEXLT01
ED2FHEXMB
ED2FHEXMB00
ED2FHEXMB10
ED2FHEXMQ
ED2FHEXMQ00
ED2FHEXMQ10
ED2FHEXMS
ED2FHEXMS00
ED2FHEXMS10
ED2FHEXMT
ED2FHEXMT00
ED2FHEXMT10
ED2FHEXNB
ED2FHEXNB00
ED2FHEXNB01
ED2FHEXNL
ED2FHEXNL00
ED2FHEXNL01
ED2FHEXNL02
ED2FHEXNQ
ED2FHEXNQ00
ED2FHEXNQ01
ED2FHEXNS
ED2FHEXNS00
ED2FHEXNS01
ED2FHEXNT
ED2FHEXNT00
ED2FHEXNT01
ED2FHGXKQ
ED2FHGXKQ00
ED2FHGXKQ01
ED2FHGXKQ03
ED2FHGXKQ04
ED2FHGXKT
ED2FHGXKT00
ED2FHGXKT03
ED2FHGXKT04
ED2FTGXKQ
ED2FTGXKQ00
ED2FTGXKQ01
ED2FTGXKQ03
ED2FTGXKQ04
ED2FTGXKT
ED2FTGXKT00
ED2FTGXKT01
ED2FTGXKT03
ED2FTGXKT04
ED2GHEXNB
ED2GHEXNB00
ED2GHEXNB01
ED2GHEXNB04
ED2GHEXNB06
ED2GHEXNB07
ED2GHEXNL
ED2GHEXNL00
ED2GHEXNL01
ED2GHEXNL02
ED2GHEXNL03
ED2GHEXNL04
ED2GHEXNL05
ED2GHEXNL06
ED2GHEXNL07
ED2GHEXNQ
ED2GHEXNQ00
ED2GHEXNQ01
ED2GHEXNQ04
ED2GHEXNQ06
ED2GHEXNQ07
ED2GHEXNT
ED2GHEXNT00
ED2GHGXMQ
ED2GHGXMQ00
ED2GHGXMQ01
ED2GHGXMQ02
ED2LHAXMB
ED2LHAXMB00
ED2LHAXMB10
ED2LHAXMB11
ED2LHAXMQ
ED2LHAXMQ00
ED2LHAXMQ10
ED2LHAXMQ11
ED2LHAXMT
ED2LHAXMT00
ED2LHAXMT10
ED2LHAXMT11
ED2NHAXNB
ED2NHAXNB01
ED2NHAXNL
ED2NHAXNL01
ED2NHAXNQ
ED2NHAXNQ01
ED2NHAXNT
ED2NHAXNT01
ED2NHEXNB
ED2NHEXNB00
ED2NHEXNL
ED2NHEXNL00
ED2NHEXNQ
ED2NHEXNQ00
ED2NHEXNT
ED2NHEXNT00
ED2NHGXMQ
ED2NHGXMQ00
ED2NHGXMQ10
ED2NHGXMT
ED2NHGXMT00
ED2NHGXMT10
ED2NHGXNQ
ED2NHGXNQ00
ED2NHGXNT
ED2NHGXNT00
ED2NHGXRL
ED2NHGXRL00
ED2NHGXRL01
ED2NHGXRL02
ED2NHGXRQ
ED2NHGXRQ00
ED2NHGXRQ01
ED2NTGXLQ
ED2NTGXLQ00
ED2NTGXLQ01
ED2NTGXLQ02
ED2NTGXLT
ED2NTGXLT01
ED2PHEXMB
ED2PHEXMB00
ED2PHEXMQ
ED2PHEXMQ00
ED2PHEXMQ10
ED2PHEXMT
ED2PHEXMT00
ED2PHEXMT10
ED2PHEXNB
ED2PHEXNB00
ED2PHEXNQ
ED2PHEXNQ00
ED2PHEXNT
ED2PHEXNT00
ED2SHAXMB
ED2SHAXMB00
ED2SHAXMB10
ED2SHAXMB11
ED2SHAXML
ED2SHAXML10
ED2SHAXML11
ED2SHAXML12
ED2SHAXMQ
ED2SHAXMQ00
ED2SHAXMQ10
ED2SHAXMQ11
ED2SHAXMT
ED2SHAXMT00
ED2SHAXMT10
ED2SHAXMT11
ED2SHEXMQ
ED2SHEXMQ00
ED2SHEXMT
ED2SHEXMT00
ED2SHGXMQ
ED2SHGXMQ00
ED2SHGXMQ10
ED2SHGXMT
ED2SHGXMT00
ED2SHGXMT10
ED2VHGXMB
ED2VHGXMB00
ED2VHGXMB10
ED2VHGXML
ED2VHGXML10
ED2VHGXMQ
ED2VHGXMQ00
ED2VHGXMQ10
ED2VHGXMT
ED2VHGXMT00
ED2VHGXMT10
ED2YHGXLQ
ED2YHGXLQ00
ED2YHGXLQ01
ED2YHGXLT
ED2YHGXLT01
ED5CHGXKQ
ED5CHGXKQ00
ED5CHGXKT
ED5CHGXKT00
ED5FHAXNQ
ED5FHAXNQ00
ED5FHEXKQ
ED5FHEXKQ00
ED5FHEXKT
ED5FHEXKT00
ED5FHEXLQ
ED5FHEXLQ00
ED5FHEXLQ01
ED5FHEXLT
ED5FHEXLT00
ED5FHEXLT01
ED5FHEXMB
ED5FHEXMB00
ED5FHEXMB10
ED5FHEXMQ
ED5FHEXMQ00
ED5FHEXMQ10
ED5FHEXMS
ED5FHEXMS00
ED5FHEXMS10
ED5FHEXMT
ED5FHEXMT00
ED5FHEXMT10
ED5FHEXNB
ED5FHEXNB00
ED5FHEXNB01
ED5FHEXNB02
ED5FHEXNL
ED5FHEXNL00
ED5FHEXNL01
ED5FHEXNL02
ED5FHEXNL03
ED5FHEXNQ
ED5FHEXNQ00
ED5FHEXNQ01
ED5FHEXNQ02
ED5FHEXNS
ED5FHEXNS00
ED5FHEXNS01
ED5FHEXNS02
ED5FHEXNT
ED5FHEXNT00
ED5FHEXNT01
ED5FHEXNT02
ED5FHGXKB
ED5FHGXKB00
ED5FHGXKB02
ED5FHGXKB03
ED5FHGXKQ
ED5FHGXKQ00
ED5FHGXKQ01
ED5FHGXKQ02
ED5FHGXKQ03
ED5FHGXKQ04
ED5FHGXKT
ED5FHGXKT00
ED5FHGXKT01
ED5FHGXKT02
ED5FHGXKT03
ED5FHGXKT04
ED5FHGXNQ
ED5FHGXNQ00
ED5FHGXNQ01
ED5FHGXNQ02
ED5FTGXKQ
ED5FTGXKQ00
ED5FTGXKQ01
ED5FTGXKQ02
ED5FTGXKT
ED5FTGXKT00
ED5FTGXKT01
ED5FTGXKT02
ED5GHEXNB
ED5GHEXNB00
ED5GHEXNB01
ED5GHEXNB03
ED5GHEXNL
ED5GHEXNL00
ED5GHEXNL01
ED5GHEXNL02
ED5GHEXNL03
ED5GHEXNQ
ED5GHEXNQ00
ED5GHEXNQ01
ED5GHEXNQ03
ED5GHEXNT
ED5GHEXNT00
ED5GHGXMB
ED5GHGXMB00
ED5GHGXMQ
ED5GHGXMQ00
ED5GHGXMT
ED5GHGXMT00
ED5GTGXNB
ED5GTGXNB12
ED5GTGXNB13
ED5GTGXNB14
ED5GTGXNB15
ED5GTGXNQ
ED5GTGXNQ00
ED5GTGXNQ10
ED5GTGXNQ11
ED5GTGXNQ12
ED5GTGXNQ13
ED5GTGXNQ14
ED5GTGXNQ15
ED5GTNXMQ
ED5GTNXMQ00
ED5HVEXVB00
ED5HVEXVB01
ED5HVEXVB02
ED5HVEXVB03
ED5JHAXML
ED5JHAXML00
ED5LHAXMB
ED5LHAXMB00
ED5LHAXMB10
ED5LHAXMB11
ED5LHAXML
ED5LHAXML10
ED5LHAXML11
ED5LHAXML12
ED5LHAXMQ
ED5LHAXMQ00
ED5LHAXMQ10
ED5LHAXMQ11
ED5LHAXMT
ED5LHAXMT00
ED5LHAXMT10
ED5LHAXMT11
ED5LHGXNB
ED5LHGXNB00
ED5LHGXNL
ED5LHGXNL00
ED5LHGXNQ
ED5LHGXNQ00
ED5LHGXNS
ED5LHGXNS00
ED5NHAXNB
ED5NHAXNB01
ED5NHAXNB02
ED5NHAXNL
ED5NHAXNL01
ED5NHAXNL02
ED5NHAXNL03
ED5NHAXNQ
ED5NHAXNQ01
ED5NHAXNQ02
ED5NHAXNT
ED5NHAXNT01
ED5NHAXNT02
ED5NHEXMB
ED5NHEXMB00
ED5NHEXMB10
ED5NHEXMQ
ED5NHEXMQ00
ED5NHEXMQ10
ED5NHEXMS
ED5NHEXMS00
ED5NHEXMS10
ED5NHEXMT
ED5NHEXMT00
ED5NHEXMT10
ED5NHEXNB
ED5NHEXNB00
ED5NHEXNL
ED5NHEXNL00
ED5NHEXNQ
ED5NHEXNQ00
ED5NHEXNT
ED5NHEXNT00
ED5NHGXMQ
ED5NHGXMQ00
ED5NHGXMQ10
ED5NHGXMT
ED5NHGXMT00
ED5NHGXMT10
ED5NHGXNQ
ED5NHGXNQ00
ED5NHGXNT
ED5NHGXNT00
ED5NHGXRL
ED5NHGXRL00
ED5NHGXRL02
ED5NHGXRQ
ED5NHGXRQ00
ED5NHGXRQ01
ED5NTGXLQ
ED5NTGXLQ00
ED5NTGXLQ01
ED5NTGXLT
ED5NTGXLT00
ED5NTGXLT01
ED5PHAXMB
ED5PHAXMB00
ED5PHAXMB10
ED5PHAXMQ
ED5PHAXMQ00
ED5PHAXMQ10
ED5PHEXMB
ED5PHEXMB00
ED5PHEXMB10
ED5PHEXML
ED5PHEXML10
ED5PHEXMQ
ED5PHEXMQ00
ED5PHEXMQ10
ED5PHEXMT
ED5PHEXMT00
ED5PHEXMT10
ED5PHEXNB
ED5PHEXNB00
ED5PHEXNL
ED5PHEXNL00
ED5PHEXNQ
ED5PHEXNQ00
ED5PHEXNT
ED5PHEXNT00
ED5RHAXNB
ED5RHAXNB00
ED5RHAXNB01
ED5RHAXNB02
ED5RHAXNQ
ED5RHAXNQ00
ED5RHAXNQ01
ED5RHAXNQ02
ED5RHAXNT
ED5RHAXNT00
ED5RHAXNT01
ED5RHAXNT02
ED5RHEXMQ
ED5RHEXMQ00
ED5RHEXMQ10
ED5RHEXMT
ED5RHEXMT00
ED5RHEXMT10
ED5RHEXNL
ED5RHEXNL00
ED5RHEXNL02
ED5RHEXNL03
ED5RHEXTS
ED5RHEXTS00
ED5RHGXMQ
ED5RHGXMQ00
ED5RHGXMQ10
ED5RHGXMT
ED5RHGXMT00
ED5RHGXMT10
ED5SHAXMB
ED5SHAXMB00
ED5SHAXMB10
ED5SHAXMB11
ED5SHAXML
ED5SHAXML10
ED5SHAXML11
ED5SHAXML12
ED5SHAXMQ
ED5SHAXMQ00
ED5SHAXMQ10
ED5SHAXMQ11
ED5SHAXMT
ED5SHAXMT00
ED5SHAXMT10
ED5SHAXMT11
ED5SHAXNQ
ED5SHAXNQ01
ED5SHEXMQ
ED5SHEXMQ00
ED5SHGXMQ
ED5SHGXMQ00
ED5SHGXMQ10
ED5SHGXMT
ED5SHGXMT00
ED5THAXMS
ED5THAXMS00
ED5THAXMS10
ED5VHEXSB
ED5VHEXSB00
ED5VHEXSL
ED5VHEXSL00
ED5VHEXSQ
ED5VHEXSQ00
ED5VHGXMB
ED5VHGXMB00
ED5VHGXMB10
ED5VHGXMB11
ED5VHGXMB15
ED5VHGXML
ED5VHGXML10
ED5VHGXML12
ED5VHGXML13
ED5VHGXML15
ED5VHGXMQ
ED5VHGXMQ00
ED5VHGXMQ10
ED5VHGXMQ11
ED5VHGXMQ15
ED5VHGXMT
ED5VHGXMT00
ED5VHGXMT10
ED5YHEXMB
ED5YHEXMB00
ED5YHEXMB10
ED5YHEXMQ
ED5YHEXMQ00
ED5YHEXMQ10
ED5YHEXMS
ED5YHEXMS00
ED5YHEXMT
ED5YHEXMT00
ED5YHEXMT10
ED5YHGXLQ
ED5YHGXLQ00
ED5YHGXLQ01
ED5YHGXLT
ED5YHGXLT00
ED5YHGXLT01
ED7FHEXMQ
ED7FHEXMQ00
ED7FHEXMT
ED7FHEXMT00
ED7FHGXKQ
ED7FHGXKQ00
ED7FHGXKQ01
ED7FHGXKT
ED7FHGXKT00
ED7FHGXKT01
ET1CHMXKB
GC1SHAXMB
GC1SHAXMQ
GC1SHAXMS
GC5SHGXKB
GC5SHGXKQ
GC5SHGXKS
GC5SHGXKT
GC5SHGXLB
GC5SHGXLQ
GC5SHGXLS
GC5SHGXLT
GC5THGXKB
GC5THGXKQ
GC5THGXKT
GC5THGXLB
GC5THGXLQ
GC5THGXLS
GC5THGXLT
GD22DCXHB
GD22DCXHS
GD22DCXHT
GD22DCXHW
GD22DFXFB
GD22DFXFN
GD22DFXFT
GD22DFXFW
GD22SFXHS
GD25BFCHB
GD25BFCHT
GD25BFCHW
GD25DCXHS
GD25DFXFB
GD25DFXFN
GD25DFXFT
GD25DFXFW
GD25DIXHB
GD25DIXHS
GD25DIXHT
GD25DIXHW
GD25FFCHB
GD25FFCHT
GD25FFCHW
GD25SFCHS
GD25SFXHS
GD27DFXFB
GD27DFXFN
GD27DFXFT
GD27DFXFW
GD27DIXHB
GD27DIXHS
GD27DIXHT
GD27DIXHW
GD2LHGXKB
GD2LHGXKQ
GD2LHGXKT
GD2LHGXLB
GD2LHGXLQ
GD2LHGXLT
GD2NHAXMB
GD2NHAXMQ
GD2NHAXMT
GD2NHGXKQ
GD2NHGXKT
GD2NHGXLQ
GD2NHGXLT
GD2SHAXKB
GD2SHAXKQ
GD2SHAXKT
GD2SHAXLB
GD2SHAXLQ
GD2SHAXLT
GD2SHAXMB
GD2SHAXMQ
GD2SHAXMT
GD2SHAXNB
GD2SHAXNQ
GD2SHAXNS
GD2SHAXNT
GD2SHGXKB
GD2SHGXKQ
GD2SHGXKT
GD2SHGXLB
GD2SHGXLQ
GD2SHGXLT
GD5LHGXKB
GD5LHGXKQ
GD5LHGXKT
GD5LHGXLB
GD5LHGXLQ
GD5LHGXLT
GD5NHAXMB
GD5NHAXMQ
GD5NHAXMT
GD5NHGXKQ
GD5NHGXKT
GD5NHGXLQ
GD5NHGXLT
GD5PHAXLB
GD5PHAXLQ
GD5PHAXMS
GD5RHAXNB
GD5RHAXNQ
GD5RHAXNT
GD5SHAXKB
GD5SHAXKQ
GD5SHAXKT
GD5SHAXLB
GD5SHAXLQ
GD5SHAXLT
GD5SHAXMB
GD5SHAXMQ
GD5SHAXMT
GD5SHAXNB
GD5SHAXNL
GD5SHAXNQ
GD5SHAXNS
GD5SHAXNT
GD5SHGXKB
GD5SHGXKQ
GD5SHGXKT
GD5SHGXLB
GD5SHGXLQ
GD5SHGXLT
GD5THGXKS
GD5YHAXNL
GD5YHAXTL
GD5YHEXLS
GS2SHAXKB
GS2SHAXKQ
GS2SHAXKS
GS2SHAXKT
GS2SHAXLB
GS2SHAXLL
GS2SHAXLQ
GS2SHAXLS
GS2SHAXLT
GS2SHAXMB
GS2SHAXML
GS2SHAXMQ
GS2SHAXMS
GS2SHAXMT
GS2SHAXNB
GS2SHAXNL
GS2SHAXNQ
GS2SHAXNT
GS2SHEXMB
GS2SHEXML
GS2SHEXMQ
GS2SHEXMS
GS2SHEXMT
GS2SHEXNB
GS2SHEXNL
GS2SHEXNQ
GS2SHEXNS
GS2SHEXNT
GS2SHGXKB
GS2SHGXKQ
GS2SHGXKS
GS2SHGXKT
GS2SHGXLB
GS2SHGXLL
GS2SHGXLQ
GS2SHGXLS
GS2SHGXLT
GS5SHAXNB
GS5SHAXNL
GS5SHAXNQ
GS5SHAXNT
GS5SHGXKB
GS5SHGXKQ
GS5SHGXKS
GS5SHGXKT
GS5SHGXLB
GS5SHGXLL
GS5SHGXLQ
GS5SHGXLS
GS5SHGXLT
GS6SHANLQ
GS6SHAXKB
GS6SHAXKQ
GS6SHAXKS
GS6SHAXKT
GS6SHAXLB
GS6SHAXLL
GS6SHAXLQ
GS6SHAXLS
GS6SHAXLT
GS6SHAXMB
GS6SHAXML
GS6SHAXMQ
GS6SHAXMS
GS6SHAXMT
GS6SHEXMB
GS6SHEXML
GS6SHEXMQ
GS6SHEXMS
GS6SHEXMT
GS6SHEXNB
GS6SHEXNL
GS6SHEXNQ
GS6SHEXNS
GS6SHEXNT
SS25AFXKQ
SS25AFXKQ00
SS25AFXKQ01
SS25AFXLQ
SS25AFXLQ00
SS25AFXLQ01
SS25AFXMQ
SS25AFXMQ00
SS25HFXLS
SS25HFXLS00
SS25HFXMS
SS25HFXMS00
Couldn't load pickup availability