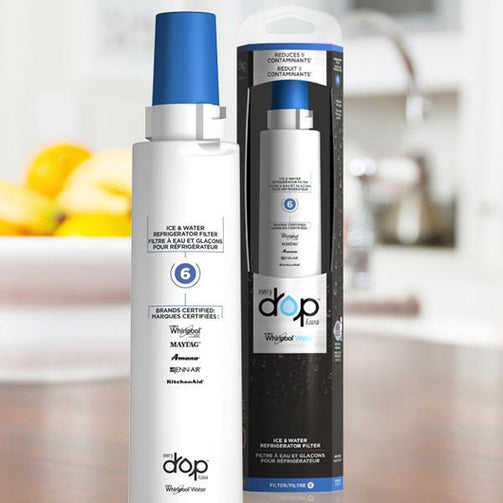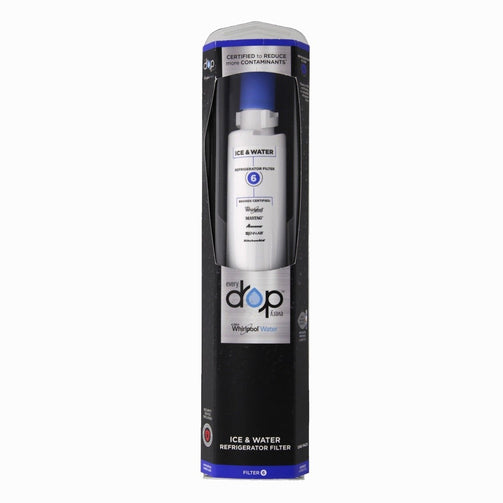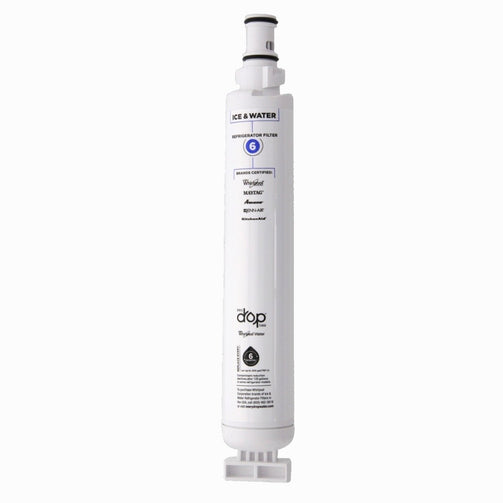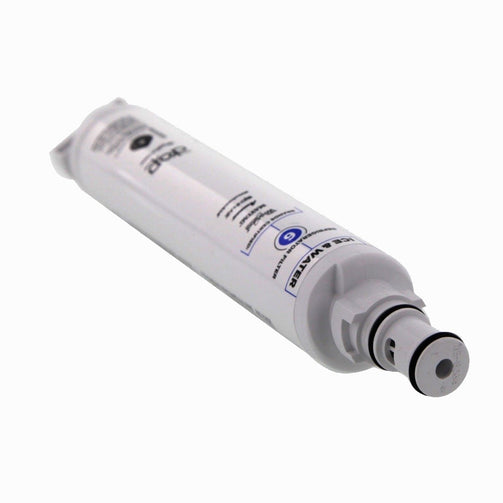 EveryDrop Refrigerator Filter 6
EveryDrop Refrigerator Filter 6
Regular price

$59.99

Sale price

$54.99
Whirlpool EveryDrop Refrigerator Water Filter, Filter 6
NSF-certified to reduce 9 contaminants, including chlorine, lead, and pesticides. Combats chlorine for great-tasting water.
Genuine OEM EveryDrop Filter 6 [EDR6D1B Refrigerator Ice & Water Filter] replaces previous model 4396701.
Compatible with the following refrigerator brands: JennAir, KitchenAid, Maytag, Whirlpool.
Details
Reduces 9 contaminants including lead, chlorine, and some pesticides
Uses Triple Filtration Technology to reduce contaminants
Can replace up to 1500 plastic water bottles
Capacity: 200 gallons (757 liters)
Replace every 6 months for optimal contaminant reduction
Tested and certified by NSF International against NSF/ANSI Standards 42, 53 and CSA B483.1
Specifications [PDF]
Additional
Replace according to the monitor in your fridge, or every 6 months or 200 gallons for optimal water taste and filter performance.
After replacing, flush the filter according to the instructions in your refrigerator manual.
—
04609915000
0469915
046-9915
050946958385
09915
09915P
10050946958382
1027083
1883069
1883070
2301705
2301706
4273166
4396701
4396701P
4396701T
4396702
4396703
4396706
4609915000
469915
46-9915
6701
883049175904
883049361871
883049369945
9915P
AH11722135
AH11722136
AH2375380
AH2375381
AH896775
AP3597016
AP4511030
AP5983566
B000KFZEBK
B00VBP8RNU
B00YHYK4JM
B01F2LETFS
BT-5YC9-UKIM
EA11722135
EA11722136
EA2375380
EA2375381
EAP11722135
EAP11722136
EAP2375380
EAP2375381
EAP896775
EDR61B
EDR6D1
EFF-6001A
FILTER6
FO-OJ3J-4JAT
L120V
L200V
LC200V
NL120V
NLC120V
OS-BW9H-2CJB
PS11722135
PS11722136
PS2375380
PS2375381
PS896775
SGF-W10
W10281560
W10312235
WFINL120V
WFI-NL120V
WFL120V
WF-L120V
WFL200
WF-L200
WFL200V
WF-L200V
WFLC200V
WF-LC200V
WFNL120V
WF-NL120V
WFNLC120V
WF-NLC120V
JennAir
KitchenAid
Maytag
Whirlpool

JennAir
JUD248CCCX
JUD248CCCX00
JUD248CCCX01
JUD248CCRS
JUD248CCRS00
JUD248CWRS
JUD248CWRS00
JUD248CWRS01
JUD248RCRS
JUD248RCRS00
JUD24FCACX
JUD24FCACX00
JUD24FCARS
JUD24FCARS00
JUD24FCECX
JUD24FCECX00
JUD24FCERS
JUD24FCERS00
JUD24FRACX
JUD24FRACX00
JUD24FRARS
JUD24FRARS00
KitchenAid
KDDC24CVS
KDDC24CVS00
KDDC24CVS01
KDDC24RVS
KDDC24RVS00
KDDO24CVX
KDDO24CVX00
KDDO24CVX01
KDDO24RVX
KDDO24RVX00
KDDO24RVX01
KTLA19EMSS
KTLA19EMSS00
KTLA19EMSS01
KTLA22EMSS
KTLA22EMSS00
KTLA22EMSS01
KTLA22EMSS02
KTLA22EMSS03
KTLA22EMSS04
KTRA19EMBL
KTRA19EMBL00
KTRA19EMBL01
KTRA19EMBT
KTRA19EMBT00
KTRA19EMSS
KTRA19EMSS00
KTRA19EMSS01
KTRA19EMWH
KTRA19EMWH00
KTRA19EMWH01
KTRA22EMBL
KTRA22EMBL00
KTRA22EMBL01
KTRA22EMBT
KTRA22EMBT00
KTRA22EMBT01
KTRA22EMSS
KTRA22EMSS00
KTRA22EMSS01
KTRA22EMSS02
KTRA22EMSS03
KTRA22EMSS04
KTRA22EMWH
KTRA22EMWH00
KTRA22EMWH01
KTRA22EMWH02
KTRC22EMBL
KTRC22EMBL00
KTRC22EMBL01
KTRC22EMBL02
KTRC22EMBL03
KTRC22EMBL04
KTRC22EMBL05
KTRC22EMBT
KTRC22EMBT00
KTRC22EMBT01
KTRC22EMBT02
KTRC22EMBT03
KTRC22EMBT04
KTRC22EMBT05
KTRC22EMSS
KTRC22EMSS00
KTRC22EMSS01
KTRC22EMSS02
KTRC22EMSS04
KTRC22EMSS05
KTRC22EMWH
KTRC22EMWH00
KTRC22EMWH01
KTRC22EMWH02
KTRC22EMWH03
KTRC22EMWH04
KTRC22EMWH05
KTRP22EMBL
KTRP22EMBL00
KTRP22EMBL01
KTRP22EMBL02
KTRP22EMBT
KTRP22EMBT00
KTRP22EMBT01
KTRP22EMBT02
KTRP22EMBT03
KTRP22EMSS
KTRP22EMSS00
KTRP22EMSS01
KTRP22EMWH
KTRP22EMWH00
KTRP22EMWH01
KTRP22EMWH02
KTRP22EMWH03
KTRS22EMBL
KTRS22EMBL00
KTRS22EMBL01
KTRS22EMBT
KTRS22EMBT00
KTRS22EMBT01
KTRS22EMSS
KTRS22EMSS01
KTRS22EMWH
KTRS22EMWH00
KTRS22EMWH01
KUDF204EPA
KUDF204EPA00
KUDF204ESB
KUDF204ESB00
Maytag
G2IXEFMWB00
G2IXEFMWB01
G2IXEFMWB02
G2IXEFMWB03
G2IXEFMWQ00
G2IXEFMWQ01
G2IXEFMWQ02
G2IXEFMWQ03
G2IXEFMWS00
G2IXEFMWS01
G2IXEFMWS02
G2IXEFMWS03
G9IXEFMWB00
G9IXEFMWB01
G9IXEFMWB02
G9IXEFMWQ00
G9IXEFMWQ01
G9IXEFMWQ02
G9IXEFMWS00
G9IXEFMWS01
G9IXEFMWS02
GR2FHTXTB00
GR2FHTXTL00
GR2FHTXTQ00
GR2FHTXTS00
GR2FHTXVB00
GR2FHTXVB01
GR2FHTXVL00
GR2FHTXVL01
GR2FHTXVQ00
GR2FHTXVQ01
GR2FHTXVS00
GR2FHTXVS01
GR2SHTXMB00
GR2SHTXMB01
GR2SHTXML00
GR2SHTXML01
GR2SHTXMQ00
GR2SHTXMQ01
GR2SHTXMS00
GR2SHTXMS01
GR2SHTXMT00
GR2SHTXMT01
GR2SHWXPB00
GR2SHWXPB01
GR2SHWXPB02
GR2SHWXPL00
GR2SHWXPL01
GR2SHWXPL02
GR2SHWXPQ00
GR2SHWXPQ01
GR2SHWXPQ02
GR2SHWXPS00
GR2SHWXPS01
GR2SHWXPS02
GR2SHWXPT00
GR2SHWXVB00
GR2SHWXVB01
GR2SHWXVQ00
GR2SHWXVQ01
GR2SHWXVS00
GR2SHWXVS01
GR9FHTXTB00
GR9FHTXTL00
GR9FHTXTQ00
GR9FHTXTS00
GR9FHTXVB00
GR9FHTXVB01
GR9FHTXVL00
GR9FHTXVL01
GR9FHTXVQ00
GR9FHTXVQ01
GR9FHTXVS00
GR9FHTXVS01
GT1NHWXPQ00
GT1PHWXPB00
GT1PHWXPQ00
GT1PHWXPS00
GT1SHTXMB00
GT1SHTXMB01
GT1SHTXMB02
GT1SHTXMB03
GT1SHTXMB04
GT1SHTXMQ00
GT1SHTXMQ01
GT1SHTXMQ02
GT1SHTXMQ03
GT1SHTXMQ04
GT1SHTXMT00
GT1SHTXMT01
GT1SHTXMT02
GT1SHTXMT03
GT1SHTXMT04
GT1SHWXPB00
GT1SHWXPB01
GT1SHWXPQ00
GT1SHWXPQ01
GT1SHWXPS00
GT1SHWXPS01
GT1SHWXPT00
GT1SHWXPT01
GT2MHTXRB00
GT2MHTXRQ00
GT2MHTXRQ01
GT9MHTXRQ00
Whirlpool
ET1FHTXMB
ET1FHTXMQ
ET1FHTXMT
ET2AHTXMQ
ET2AHTXMT
ET9AHTXMQ
ET9AHTXMT
ET9FHTXMQ
ET9FHTXMT
G2IXEFMWB
G2IXEFMWQ
G2IXEFMWS
G9IXEFMWB
G9IXEFMWQ
G9IXEFMWS
GR2FHTXTB
GR2FHTXTL
GR2FHTXTQ
GR2FHTXTS
GR2FHTXVB
GR2FHTXVL
GR2FHTXVQ
GR2FHTXVS
GR2SHTXMB
GR2SHTXML
GR2SHTXMQ
GR2SHTXMS
GR2SHTXMT
GR2SHWXPB
GR2SHWXPL
GR2SHWXPQ
GR2SHWXPS
GR2SHWXPT
GR2SHWXVB
GR2SHWXVQ
GR2SHWXVS
GR9FHTXTB
GR9FHTXTL
GR9FHTXTQ
GR9FHTXTS
GR9FHTXVB
GR9FHTXVL
GR9FHTXVQ
GR9FHTXVS
GT1NHWXPQ
GT1PHWXPB
GT1PHWXPQ
GT1PHWXPS
GT1SHTXMB
GT1SHTXMQ
GT1SHTXMT
GT1SHWXPB
GT1SHWXPQ
GT1SHWXPS
GT1SHWXPT
GT2MHTXRB
GT2MHTXRQ
GT9MHTXRQ
Couldn't load pickup availability