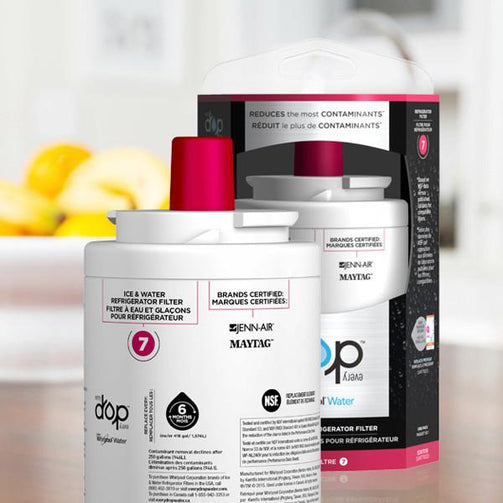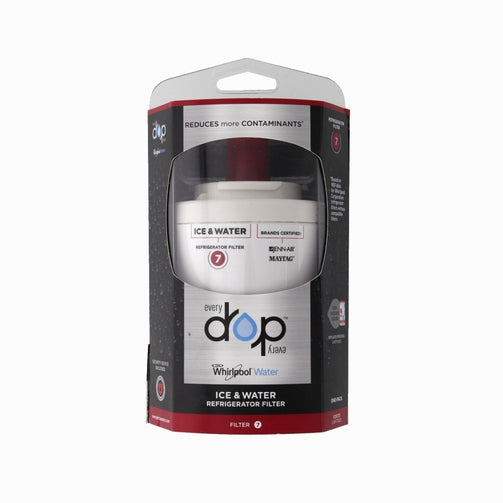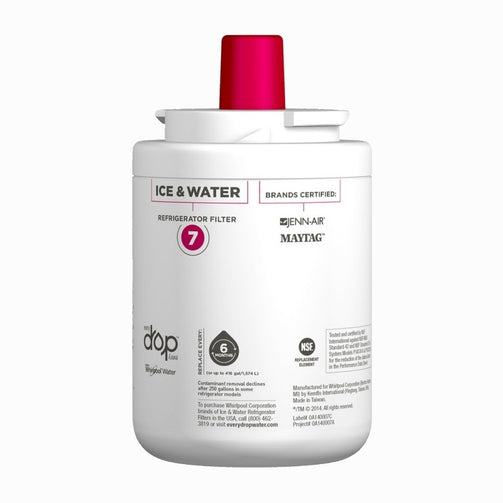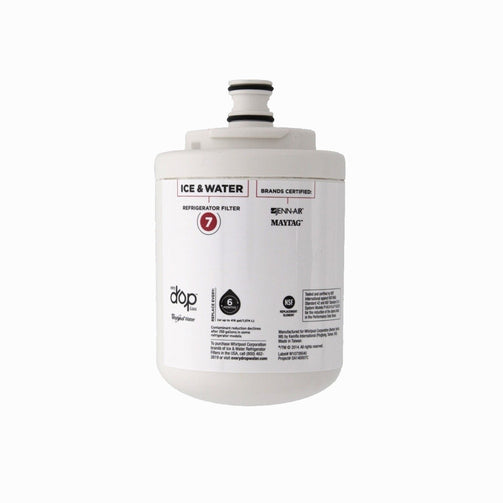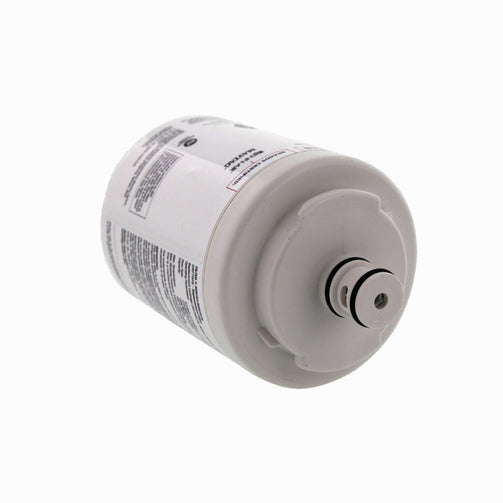 EveryDrop Refrigerator Filter 7
EveryDrop Refrigerator Filter 7
Regular price

$59.99

Sale price

$54.99
Whirlpool EveryDrop Refrigerator Water Filter, Filter 7
NSF-certified to reduce 7 contaminants, including chlorine, lead, and pesticides. Combats chlorine for great-tasting water.
Genuine OEM EveryDrop Filter 7 [EDR7D1B Refrigerator Ice & Water Filter] replaces previous model UKF7003.
Compatible with the following refrigerator brands: Admiral, Amana, Inglis, JennAir, Maytag, Whirlpool.
Details
Reduces 7 contaminants including chlorine, lead, and some pesticides
Uses Triple Filtration Technology to reduce contaminants
Can replace up to 1500 plastic water bottles
Capacity: 200 gallons (757 liters)
Replace every 6 months for optimal contaminant reduction
Tested and certified by NSF International against NSF/ANSI Standards 42, 53 and CSA B483.1
Specifications [PDF]
Additional
Replace according to the monitor in your fridge, or every 6 months or 200 gallons for optimal water taste and filter performance.
After replacing, flush the filter according to the instructions in your refrigerator manual.
—
103190
10883049139590
10883049159871
1446371
1480699
1L-OI16-7742
21001712
4273169
67006273
7
7002
7003
719881077307
719881092836
719881132419
883049139593
883049159874
883049369969
8A-DXOB-9OQ4
8M-VO48-Q838
9008
AFF4
AH11722137
AH11722138
AH2326378
AH2350104
AP4343710
AP4409415
AP5983567
B000WEKLJ4
B001ONHN02
B00UAREU8Q
B00YHYQOCI
B018HBVBUG
B018HC4YVS
B018HEXV5Q
B018V0U28U
B01LWER3KX
BQ-GSFJ-C5U5
EA11722137
EA11722138
EA2326378
EA2350104
EAP11722137
EAP11722138
EAP2326378
EAP2350104
EDR7D1
EFF-6014A
FILTER4A
FILTER7
H1-3ZZL-SQFQ
JN-ZUAJ-GOYH
MYRF100
MYRF-100
NJ-GTTS-08WQ
P1AC250
P1AC416
PS11722137
PS11722138
PS2326378
PS2350104
Q4-N09F-INIG
RTR514A
SGF-M07
U2-Z6UU-TJIB
UFK5001
UFK-5001
UFK7001
UFK-7001
UFK7002
UFK-7002
UFK-7003
UFK7003P
UFK-7003P
UFK7003T
UFK-7003T
UK7003
UKF5001
UKF-5001
UKF5001AXX
UKF6001
UKF-6001
UKF6001AXX
UKF7001
UKF-7001
UKF7001AXX
UKF7001AXX2
UKF7001AXXA
UKF7001AXXP
UKF7002
UKF-7002
UKF7002AXX
UKF7003
UKF-7003
UKF7003AXX
UKF7003AXXP
UKF7003AXXT
UKF7003P
UKF-7003P
UKF7003T
UKF-7003T
WF288
WF-288
WR7X64
WR7X66
WSM-1
Admiral
Amana
Inglis
JennAir
Maytag
Whirlpool

Admiral
SRA22B
Amana
AS229FSBGB
AS829FSBGB
AZ2727GIHB

AZ2727GIHW
Inglis
IF42BDCBOL
IF42BNDBOL
IF48BDCBOL

IF48BNDBOL
JennAir
JCD2389GEB
JCD2389GES
JS42CSDBDA
JS42CSDWDA
JS42CSFXDA
JS42FBDBDA
JS42FBFXDA
JS42FSDBDA
JS42FSFXDA
JS42FWDWDA
JS42FWFXDA
JS42PPDBDA
JS42PPFXDA
JS42SEDBDA
JS42SEDBFA
JS42SEFXDA
JS42SEFXDA0
JS48CSDBDA
JS48CSDWDA
JS48CSFXDA
JS48FBDBDA
JS48FBFXDA
JS48FSDBDA
JS48FSFXDA
JS48FWDWDA
JS48FWFXDA
JS48PPDBDA
JS48PPDBDAP
JS48PPFXDA
JS48SEDBDA
JS48SEDBFA
JS48SEFXDA
JS829FSBGB
JSD2789DES
JSD2789HES
RJRS4270D
RJRS4271A
RJRS4271B
RJRS4272A
RJRS4280D
RJRS4281B
RJRS4282B
RJRS4870C
RJRS4870D
RJRS4871B
RJRS4872A
RJRS4880D
RJRS4881B
RJRS4882A
RJRS4882B
Maytag
GC2227GEH1
GC2228EEDB
GC2228GEH9
GC2228GEHB
GS2327GEHW
GS2727GEH3
GS2728GEHB
MSD2432GRW
MSD2454FRW
MSD2456DEW
MZ2727EEGW
MZD2766GES
MZD2766GEW
MZD2768GEW
Whirlpool
EF42BDCBSS
EF42BNDBSS
EF48BDCBSS

EF48BNDBSS
Couldn't load pickup availability