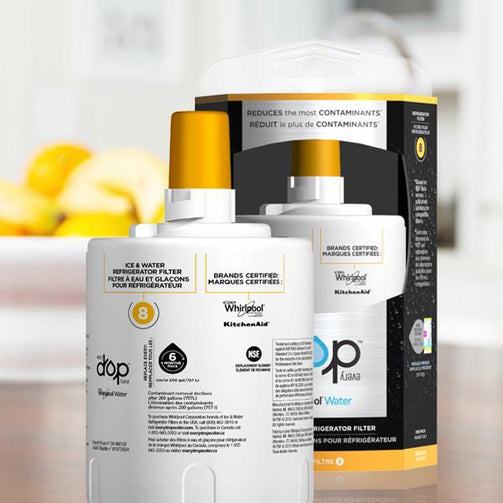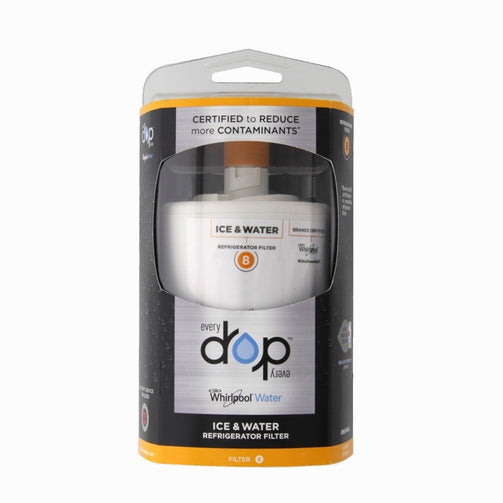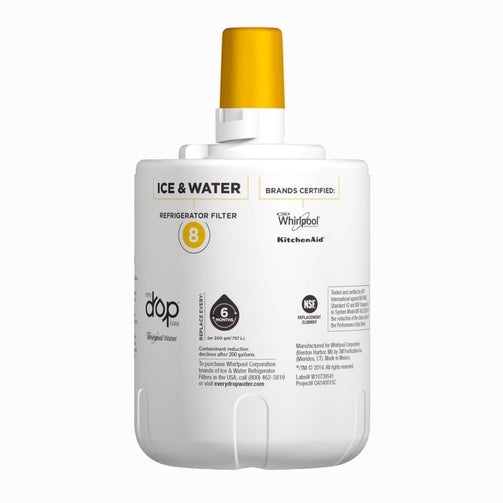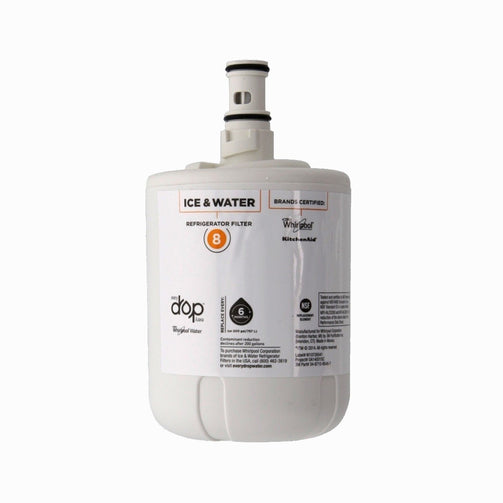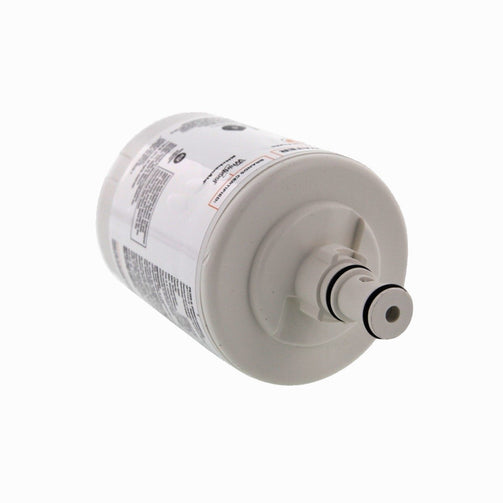 EveryDrop Refrigerator Filter 8
EveryDrop Refrigerator Filter 8
Regular price

$59.99

Sale price

$54.99
This product is discontinued.
Whirlpool EveryDrop Refrigerator Water Filter, Filter 8
NSF-certified to reduce 4 contaminants, including chlorine and lead. Combats chlorine for great-tasting water.
Genuine OEM EveryDrop Filter 8 [EDR8D1B Refrigerator Ice & Water Filter] replaces previous model 8171413.
Compatible with the following refrigerator brands: Crosely, Estate, KitchenAid, Maytag, Roper, Whirlpool.
Details
Reduces 4 contaminants including chlorine and lead
Uses Triple Filtration Technology to reduce contaminants
Can replace up to 1500 plastic water bottles
Capacity: 200 gallons (757 liters)
Replace every 6 months for optimal contaminant reduction
Tested and certified by NSF International against NSF/ANSI Standards 42, 53 and CSA B483.1
Specifications [PDF]
Additional
Replace according to the monitor in your fridge, or every 6 months or 200 gallons for optimal water taste and filter performance.
After replacing, flush the filter according to the instructions in your refrigerator manual.
—
04609002000
0469002
046-9002
050946800608
050946853215
060188000087
10050946800605
2204324
2204326
2206039
2206048
2213384
4273172
4609002000
469002
46-9002
8
8171413
8171413P
8171413R
8171414
8171414P
8171414R
8171414T
8171787
8171788
883049369983
9002
AH11722139
AH11729708
AH390643
AP3118273
AP5983568
B0001WNCKW
B00VBP8VAE
B00YHYTA4W
DB-7DR9-0PKD
EA11722139
EA11729708
EA390643
EAP11722139
EAP11729708
EAP390643
EDR8D1
EFF-6009A
EFF-6010A
FILTER8
FILTER 8
NL200
NLC200
NLCS200
PS11722139
PS11729708
PS390643
PS390645
RTR509A
SGF-W31
SGF-W41
WF286
WF-286
WFI-NL200
WFI-NLC200
WFI-NLCS200
WSW4
WSW-4
Crosely
Estate
KitchenAid
Maytag
Roper
Whirlpool

Crosely
CS22AEXHN

CS22AEXHW

CS25AEXHW
Estate
TS22AEXHW

TS25AEXHW
KitchenAid
KTLA19ELSS
KTLA19ELSS00
KTLA19ELSS01
KTLA19ELSS02
KTLA22ELSS
KTLA22ELSS00
KTLA22ELSS01
KTLA22ELSS02
KTRA19ELBL
KTRA19ELBL01
KTRA19ELBT
KTRA19ELBT01
KTRA19ELSS
KTRA19ELSS00
KTRA19ELSS01
KTRA19ELSS02
KTRA19ELWH
KTRA19ELWH01
KTRA22ELBL
KTRA22ELBL00
KTRA22ELBL01
KTRA22ELBT
KTRA22ELBT01
KTRA22ELSS
KTRA22ELSS00
KTRA22ELSS01
KTRA22ELSS02
KTRA22ELWH
KTRA22ELWH00
KTRA22ELWH01
KTRA22ELWH02
KTRC19ELBL
KTRC19ELBL00
KTRC19ELBT
KTRC19ELBT00
KTRC19ELSS
KTRC19ELSS00
KTRC19ELWH
KTRC19ELWH00
KTRC22EKBL
KTRC22EKBL00
KTRC22EKBL01
KTRC22EKBT
KTRC22EKBT00
KTRC22EKBT01
KTRC22EKSS
KTRC22EKSS00
KTRC22EKSS01
KTRC22EKWH
KTRC22EKWH00
KTRC22EKWH01
KTRC22ELBL
KTRC22ELBL00
KTRC22ELBL01
KTRC22ELBL02
KTRC22ELBT
KTRC22ELBT00
KTRC22ELBT01
KTRC22ELBT02
KTRC22ELSS
KTRC22ELSS00
KTRC22ELSS01
KTRC22ELSS02
KTRC22ELWH
KTRC22ELWH00
KTRC22ELWH01
KTRC22ELWH02
KTRP22EKBL
KTRP22EKBL01
KTRP22EKBT
KTRP22EKBT00
KTRP22EKBT01
KTRP22EKBT02
KTRP22EKSS
KTRP22EKSS01
KTRP22EKWH
KTRP22EKWH00
KTRP22EKWH01
KTRP22EKWH02
KTRS19ELBL
KTRS19ELBL00
KTRS19ELBT
KTRS19ELBT00
KTRS19ELWH
KTRS19ELWH00
KTRS21ELBL
KTRS21ELBL00
KTRS21ELBT
KTRS21ELBT00
KTRS21ELWH
KTRS21ELWH00
KTRS22ELBL
KTRS22ELBL00
KTRS22ELBL01
KTRS22ELBT
KTRS22ELBT00
KTRS22ELBT01
KTRS22ELBT02
KTRS22ELSS
KTRS22ELSS01
KTRS22ELWH
KTRS22ELWH00
KTRS22ELWH01
KTRS22ELWH02
Maytag
GR2SHTXKB00
GR2SHTXKB01
GR2SHTXKB02
GR2SHTXKB03
GR2SHTXKL01
GR2SHTXKL02
GR2SHTXKL03
GR2SHTXKQ00
GR2SHTXKQ01
GR2SHTXKQ02
GR2SHTXKQ03
GR2SHTXKS00
GR2SHTXKS01
GR2SHTXKS02
GR2SHTXKS03
GR2SHTXKT00
GR2SHTXKT01
GR2SHTXKT02
GR2SHTXKT03
GT1SHTXLB00
GT1SHTXLB01
GT1SHTXLB02
GT1SHTXLQ00
GT1SHTXLQ01
GT1SHTXLQ02
GT1SHTXLT00
GT1SHTXLT01
GT1SHTXLT02
GT9SHTXLB00
GT9SHTXLB01
GT9SHTXLQ00
GT9SHTXLQ01
GT9SHTXLT00
Roper
RS25AEXLQ

RS25AFXMQ
Whirlpool
ED22PEXHB
ED22PEXHB00
ED22PEXHB01
ED22PEXHB02
ED22PEXHB03
ED22PEXHT
ED22PEXHT00
ED22PEXHT01
ED22PEXHT02
ED22PEXHT03
ED22PEXHW
ED22PEXHW00
ED22PEXHW01
ED22PEXHW02
ED22PEXHW03
ED22TEXHN
ED22TEXHN00
ED22TEXHN01
ED22TEXHN02
ED22TEXHT
ED22TEXHT02
ED22TEXHT03
ED22TEXHW
ED22TEXHW00
ED22TEXHW01
ED22TEXHW02
ED22TEXHW03
ED22TEXHW04
ED22UEXHT
ED22UEXHT00
ED22UEXHT01
ED22UEXHT02
ED22UEXHW
ED22UEXHW00
ED22UEXHW01
ED22UEXHW02
ED25CEXJB
ED25CEXJB00
ED25CEXJT
ED25CEXJT00
ED25CEXJW
ED25CEXJW00
ED25CEXJW01
ED25PEXHB
ED25PEXHB00
ED25PEXHB01
ED25PEXHB02
ED25PEXHT
ED25PEXHT00
ED25PEXHT01
ED25PEXHT02
ED25PEXHW
ED25PEXHW00
ED25PEXHW01
ED25PEXHW02
ED25TEXHN
ED25TEXHN00
ED25TEXHN01
ED25TEXHN02
ED25TEXHT
ED25TEXHT00
ED25TEXHT02
ED25TEXHT03
ED25TEXHW
ED25TEXHW00
ED25TEXHW01
ED25TEXHW02
ED25TEXHW03
ED25UEXHT
ED25UEXHT00
ED25UEXHT01
ED25UEXHW
ED25UEXHW00
ED25UEXHW01
ED27PEXHB
ED27PEXHB00
ED27PEXHB01
ED27PEXHB02
ED27PEXHT
ED27PEXHT00
ED27PEXHT02
ED27PEXHW
ED27PEXHW00
ED27PEXHW01
ED27PEXHW02
ED5GTFXKQ
ED5GTFXKQ00
ED5GTFXKQ01
ED5GTFXKQ02
ED5GTFXKT
ED5GTFXKT00
ED5GTFXKT01
ED5GTFXKT02
ET1FTTXKB
ET1FTTXKQ
ET1FTTXKT
ET2AHTXLQ
ET2AHTXLT
ET9AHTXLQ
ET9AHTXLT
ET9FTTXLB
ET9FTTXLQ
ET9FTTXLT
GR2SHTXKB
GR2SHTXKL
GR2SHTXKQ
GR2SHTXKS
GR2SHTXKT
GT1SHTXLB
GT1SHTXLQ
GT1SHTXLT
GT9SHTXLB
GT9SHTXLQ
GT9SHTXLT
SS22AEXHW
SS22AEXHW00
SS22AEXHW01
SS22AEXHW02
SS25AEXHW
SS25AEXHW00
SS25AEXHW01
SS25AEXHW02
SS25AEXHW03
Couldn't load pickup availability