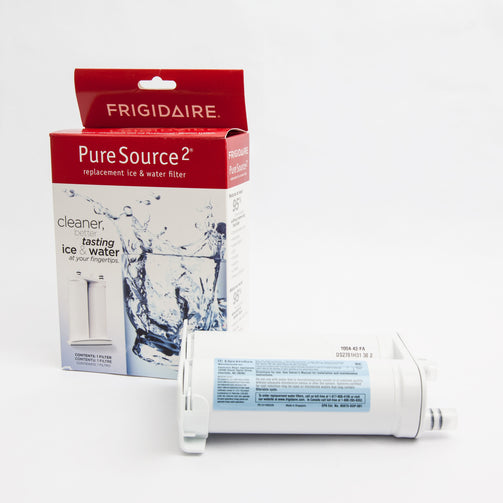 Frigidaire Refrigerator Filter PureSource2
Frigidaire Refrigerator Filter PureSource2
Regular price

Sale price

$52.99
Frigidaire/Electrolux PureSource 2 Refrigerator Water Filter, WF2CB
NSF-certified to reduce 20 contaminants, including chlorine, lead, pesticides, and pharmaceuticals. Combats chlorine for great-tasting water.
Genuine OEM Frigidaire Electrolux PureSource 2 [WF2CB Refrigerator Ice & Water Filter].
Details
Reduces 20 contaminants including chlorine, lead, some pesticides, and some pharmaceuticals
Capacity: 400 gallons (1514 liters)
Replace every 6 months for optimal contaminant reduction
Tested and certified by NSF International against NSF/ANSI Standards 42 and 53
Certified by the Water Quality Association to WQA/ASPE/ANSI S 803 for sustainability
Specifications [PDF]
Additional
Replace according to the monitor in your fridge, or every 3-6 months or 400 gallons for optimal water taste and filter performance.
After replacing, flush the filter according to the instructions in your refrigerator manual.
—
012505461446
0S-90O7-UBMB
2187320309D
240396401
240396403
240396404
241968503
241968506
241968508
242007901
46-9911
46-9916
4J-09KI-KIJL
5Z-ZRQF-N01F
8V-SOD9-JLPV
9911
9916
B0032JTS5E
B018HEAPC8
B01AHFH4GK
B01BG5CBNQ
B01CRT0MFO
B01N10VUHG
F2-JN2F-UZQ1
PF-6JK1-1Z2B
RENEW2CB
SWF2CB
WF2CB
WF2CBC
Couldn't load pickup availability