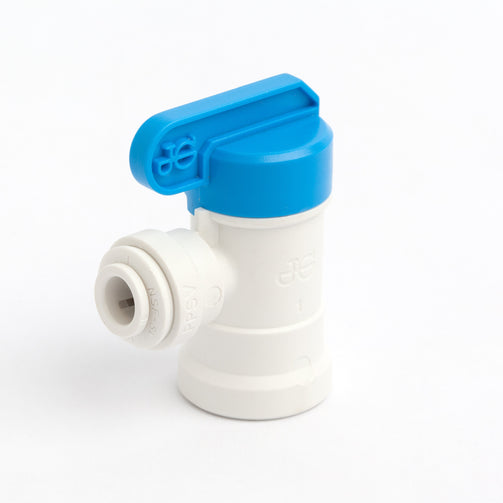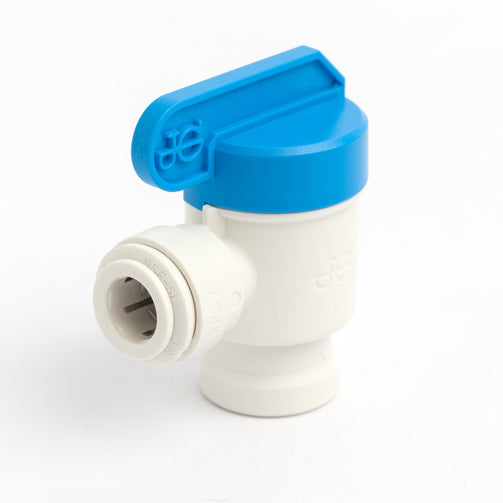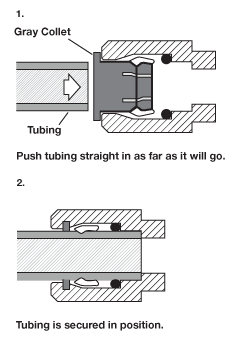 John Guest Tank Ball Valve
John Guest Tank Ball Valve
Regular price

Sale price

$13.65
This tank ball valve can accommodate either 1/4" or 3/8" tubes and is intended for use with reverse osmosis water tanks. It features a quarter-turn lever that makes it easy to turn the water on and off, and can be used with any 3- or 4-gallon reverse osmosis tank with a 1/4" NPTF connector.
John Guest's Speedfit products blend push-fit and multi-seal technology for a reliable leak-proof connection. Simple to install and uses less connectors than other methods to cut your installation time by 40%.
Details
Durable design — this lightweight and durable tank shut-off valve is made of high-quality polypropylene for long-lasting performance and excellent chemical resistance
No tools required — quick-connect fitting provides a simple, quick, and reliable leak-free connection with no tools required
Easy installation — the twist-and-lock feature allows easy and secure installation
Push-fit technology
High chemical resistance
EPDM seals
Quarter-turn lever for easy shut-off
For use with potable water, not suitable for air or inert gases
Additional
To connect to a reverse osmosis tank, first apply 5-6 wraps of Teflon tape to the 1/4" threaded connector on the top of the tank, then screw the valve onto the tank.
To connect tubing, first make sure that the tube is cut flat, and not at an angle. Push the tube into the fitting past the o-ring as far as it will go, approx. three-quarters of an inch.
To disconnect, push the collet into the fitting and hold it down as you pull out the tube.
To open, turn the lever parallel to the tube. To close, turn the lever perpendicular to the tube.
Couldn't load pickup availability